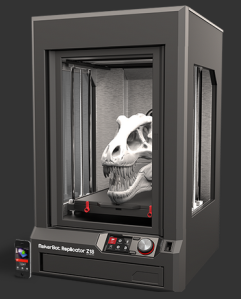 Invest your expendable cash in something cutting edge. The Replicator Z18 by MakerBot is of the most advanced user-friendly 3D printers on the market. It's WiFi ready, can create multiple projects at once, and has the ability to print objects three times taller than its closest competitors can manage.
"With 3D printing, you can create anything out of nothing," Jenifer Howard, Director of PR at MakerBot, told The Observer as she showed us around the brand's East Village store. She assured us that while 3D printing technology is still predominantly used by architects, engineers and similar professionals, it will be on everyone's desktops in the near future.
Don't let the industrial side of this technology fool you, though. With the Replicator Z18, anyone can create compelling masterpieces from cuckoo clocks to custom chandeliers — no tech or design experience necessary. Sites like thingiverse.com feature thousands of ready-to-go digital designs where all you have to do is click "print." MakerBot has software to help, and their latest app, MakerBot PrintShop, makes designing unique treasures easier than ever. With PrintShop, you can design custom jewelry with the touch of a finger. It takes only seconds to transform their base bracelet into a bangle or cuff sporting what ever other customizations you choose. And if you want to take your jewelry beyond the plastic that comes out of the printer, take it to a jeweler who can make your same custom design in 24-karat gold.
The Replicator Z18 is available for $6,499 online and in the MakerBot retail store located at 298 Mulberry Street in the East Village.