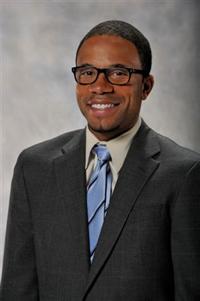 Democrats in South Jersey's third legislative district are close to selecting a replacement for outgoing Assemblywoman Celeste Riley (D-3) in the legislature's lower house, according to sources involved in the deliberations.
Though not yet confirmed, multiple insiders say South Jersey's Democratic party leadership is almost settled on a successor to Riley (D-3), a full-time teacher in Greenwich Township and LD3 representative since 2009 who is set to vacate her seat next month after winning her race on Nov. 4th for the Cumberland County clerk's office. Those sources say the assemblywoman's replacement is likely to come from Gloucester County, the most populous of the three counties making up the district, which also includes Salem and Cumberland.
One name that has routinely circulated as a favorite for the post is first term Gloucester County Freeholder Adam Taliaferro, an employee of Bristol Myers Squibb and former Penn State football player who suffered a spinal cord injury his freshman year. The freeholder could not be reached for comment on the position, but according to one source, Taliaferro is considered a "safe" choice for the Assembly seat.
The two other representatives in LD3 are Assemblyman John Burzichelli (D-3), who's served as the Assistant Majority Leader in the lower house since 2004, and state Sen. Steve Sweeney (D-3), who's served as the President of the upper house since 2010.
The current chair of the Assembly Higher Education Committee and first woman to represent LD3 in New Jersey history, Riley is set to be sworn in to her new position on Jan 1st, leaving Democrats just a couple weeks to find her replacement. Insiders say a special county convention is expected to be held sometime after the new year to formally appoint a successor, who would also have to then run in November of 2015 if they wanted to stay in the seat.
Last Thursday was the Riley's final legislative session in Trenton, and her fellow assembly people honored her accordingly.
"I feel that we are losing two fantastic women, to great legislators, that speak from the heart, and that were the conscience of this Assembly," said Assemblyman Paul Moriarty (D-4), referring also to outgoing Assemblywoman Bonnie Watson Coleman (D-15), who will enter Washington as New Jersey's first African American congresswoman next year.
Contacted by phone, Riley said she's feeling bittersweet about her departure.
"It's one of mixed feelings, because you love the assembly when you are up there, you love the people, you love representing the district," she said, noting her productive friendship with Sweeney and Burzichelli.