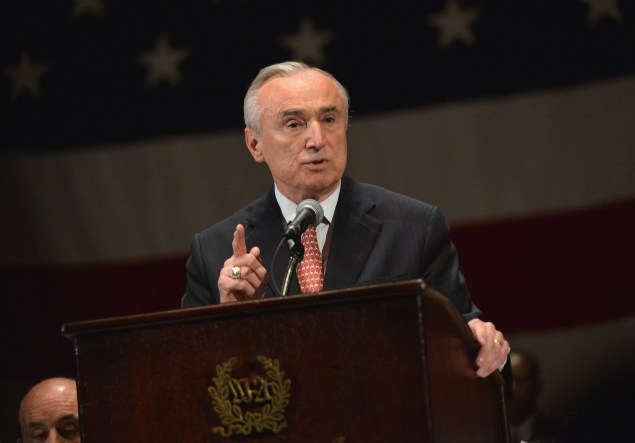 With a grand jury decision on the Eric Garner case due as early as today, Police Commissioner Bill Bratton said this morning that it's "spontaneous" and "disorganized" protests that worry him most–not the mass marches that Rev. Al Sharpton led in Staten Island this summer.
"What worries me the most is not so much the organized events but the disorganized, the spontaneous, somebody who you've not prepared for that just all the sudden starts acting up in a neighborhood and gets a few people going around them," Mr. Bratton said on "CBS This Morning."
Mayor Bill de Blasio and Mr. Bratton said yesterday they were preparing for more protests when a grand jury decides whether to charge police officers in the death of Garner, an unarmed black Staten Island man who died as a white police officer tried to arrest him for selling loose cigarettes. The medical examiner ruled Garner's death a homicide caused by a chokehold, a maneuver prohibited by the police department.
Garner's death came shortly before a white police officer, Darren Wilson, shot and killed a black teenager, Michael Brown, in Ferguson, Mo. in August. Mr. Wilson was not charged with a crime, setting off violent protests in Ferguson and more peaceful, though traffic-clogging, marches in New York last week. While on patrol in Times Square, Mr. Bratton was splattered with fake blood.
Mr. Bratton said he was glad the person who threw the substance on him would be prosecuted "very aggressively."
"I was bothered by it to the extent that there you are in the middle of Times Square, the demonstrations had been going well–traffic disruption, but again, no vandalism, no violence, no crime," he said. "Then this character out of nowhere comes out and throws what we believe is some sort of artificial blood paint-type substance and splattered myself and eight or nine police officers and possibly some bystanders.Totally unnecessary, and fortunately he will be very aggressively prosecuted."
Mr. Bratton said his department is far more welcoming of organized demonstrations like the marches Rev. Al Sharpton, once a Bratton antagonist, led in Staten Island after Garner's death. Though Mr. Sharpton's initial promise in August to march across the Verrazano-Narrow Bridges–the Brooklyn-Staten Island span has no pedestrian walkway–drew criticism, the march ended up avoiding the bridge and was mostly peaceful.
"The organizers of these demonstrations, their intent is to have orderly demonstrations," he said. "They don't want violence, they don't want vandalism. But it's the disorganized that would be our concern, or the professional agitators, of which we have no shortage of here in New York."