We were steps away from the beach on Saturday night, at the tail end of the branded party bonanza of Art Basel Miami Beach, when we received an email about a top-secret event happening in just a few hours. Following parties with thousands of bottles of thousand-dollar champagne, parties with drones flying overhead snapping pictures of dinner guests, parties with kayaks in the goodie bags, parties with a pasty-clad Miley Cyrus singing Beatles tunes, parties with ice skating rinks in the basement, there was… another party? Really?
"I wanted to personally invite you to the Parisian collective Pigalle, Pompon, Pain O ChoKolat's (PPP) Muzik Mansion Miami, in participation with Dazed Digital and Bud Light Platinum," read the "personal" email blast that probably went out to thousands of people. It listed another dizzying litany of sponsors, detailed how to get to some oceanfront mansion that probably had marble porticos befitting Gianni Versace or Tony Montana, and then mentioned that the special guest for the night would be 28-year-old worldwide hip-hop sensation Drake.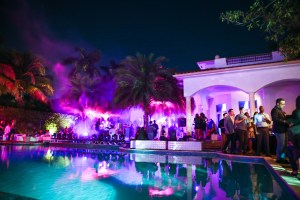 Let's break this down quickly. PPP is a combination of three Paris-based cult happenings. There's the streetwear line Pigalle, which can be found on uppercrust menswear bloggers in Milan for Pitti Uomo and in rapper A$AP Rocky's bespoke suitcases. Then there's the roving Paris nightclub Le Pompon, which can be the hardest place to get into if it decides to open its doors. And then there's Pain O ChoKolat, which can be called the pioneering art collective of the Pigalle neighborhood's now-booming creative scene.
You following? Now, combine this exceedingly robust cool quotient with the decidedly lamer co-signers (Bud Light Lime Ritas, Clarins Skin Spa and Musik Headphones) and you get a pretty good idea of the warring factions (art vs. commerce, high vs. low, authentic vs. fake) at Art Basel Miami Beach.
The invitation was quite demanding, even for a week when every event prides itself on being very exclusive. If you were bringing those heavily vetted and pre-approved guests, sorry, they're no longer on the list. If you were planning on telling your friends, oops, you're banned from entry. If you were going to blast the email out to your half-dozen Basel party-planning text groups, nope, don't expect much at the door.
"Is Drake actually performing?" we asked a publicist. She nodded, which in Baselspeak could very well mean, "Ha, did you really think Drake was going to play, wow, aren't you the sucker."
We'll take our chances. It's not like Drizzy is a totally random person to show up at a PPP party—Drake and Rihanna famously shared a Pigalle hoodie earlier this year, after all.
"We organized this event, and we always have special guests, I guess Drake just liked the energy of our group, and the stuff that goes on," said Hami Delimi, a PPP bigwig who runs tastemaking enterprise L'Oeuf Creative with Romain Dauriac (who's better known these days as Mr. Scarlett Johansson).
So Young Papi likes the energy of the group, that's good. Until he showed, we had to make due with a cavalcade of sticky-sweet branded booze: Lime Ritas, Straw-Ber-Ritas, Mang-O-Ritas and Raz-Ber-Ritas. We took a sip of the medicine-meets-melted-popsicle stuff. No thanks.
And of course there was plentiful booze and nary a scrap of food in sight as, well, one can assume that the groupies of French fashion tastemakers don't exactly, um, eat. But who needs food when you have Drizzy—yes, no lie, the greatest Jewish Canadian rapper of all time soon came out to a roaring crowd and climbed up to the stage and all of a sudden we're pressed up front-row center against the barrier.
"What I really want you to do is get drunk and enjoy the music," said the hero Aubrey Drake Graham, before instructing the waitresses to bring out some shots for everybody. And he's got a giving streak, too!
But was he a gentleman enough to actually perform? For the time being, he was really just DJing, blasting some tracks through the enormous mansion. Just seeing the man can be a little much for some: One excited guest FaceTimed about 15 people, including his dad, to show them how close he was to Drake.
But for this Drake fan-girl, it felt like a tease to hear him play his own songs, sometimes lip syncing to them while he waved his hand in the air. And then, alas, the anticipation died down when Drake finally walked off the stage about 45 minutes later to bounce in the VIP section with supermodels Jourdan Dunn and Chanel Iman, fellow rap legend Diddy, and Leonardo DiCaprio, who left an Art Basel party the previous night with a reported 20 women.
Unlike Mr. DiCaprio, we left alone. It had been a long and tiring week in Miami, after all.
"Mansion parties don't end at 11:30 p.m.," one friend snorted.
"This one does," we said, and hopped into the Uber.