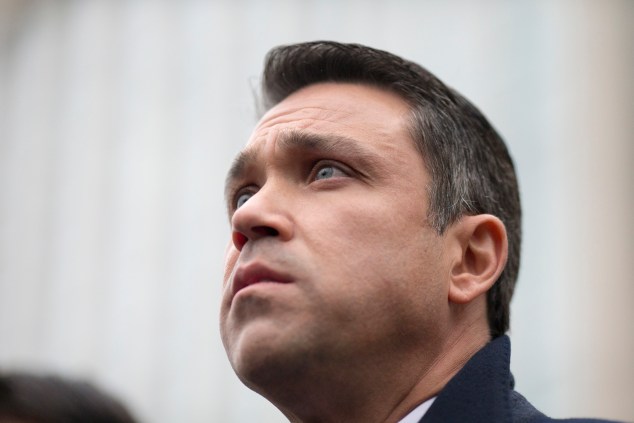 Congressman Michael Grimm's resignation is set to clear the way for a controversial Staten Island District Attorney to run for office with the Republican establishment's support, GOP sources say.
Daniel Donovan, the Staten Island district attorney who most recently failed to secure an indictment in the Eric Garner case, is lining up support behind-the-scenes for a bid to replace Mr. Grimm. And Mr. Donovan, well-liked by the borough's Republican machine, is a front-runner to win the backing of the Staten Island Republican Party in a special election that will likely be held sometime next year, sources say.
"Dan is almost certainly in and is lining up his support," a source close to the Staten Island Republican Party told the Observer. "He will probably emerge as the clear front-runner for the party's support."
The Daily News first reported tonight that Mr. Grimm, who pleaded guilty to a single felony count of evading taxes last week, would resign from Congress, despite insisting that he would remain in office. Mr. Grimm professed his innocence after he faced a 20-count indictment in April and went on to crush his Democratic opponent Domenic Recchia Jr. in November.
Mr. Grimm's resignation comes as little surprise to political insiders in the Staten Island and southern Brooklyn-based district, where candidates like Mr. Donovan have been eyeing the seat for some time. Assemblywoman Nicole Malliotakis, a Staten Island Republican, is another contender said to be interested in replacing Mr. Grimm, as well as Staten Island State Senator Andrew Lanza.
Another Staten Island Republican source confirmed that Mr. Donovan has emerged as the strongest candidate. The source cited his career as district attorney, particularly his work battling a prescription drug epidemic and strengthening DWI prosecutions while keeping a balanced office budget.
A special election to replace Mr. Grimm will mean no Democratic or Republican primaries. Instead, the Staten Island Republican and Democratic organizations will each select a candidate to face-off after Gov. Andrew Cuomo selects a date for the election.
Despite the controversy Mr. Donovan courted in December when a grand jury voted not to indict a white police officer in the death of Garner, a black man, the district attorney is still relatively popular in the borough and with party insiders, sources say. Voters in the 11th Congressional District, far more conservative than in many in other parts of the city, did not view Mr. Donovan as unfavorably after the decision in the racially-charged case.
Unlike other district attorneys in the city, Mr. Donovan has otherwise maintained a low public profile. He ran for state attorney general in 2010, losing to now-Attorney General Eric Schneiderman, a Democrat.
Democrats interested in running include Staten Island Assemblyman Michael Cusick and Mr. Grimm's predecessor, Michael McMahon.
A spokesman for Mr. Donovan declined to comment.
Jillian Jorgensen contributed reporting.