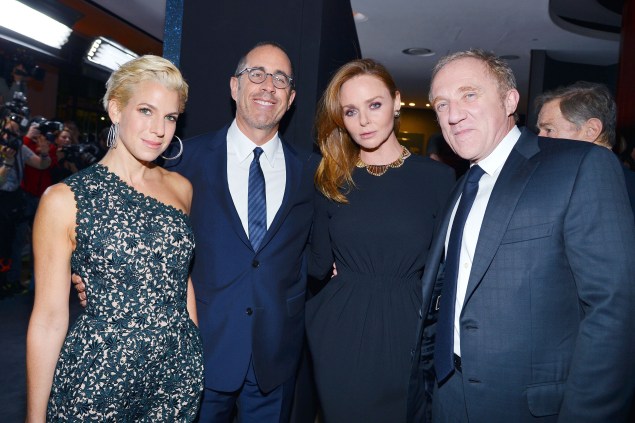 You know a girl's got pull when she can get Jerry Seinfeld, Yoko Ono, Seth Meyers, Kate Upton, billionaire François-Henri Pinault and Sir Paul McCartney to the dinner table—and a vegan one at that.
Unsurprisingly, Stella McCartney is precisely that kind of gal, and Lincoln Center's Corporate Fund honored the beloved humanitarian, fashion designer and mother of four for her numerous accomplishments.
"It's really hard at these kind of things to talk people into not eating meat or fish at the dinner," Ms. McCartney told Shindigger. "They sort of normally assume that that's what they'll get. It's really hard to encourage people that there's another more environmentally friendly and ethical way to eat."
"I'm obsessed with animals," Dylan Lauren confessed to us. "I grew up with Stella's family and every time we ate with them, Stella cooked vegetarian meals. She's got a very balanced life."
---

5
Minutes it took Yoko Ono to devour her dinner at Lincoln Center's Corporate Fund Gala


$250M
Budget of The Hunger Games: Mockingjay – Parts 1 and 2


---
At the gala, which began in the Hauser Lounge with flutes of Champagne, Glenda Bailey chatted with Drew Barrymore and Liv Tyler, festooned in a floral Stella dress, posed with model Carolyn Murphy.
Guests were then ushered into Alice Tully Hall, where comedienne Chelsea Handler served as a refreshingly belligerent mistress of ceremonies, hurling searing wisecracks at anyone within two degrees of the honoree.
To finish it off, Jerry Seinfeld led an irreverent onstage conversation with Ms. McCartney about style, New York, female empowerment, humanitarianism and vegetarianism. 
"She's so talented and wonderful," gushed her father when he eventually handed her a Lalique Women's Leadership Award trophy. "I'm so proud of her."
"We are huge fans of Stella," Seth Meyers told Shindigger with a longing glance at his wife, already tucking into her first course.
We asked him if he had ever gone vegan.
"We did a three week-er," he recalled with a nod. "We fully enjoyed it and I've tried to steer clear of dairy since, but I'm back to eating meat. As you get older, you are what you eat," he professed with a sheepish grin. "You don't rebound as well from chicken parm!"
Next, to Los Angeles for the premiere of The Hunger Games: Mockingjay – Part 1. Shindigger passed a fabulously dressed Diana Ross as we entered the after-party. "No photos, no, no, I can't, no," she warbled, faking a high-wattage smile to match her gigantic Afro.
Hours before, invited celebrities and crazed fans jostled for entry at Nokia Theatre L.A. Live. Comme d'habitude, Jennifer Lawrence, in her Dior and Vita Fede diamonds, tripped on the white carpet.
"I'm happy that I get a chance to experience this world on this level," enthused Tony winner Patina Miller. She was far from her Broadway stage and the New York studio where Madame Secretary films.
Shindigger asked about the VIP after-party.
"I'm going to be celebrating," she whispered foxily. "This was a lot of work and now we get to enjoy it."
Julianne Moore sashayed by in a sequined ink gown that could halt the Earth's rotation.
"Oh yeah!" she cheered when asked about the bash. "I'll definitely be there!" Alas, following the screening, we couldn't find her on the rooftop space that had been styled like a war-torn District 13, from the flick. Instead we discovered Ms. Ross' son, Evan Ross, surrounded by Jessica and Ashlee Simpson, all "unavailable to talk."
No JLaw to be seen, either. Perhaps she was icing her tush from the fall.