In the first week that Sting took the stage in his own musical on Broadway, The Last Ship had its best showing to-date, but still fell far short of its potential.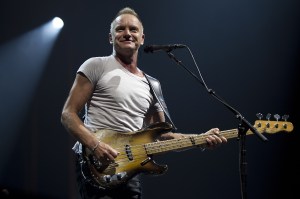 Grosses soared by 66 percent to $818,000 for the musical, but were nonetheless more than a third below its potential at the Neil Simon Theatre, according to the Broadway League, a trade association. Discounts remain, with Groupon offering rear mezzanine seats for as low as $49. Sting wrote the music and lyrics and, through Jan. 24, plays the part of shipyard foreman Jackie White.
For the fourth week in previews, Honeymoon in Vegas, with Tony Danza as the high roller Tommy Korman, failed to draw a straight flush. Jason Robert Brown and Andrew Bergman's musical, adapted from the 1992 movie comedy, grossed $396,000, down four percent. To break even each week, it needs to sell more than $643,000 of tickets, according to offering documents obtained from the office of New York Attorney General Eric Schneiderman. It officially opens on Jan. 15. Producers are counting on a repeat of the raves it received at Paper Mill Playhouse last year.
The revised revival of Side Show, which did $468,000 last week, will close Jan. 4, at a loss of its investors' entire $8 million. The musical combines difficult subject matter – conjoined twins and other freaks of nature – and buoyant tunes by Henry Krieger (Dreamgirls). It ran first on Broadway for just 91 performances in 1997. The musical Something Rotten is a likely contender to follow it into the St. James Theatre, according to people familiar with the situation.
Although it hasn't had a public performance, Something Rotten has been a talked-about prospect since a well-received industry workshop in October. Set in Renaissance England, it's about two brothers desperate to write a hit play and top the literary rock star of the day, William Shakespeare. A seer they meet says the biggest thing in theater will be something called musicals.
The show cherry-picks from the canons of Shakespeare and musical theater. (An investor in the musical within the musical is a gentleman named Shylock.) Wayne Kirkpatrick, who's composed songs for Garth Books and Eric Clapton, wrote the show with his younger brother, Karey Kirkpatrick, and John O'Farrell. It reunites producer Kevin McCollum and director Casey Nicholaw, who were behind another musical about musicals, The Drowsy Chaperone. (It was very successful.) To bring in Something Rotten this season, McCollum would have to torpedo a scheduled spring engagement at Seattle's 5th Avenue Theatre.
"I thought it was very funny," veteran producer Emanuel Azenberg said recently of the musical's presentation, adding that he wasn't privy to McCollum's plans. Neither McCollum nor a spokeswoman for the 5th Avenue Theatre, where Something Rotten tickets are on sale, returned calls. Auditions for Something Rotten began last week in New York, according to notices posted on Playbill and elsewhere. The notices don't specify where or when the show will be staged.