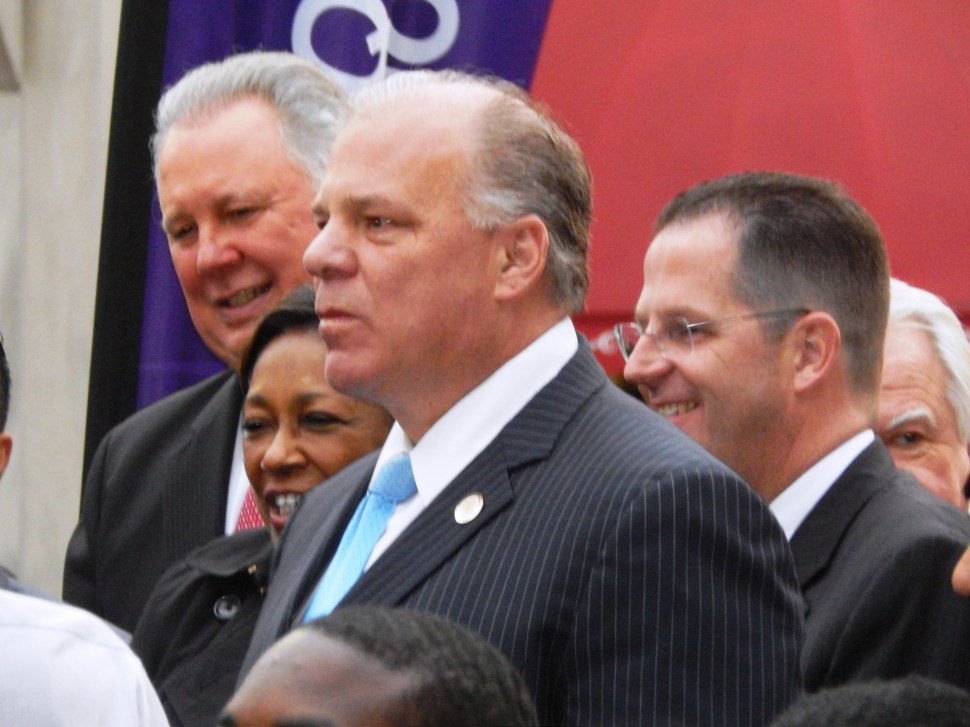 TRENTON – Senate President Steve Sweeney (D-3) reiterated on Thursday the "priority importance" of a renewed plan by the governor to replenish the Transportation Trust Fund that provides $2 billion in constitutionally-dedicated funds and includes a doubling of aid to county and municipal governments to repair and rebuild local roads and bridges.
Sweeney welcomed the following to back him up at a Statehouse news conference: Monmouth County Clerk Claire French, President of the New Jersey Association of Counties; Hope Township Mayor Tim McDonough; and Montclair Township Mayor Robert Jackson, co-chairs of the New Jersey League of Municipalities' TTF committee and Lawrenceville Mayor Cathleen Lewis, Director of Public Affairs and Government Relations for the American Automobile Association.
"The state's transportation infrastructure is in critical need of repair and that includes local roads and bridges," said Sweeney. "We have to look at the future and we have to invest, not just to maintain the transportation system, but to improve it.  I sincerely appreciate the active support of these county and local leaders who are joining with me today to discuss how we help New Jersey's residents get the infrastructure they need and deserve. It's a priority for motorists and it's important for our economy."
Sweeney said Gov. Chris Christie has to propose a plan, but the dedicated support for counties and municipalities must be part of it.
"Tomorrow, NJAC will be holding a summit meeting to discuss TTF issues and I felt it was important to get everyone together today to discuss the importance of my plan to double TTF aid to county and municipal governments," the senate president said.  "New Jersey's roads and bridges are literally crumbling beneath us and the damage to the state's transportation infrastructure is reaching critical proportions. The winter is upon us and forecasts are bleak.  These conditions are going to do more damage to the infrastructure, which will make travel in NJ more difficult and put more of a burden on our local officials."
Sweeney noted the following:
In 2006, the New Jersey Transportation Blue Ribbon Commission recommended that $300 million be allocated annually from the trust fund for local needs. It wasn't. Local aid that year was only a fraction of that amount and it hasn't improved.
There are more miles of roads and more bridges under local control yet their share of financial support has been decreasing in recent years. They don't have the resources to make the capital repairs and the local taxpayers can't afford the major expenses of rebuilding their roadways.
New Jersey's infrastructure is the lifeblood of our economy and it has been neglected too long. Deteriorating roads and bridges are dangerous to motorists and cause costly damage to vehicles. And the longer the repaving and rebuilding is delayed, the more expensive it becomes.
The American Society of Civil Engineers has reported that 651 of the 6,554 bridges in New Jersey (9.9%) are considered structurally deficient and 1,717 (26.2%) are considered functionally obsolete.
That ASCE report also estimated that driving on roads in need of repair costs New Jersey motorists $3.476 billion a year in extra vehicle repairs and operating costs – $601 per motorist, and that 66% of New Jersey's roads are in poor or mediocre condition.
"On behalf of the New Jersey Association of Counties' Board of Directors, I would like to commend Senate President Sweeney for his vision and leadership in recognizing that critical transportation funding should increase for local governments as county and municipal roads and bridges carry an estimated 53 percent of the state's overall traffic, yet inequitably receive only 12 percent of funding under the state's current Transportation Capital Program," said French.
"Thank you to Senate President Sweeney for his great leadership on transportation and his focus on helping municipalities and counties," said McDonough.  "The Senate President has been a tremendous advocate for local officials and his leadership will mean better roads, bridges and infrastructure for residents without hurting local towns and middle class taxpayers."
"Senate President Sweeney, quite simply, 'gets it.'  While much of the conversation on TTF seems to take place at the state level, it's abundantly clear to my fellow local officials that we bear the brunt of dealing with our state's crumbling infrastructure but we have not received the funding we need to make the necessary improvements without hurting property taxpayers," said Jackson.  "That's why Senate President Sweeney's plan is so spot on and so appreciated."
"Every day motorists get on roadways that become more congested and pockmarked. For the first time since 2007, more motorists said their commute had gotten worse than had stayed the same. Those who ride local roadways are most likely to rate their commutes as worse over the last two years.  With a cash-strapped Transportation Trust Fund there is not enough to go around. Local roadways receive less funds to take care of more miles of roadways.  Any funding solution must adequately provide for local roadways," said Lewis.