As Rev. Al Sharpton marched in Washington, D.C. with the families of Eric Garner and Michael Brown—black men slain by white police in Staten Island and Ferguson, Mo.—tens of thousands swarmed the streets behind the families of other blacks who died at the hands of the NYPD.
Millions March NYC appeared to have been the largest demonstration to flood Manhattan since grand juries decided not to indict either NYPD Officer Daniel Pantaleo or Ferguson cop Darren Wilson in the respective homicides of Garner and Brown, with organizers putting the crowd at either 30,000 or 50,000. The chants—"Black lives matter," "How do you spell racist? N-Y-P-D"—echoed those from the previous marches, but the declared "Day of Anger" visibly benefited from stronger organization and planning, and far-left protesters appeared to be following rather than leading the demonstration.
In contrast to the amorphous and often chaotic prior protests, the Saturday march had a designated route starting in Washington Square Park at 2 p.m., heading north to Herald Square, then cutting south along Broadway and concluding in front of One Police Plaza. Police closed off traffic along the path to avoid the protesters-mingling-among-cars dynamic that has marked marches so far, and the parade had its own marshals—many wearing jackets of black college fraternities—who escorted and controlled the demonstration.
Unlike the unfocused earlier agitations, the Millions March also had an explicit list of demands for the city and state, which its media team distributed to reporters. The bill of proposals demanded Mr. Pantaleo's immediate firing, taking police misconduct cases out of the hands of district attorneys and into the purview of a new special prosecutor, the prompt releasing of the identities of police involved in fatal shootings and a law preventing officers fired in one jurisdiction from being hired in another.
The statement compared the current push for police reform to the desegregation movement of the 1960s.
"We want people to shut down their cities for justice," the press statement said. "We are continuing where the freedom fighters of the civil rights movement left off. We are a new generation of young multi-racial activists willing to take up the torch and we're not going to stand for this anymore."
Carrying banner reading "Black Lives Matter" at the helm of the procession were the families of Ramarley Graham, an unarmed Bronx teenager shot dead by police in his home in 2012, and of Brooklyn 16-year-old Kimani Gray—who was allegedly carrying a pistol when officers killed him in the street in 2013. Beside them were the parents of Jacksonville, Fl. teen Jordan Davis, who died while unarmed from gunshots fired by a private citizen two years ago. No one involved in any of those killings has ever been convicted of a crime.
Joining them at the forefront were Manhattan Councilman Ydanis Rodriguez and his mentor, State Senator Adriano Espaillat, who weighed in on potential city and state resolutions to the protesters' concerns.
"It is time to make real changes inside the NYPD. We believe retraining is necessary," said Mr. Rodriguez, alluding to Council Speaker Melissa Mark-Viverito's promises of a "comprehensive" plan for police reform. "I believe this is a systematic problem inside the NYPD that we face."
Mr. Espaillat called for Gov. Andrew Cuomo to push ahead with a proposed bill to create a special prosecutor to handle cop abuse cases—and to create the new office by executive order should the incoming Republican State Senate majority refuse to cooperate.
"The governor has got to use the bully pulpit to make sure everyone understands this is about all New Yorkers," he said. "I believe it would appropriate for him to do [an executive order], absolutely." Mr. Cuomo's office did not immediately respond to requests for comment.
On several occasions along the jaunt, protesters encountered participants in the Kris Kringle-themed bar crawl Santacon. Several people dressed in Saint Nick garb mocked the demonstrators, while others briefly joined the march.
Outside One Police Plaza, under the watch of riot-geared cops guarding the steps, organizers coaxed the thousands-strong crowd into silence so the families could speak. Repeating every word so it could be relayed through the entire gathering through "mic check" responses, Graham's father demanded that borough district attorneys who had failed to obtain indictments and convictions of police officers be removed from office.
"Killer cops must go! Robert Johnson in the Bronx must go! Donovan in Staten Island must go! Richard Brown in Queens must go!" Frank Graham shouted.
Carol Gray, mother of the dead Brooklyn team, used her time with the megaphone to claim that police killings are a form of genocide.
"Today, we stand here, we say 'Black lives matter!' We say that 'all lives matter!'" Ms. Gray said. "We say 'No more!"
Organizers led the crowd in a final chant—"We shut shit down"—before declaring the event over.
At end of the demonstration, participants quickly reverted into a familiar fractious pattern. One group began chanting "March to Harlem," while contingent of a few dozen—spearheaded by a group called the Revolutionary Student Coordinating Committee—shouted "March on the pigs" and "Stand up, shoot back," and rushed to confront the officers guarding the NYPD headquarters, at whom they hurled epithets for the next 20 minutes.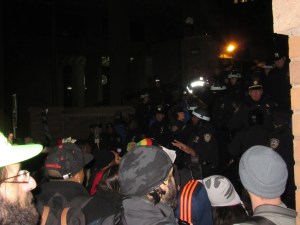 Another faction, numbering several hundred or as much as a thousand, made for the Brooklyn Bridge on-ramp in a reprise of the previous protests. Police had taken the precaution of clearing traffic from the Brooklyn-bound lanes, and protesters scampered across service gangways to mix with cars headed into Manhattan.
While on the span, one demonstrator attempted to throw garbage at officers, provoking them to attempt his arrest. Demonstrators allegedly interfered with the apprehension, and knocked several officers down and kicked them. Mayor Bill de Blasio later released a statement condemning the assault.
"Over the past several days, the people of New York have provided an example to the world on how to protest, march and express themselves in a peaceful and respectful manner," Mr. de Blasio said in a statement. "However, an incident today on the Brooklyn Bridge, in which a small group of protestors allegedly assaulted some members of the NYPD, marks an ugly and unacceptable departure from the demonstrations thus far. Let us be clear: there is no place whatsoever for violence of any kind, whether against the police or against our fellow citizens, in New York City."