At 7:00 the night of the preview unveiling illustrator Donald Robertson's handbag collaboration with Kara Ross, Ms. Ross' Madison Avenue store is buzzing. Mr. Robertson's muses Kata de Solis and Christina Grasso are there wearing gold, metallic, fabulously futuristic cutout apparel by Alon Livne. Socialites in outdated Herve Leger jostle one another to get a tote bag with Mr. Robertson's images of Bigfoot painted on the front.
And at a table in the middle, Mr. Robertson is covering drawings with his signature pink gaffer tape (the hashtag for the collaboration is #diamondandgaffertape).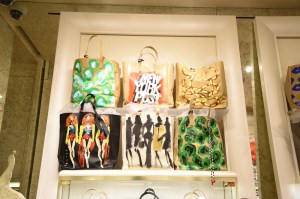 Even in the midst of all the excitement of this collaboration he's brainstorming his next move, exclaiming, "I came in this morning and said, 'Kara I want to have a fancy pop-up in a parking garage.' I was like, 'Kara, can we rent out a parking garage on 17th and have a weather-permitting pop-up? We'll have security guards, it'll be like the guys on Canal Street but selling legit stuff.' "
Kara Ross, a doe-eyed blonde, looks, well, she looks the tiniest bit frightened.
The high-energy scene immediately brings to mind the kind of party Andy Warhol might have presided over. So it makes sense that Donald Robertson—the creative director whose whimsical illustrations have developed a rabid following on Instagram—is sometimes referred to as "The Andy Warhol of Instagram."
"That is not a bad comparison," says Mr. Robertson. "Andy Warhol was a commercial illustrator who transitioned into art. And he also transitioned into new media. He wasn't afraid to experiment and do new things. He did children's books, and coloring books and merchandise. He was into retail. I don't mind that comparison at all."
Kara Ross agrees that both of them seem to have an ability "to make the everyday become art." The only difference is that Andy Warhol's drawings shot to fame while Warhol was in his 30s, while Robertson is 52.
"I am an old creative director in New York," says Mr. Robertson, who works for Estee Lauder. "Technically, I should be panicking. There are all these 22-year-olds running around with groovy portfolios and they're all dot-com-y. A few years ago, I thought, 'What the hell am I going to do?' And then my wife tells me, 'We're having twins!' And I was like 'great.' "
He shakes his head and laughs as he says, "I was like, 'I've got to pull my shit together.' "
He got into social media and started posting his whimsical drawings of the fashion world on Instagram under the name Donald Drawbertson and selling his work on the Trendabl app.
It turns out those 22-year-olds had nothing on Mr. Robertson. Though his Instagram motto is, "You cannot please everyone. You are not a jar of Nutella," he currently has 107,000 followers.
They seem extremely, even Nutella-y, pleased. On a recent drawing of rats rocking Anna Wintour's bob—a reference to the rat problem at the new Conde Nast headquarters—commenters exclaim, "you are so wildly talented!" and "starting Monday morning with a huge laugh!"
"It's the wacky people who are really having a field day with Instagram, because you can do whatever you want," says Mr. Robertson. "It doesn't rely on sales or numbers, so you can have fun with it."
Kara Ross notes that when the two were introduced by their mutual friend Lisa Perry, "I was following him on Instagram!" Though she also, somewhat more sedately than Mr. Robertson, points out that Instagram can be a huge sales tool. On her recent trip to Saudi Arabia, she discovered that around 40 percent of luxury goods were purchased after someone saw them on Instagram and asked about them.
After meeting, the pair began considering how to combine Ms. Ross' accessories with Mr. Robertson's illustrations, and quickly hit upon the idea of tote bags.
"I sold a wall of my Whole Foods paper bags [with illustrations on them at a prior show], and everyone said, 'I want to carry that bag!' But you can't. So when Kara called me I said, 'I know what I want to do. Can you make those Whole Foods bags out of leather?' "
They did. They're also made in python, and waxed canvas, and they range in price from $390 to $3,000. They're amazing. You've got to see them.
They feature wild drawings from Bigfoot to Jackie O to a woman in lingerie dressing a businessman. Others just contain quippy slogans like "Buy Sexual" or "Faux Whole Foods."
While many of Mr. Robertson's most memorable illustrations feature personalities from the fashion industry such as Karl Lagerfeld or Anna Wintour, the closest he's come to depicting them in the Kara Ross collaboration is one bag that reads, "Karl and Anna Sitting In A Tree XOXOXO."
"I had to be kind of cool about that," said Mr. Robertson. "I didn't want to get Kara in trouble. I tried to not get in her in trouble so we wouldn't get into any suing situations."
Mr. Robertson's only disappointment was that he couldn't use the signature bits of gaffer tape he incorporates into many of his illustrations. Gaffer tape, it turns out, doesn't last that long on bags. But he claims, "The gaffer tape fail forced me to be more painterly.
"I've worked with everybody and lots of brands I've been meaning to work with." That list includes most recently, Brian Atwood, Colette and Smashbox, but now he is turning his sights to Hollywood. There, he plans to make some short films with Ms. de Solis, who he affectionately refers to as his "Edie."
Amazing to think that all of this has happened in only two years. When asked how his life post-rapid Instagram rise to fame compares to where he was two years ago, he replies, "Well, my career had taken off, and I was doing good, but I wasn't having as much fun. Now I'm having a lot of fun."
Follow his lead. Go out. Have fun. Document it. And remember to take Instagram pics or it didn't happen.