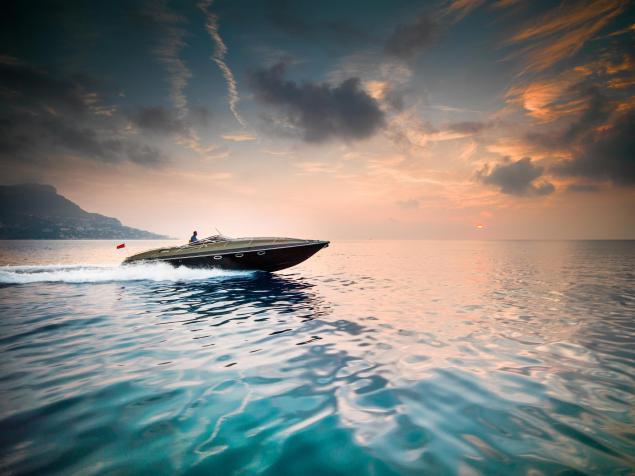 The Observer presents our 2014 billionaire's wish list. Those go to, must-haves for squillionaires with the urge to splurge.
Smoke on the Water
The "Aston Martin of the seas," according to the British company that makes them, Hunton powerboats are the ultimate in waterside style. Each one is unique, they come customized to suit each owner. Clients can select from colors, fabrics and wood finishes. Hunton has recently commissioned a boat with interiors done in Loro Piana cashmere and customized, supple leather. Leaving a Hunton on a dock may be dicey though; it needs a private, secure mooring. Nothing about owning one of these launches or tenders—don't call it a boat—is economical but the thrill of cruising through the waves at up to 70 knots in the style of Osgood Fielding III is priceless anyway. Starting at $799,000.
hunton.co.uk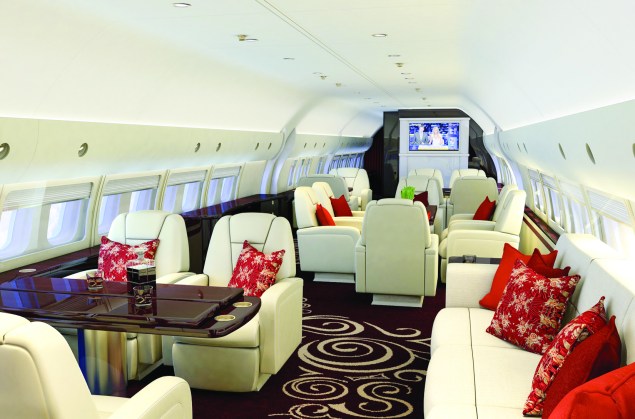 Flying High
In 2008, as the economy plummeted, Chrysler's CEO Robert Nardelli, General Motors' G. Richard Wagoner Jr. and Alan Mulally of Ford took to the skies. The Big Three's big three rode corporate jets to Washington, D.C.—and subsequently begged for taxpayer bailouts. "Bad optics," as political consultants would say. The corporate jet quickly came to symbolize excess in America and sales of plush planes tanked. But the industry's fortunes are soaring again. "The industry is stronger today than any other time since 2007," Ed Bolen, editor of Business Aviation Insider, recently wrote to his readers. A Boeing 777 fetches around $85 million not including cabin customization, which will cost at least another $92 million, estimates Rebecca Posoli-Cilli, CEO of Freestream Aircraft USA Ltd. In Teterboro, N.J.
Image Conscious
Nothing patinas new money like a museum-quality oil portrait above the couch. Brooklyn's Costa Vavagiakis—collected by the Museum of the City of New York and the New-York Historical Society and hailed by Drawing magazine as "a leading contemporary figurative artist whose paintings and drawings are remarkable for their lifelike appearance"—accepts portrait commissions. A 48-inch-by-60-inch full-body portrait costs $75,000 but clients can include a spouse in paintings for only an extra $20K. costavavagiakis.com
Bag Goody
You may want to build on your Birkin collection. Nobody has just one or two. stephanie seymour has a whole room devoted to the Hermés classic handbag with the flip-over top, com- fortable handles and sturdy, studded feet. victoria Beck- ham has a collection sup- posedly worth $1.5 million and kim kardashian uses one as a gym bag. last sep- tember, a Diamond Matte Himalayan Crocodile Nilo Birkin studded with 242 dia- monds, featuring white gold diamond studded hardware sold for an undisclosed sum (reportedly around $185,000) at auction. the price and waiting list for a new Birkin varies depending on the animal skin, color and custom requirements, but even Jane Birkin herself would not get one in less than six weeks. she would not get one at all actually, because the french star the bag is named for does not like them. long story. on second thought, perhaps be an original and give the whole thing a swerve.
This $180,000 chrome-plated Bentley is perhaps too crass an example of what the average NFL player signing on for a huge wedge might go out and score but it is not far off. Sports stars, you see, need something that stands out in the stadium's VIP parking lot. They want their peers to wonder whether the publicly available amount they are earning is their true salary, or if secret bonus deals and other under-the-table financial skullduggery are giving them the edge. So the more uniquely customized and potentially expensive the vehicle, the more intimidating that becomes to teammates. The kudos comes in owning a foreign vehicle, radically customized. Lamborghini, Rolls Royce or Porsche could also fit the model bill. DeLorean is the go-to brand but too dodgy, man, too dodgy. Also, no self-respecting quarterback wants to drive the same car as Justin Bieber.
Grand Style
Every salon deserves a fazioli Concert Grand. A piano conveys the impression of a home teeming with culture, as classical musicians drop by for impromptu evening perfor- mances and the doyenne of the house crashes out violent bursts of Rachmaninoff when she's in a dark mood. the fazioli is the beast to own, renowned as the No. 1 choice for the world's top concert pianists. Crafted in Northern italy in an area famous for wonderful woodworking, these pianos, which should rise in value, are just sublime in every way. of all the status symbol objects, if such a thing genuinely exists, these are the things to get. the cool caveat? for God's sake, learn to play before buying. $208,000, klavierhaus.com