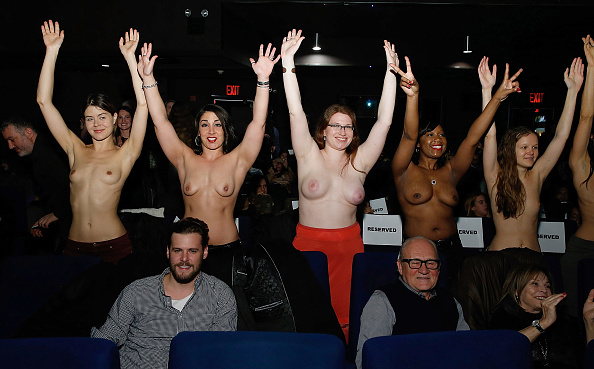 Gandhi burned registration cards in South Africa, straphangers boycotted the buses in Montgomery, Ala., Pussy Riot rotted in a Russian jail, and now we're watching another great movement unfold, one that strives to liberate that most oppressed group of all: the millions of female nipples languishing in the captivity of bandeaus, camisoles and brassieres.
At least that's the impression I got at the IFC Center Thursday night during a screening of Free the Nipple, a new film from first-time director Lina Esco. It's a narrative film, but also part of a larger battle that's raging in the streets of New York, where female toplessness is legal but still policed, and on the risque social media feeds of free-spirited celebrities: Rihanna, Miley Cyrus and Cara Delevingne are all—surprise!—foot soldiers in the Free the Nipple army.
And this only made Thursday's premiere, which had a "tops optional" dress code, all the more wild. Scout Willis—the daughter of Bruce and a freer of nipples—spoke into various video cameras about how her activism on this issue has helped her "forge these really beautiful connections" with strangers from all over the world. Nearby, the activists doffed their shirts and posed for photos as mostly middle-aged male journalists struggled to keep their eyes from wandering downward while tripping over hard-hitting questions like, "Do you wear a bra?"
Clearly, many were having problems concentrating in the screening room, where one row had been taken over by women exercising their freedom to go nips-out. As he introduced the film, hip-hop mogul Russell Simmons looked into the crowd and found himself awash in liberated chests.
"I'm really inspired by the film and by Lina," he said. "It should be in our consciousness to be supporters of equal rights for all."
Then, again staring down the audience: "I'm such a pig—I want to sit in that row."
The film follows an earnest young journalist named With who goes native and joins the Top-Free Movement after getting canned by her editor for trying to publish a story on attractive women staging topless protests in New York City. Together with self-serious, basement-squatting activist Liv, played by Lola Kirke—the sister of Jemima and a freer of nipples—and a crew of comrades-in-aereolas, the girls ride their bikes around town wearing superhero capes, tagging buildings, and letting their palookas fly free to protest the soul-crushing tyranny of shirts. Pussy Riot is referenced. Shots of Occupy Wall Street are shown. In one particularly poignant scene, With gets her ya-ya's out with her ta-ta's out as she disrobes in Times Square, scandalizing tourists. Power to the people! Free your fun bags and the rest will follow!
Given the current state of women in Hollywood, I'll forgive all sorts of clunky dialogue and (figuratively) flat characters if a film passes the Bechdel test and manages to be vaguely progressive in spirit. But while I enjoyed watching female protagonists talk about something other than men and babies, rallying for the right to walk around with both badoinkies on display is, dare I say it, a relatively silly cause. The fact that they shot it in New York during the aftermath of Superstorm Sandy raised further questions. Is a brutal humanitarian crisis that left thousands homeless going into winter really the best time to advocate for one's right to go shirtless in summer? What would that one character's grandma, an ex-Black Panther, think? And is it even possible to protest the patriarchy if the patriarchy is staring at your "nice pair," as Liv refers to With's rack early on?
Such deep thoughts linger as I encountered the film's inspiration, full-time free spirit Sarabeth Stroller, who was smoking a mondo spliff out front after the screening.
"I'm an artist, and I think people should be cool with breasts when it's hot," she said.
Also, if I were to "follow the money," as Ms. Stroller put it, I would see that all "family values" censorship advocates were really just puppets of the all-powerful "clothing lobby." Good to know.
But of all the issues affecting women today, why had she decided to devote herself to making sure her melons get fresh air?
"It's trite, and that's why I distanced myself from the project," she replied, "but at least it'll get people talking!"
Maybe that's the key: Perhaps Free the Nipple isn't actually about the boobies. Are the mammaries a metaphor for something more?
"This is not about going topless—this is about equality," Ms. Esco, the director, said on over the phone. "The nipple is the major Trojan horse here. There's no way you'd be talking to me if my movie was called 'equality.' "
True, the movie has glimmers of deeper meaning: it ends with footage from places like Tunisia and Ukraine, where such activities are actually dangerous, and these women can use their gazongas to triumph over oppression.
But by and large, this is a single-issue film, an infinite feedback loop of topless women fighting for their right to party topless. It's also a film where one character masturbates to videos of herself masturbating. That kind of sums the whole thing up.