As condo developers continued to build their castles in the sky this past year, betting on an inexhaustible supply of billionaires with a parade of groundbreakings and topping outs, rendering releases and sales center openings, the co-op market, long dismissed as something of an also-ran, quietly reclaimed its mantle with all the hauteur of a scorned socialite.
The co-op resurgence is one reason this was a better year for the trophy than 2013, when the biggest sale failed to hit $50 million. This year, nine topped $50 million.
The top two deals of 2014, save for any late-breaking closings—the $71.27 million sale of the French government's apartment at 740 Park and the $70 million sale of late billionaire Edgar Bronfman Sr.'s penthouse at 960 Fifth Avenue—were co-ops, and so might the third be, if it manages to close before year's end: Woody Johnson's penthouse at 834 Fifth, which is rumored to be in contract for $80 million.
Not only have the co-op sales blown past the category's previous $54 million record, set by the 2012 sale of Denise Rich's duplex penthouse to David Geffen, but they have come the closest to the still-untouchable $88 million residential record, that increasingly mythic 15 Central Park West purchase made by Russian fertilizer king Dmitry Rybolovlev in January 2012. Of course, there are a passel of penthouses in contract at One57 and 432 Park for upwards of $90 million, but it appears that yet another year will pass without their closure.
"It wasn't clear until the Bronfman apartment came on the market that there was anything that could test the co-op market," noted Kirk Henckels, the vice chairman and founding director of Stribling private brokerage. "But these sales proved that the trophy buyer is there for the co-op buyer as well."
Many of the co-ops with the most impressive sales records have accepted buyers who might not have passed muster in decades past—foreign billionaires and out-of-town machers who are unlikely to be found serving on local museum boards or sending their daughters to Spence. But then, the easing of entry requirements at blue-blooded addresses has been a long-time coming and an even longer-time needed.
As for those safe deposit boxes in the sky? Though One57 can claim more of the city's top deals than any other address, including five sales in the $50 million to $55 million range, even Gary Barnett has said he thinks we're seeing the beginnings of a slowdown in the super-prime market.
Some sellers seem to have (wisely) adjusted their expectations: the Pierre penthouse, once asking $125 million, can now be had for $95 million and embattled hedge funder Steven Cohen has dropped the ask on his One Beacon Court penthouse from $115 million to $82 million. Meanwhile, an Upper East Side townhouse asking $114 million has quietly disappeared from the market and the ridiculous $100 million CitySpire penthouse seems to have vanished for good.
Reed Krakoff's townhouse at 113-115 East 70th Street, with a ground-floor bathroom covered entirely in golden snakeskin, sold for $51 million—the first townhouse sale in a long time to come within striking distance of the $53 million record set by the 2006 sale of the Harkness mansion. (A $100 million deal to sell the Wildenstein & Co.  townhouse to Qatar having fallen, not unexpectedly, apart.)
In a change from last year, the uptown market, which has struggled to maintain its prominence with increasingly stunning sales downtown, was clearly the star this year, despite a strong showing from some downtown addresses like Walker Tower (which set a new downtown record with the $50.9 million sale of its penthouse).
It was also a year that demonstrated what seismic shifts a billionaire's divorce can cause: two of the top 20 sales of 2014 stem from the Rupert and Wendi Deng split, with Mr. Murdoch buying two condos at One Madison—a $43.01 million triplex penthouse and a more modest $14.92 million pad—to combine into a penthouse quadruplex. Meanwhile, Ms. Deng paid $34 million to take over Rupert's shares at 834 Fifth.
Of course, with all the hullabaloo at the very high end, it can be easy to forget there are trophies, albeit a lot of them, and then there is the rest of the luxury market, the sluggish state of which has given a few brokers pause, in particular, resales.
"One of the most difficult categories has been the three to four bedroom with a library prewar co-op—your classic Wall Street apartment," Mr. Henckels said. "We've broken the laws of supply and demand. There is very low supply, but prices aren't going up."
And with that, on to the top 21 deals of the year, as compiled by Miller Samuel. 
1. 740 Park Avenue, No. 12/13, $71.27 million
The biggest deal of the year was also the most unexpected. Though an undeniably lovely duplex at what is arguably the city's finest address, the French government listed it at just $48 million (austerity being just the thing in France right now). So how did it end up selling for $23.27 million over ask to Israel "Izzy" Englander? Even with a dream team co-op co-broke between Sotheby's Serena Boardman and Brown Harris Stevens' John Burger, bidding wars seldom result in such spectacular results. Rumor has it that the hedge fund founder, who has an apartment next to this one, was so keen on expanding that he allowed his offers to be pushed up by a seemingly endless stream of prospective buyers, even without a guarantee from the board that he could combine the units.
2. 960 Fifth Avenue, Penthouse B, $70 million
The second-highest sale of the year also closed over ask, though by a mere $5 million, briefly holding the co-op record. But then, what's $5 million extra when the buyer is Nassef Sawiris, Egypt's richest man? The floor-through, 16-room penthouse belonged to the late billionaire Edgar Bronfman Sr. and has a wraparound terrace as well as four staff rooms and two bedrooms on a floor below. And if that's not enough coddling for the new occupant, the ultra white-glove bedroom also offers full-service catering for lunch and dinner. While it might appear that Mr. Sawiris' decision to use his own name on the documents reflect his pride in the purchase—we heard that he beat out Wal-mart heiress Alice Walton—brokers said that 960 Fifth, lax though their standards might be compared to days of yore, insisted on it.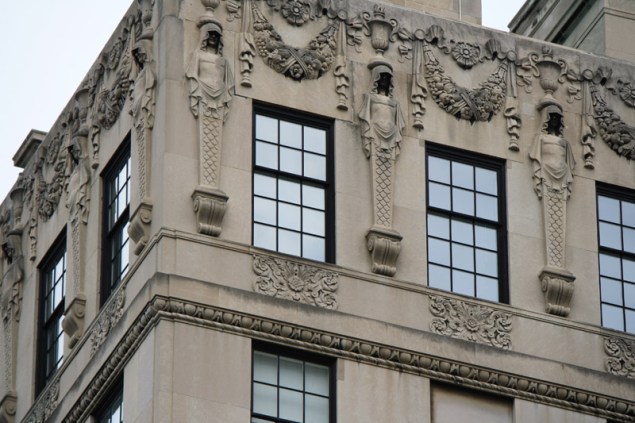 3. 157 West 57th Street, No. 82, $56.07 million
It was reported that one could see not only the entirety of Manhattan from this full-floor penthouse on the 82nd floor, but on clear days, the Atlantic and the Catskills. Naturally, the buyer was a foreign billionaire—Hong Kong apparel mogul Silas Chou, a former co-chairman of Michael Kors and early investor in Tommy Hilfiger. The finishes are superlative, as they are throughout the building—but the 6,240-square-foot condo does have a few special features: namely, a one-ton soaking tub that was hand carved from a single piece of marble. So what are the monthly maintenance charges on a 6,240-square-foot penthouse in one of the city's premiere buildings? A mere $12,212, thanks to a tax abatement that Extell obtained.
4. 157 West 57th Street, No. 85, $55.55 million
Fourth-place honors also go to One57, which saw a flurry of closings at the end of this year (not surprising, as long-standing contracts in new-construction buildings generally close as interior construction is completed). The buyer is a familiar face to Mr. Chou—his business partner and fellow fashion tycoon, the Quebecois billionaire Lawrence S. Stroll. (Though Mr. Stroll is, at least, a billionaire of recent vintage, having earned the designation after the men took Michael Kors public last year.) Messrs. Chou and Stroll are said to be among the first buyers at One57.
5. 157 West 57th Street, No. 81, $55.49 million
Another full-floor penthouse at the skyscraper that started the 57th Street gold rush, another one-ton bathtub carved from a single piece of marble, this one with a south-facing view from which the occupant can take in views of the Empire State building and Statue of Liberty while soaking in gold coins. The buyer, Texas multimillionaire Rebecca Ann Moores, the ex-wife of former San Diego Padres owner John Moores, intends to use the apartment as a pied-a-terre. But when she is in town, she will enjoy four bedrooms, five and a half baths and a 75-foot-long entrance hall that the Times described as "galvanizing."
6. 157 West 57th Street, No. 80, $52.95 million
If the redundancy of these sales is starting to feel tiresome, imagine how the other luxury developers in New York must feel right now. No. 80 is, like its top-of-the-building brethren, a floor-through, four-bedroom, 5.5-bath of 6,270 square feet with stunning views through its glass curtain walls. This one, too, looks to have an absentee owner—a limited liability company, Lapus NY Inc., with an address in Pasadena, Calif., was used to make the purchase. At least the buyer's broker, Michael Graves of Douglas Elliman, was effusive, telling the Times when the sale closed in late November that "living on a full floor at One57 is probably the closest thing to being a king in the 21st century: The views are 360 degrees of absolute bliss, and there you are, front and center above it all, soaring over the park with the view of an eagle." Ah, so that must be where the phase "eagle's eye view" comes from.
7. 113-115 East 70th Street, $51 million
Moving on, phew. The expansive address of this 30-foot-wide townhouse on what many consider to be the Upper East Side's best block says it all: the 18,000-square-foot Georgian is a beast. A beast that was gut-renovated, following a 2006 fire, by former Coach creative director Reed Krakoff (who has since started his own eponymous label) and wife Delphine to such ogle-worthy heights that even design guru Jonathan Adler called the interiors "some next-level shit." The home not only has a bathroom upholstered in golden snakeskin with a spherical toilet, but European floorboards (American floorboards are so common!) and a staircase inspired by the Guggenheim. Brown Harris Stevens broker Paula Del Nunzio, who is said to have represented Mr. Krakoff, once again took the year's top townhouse deal in a sale to an LLC (of course) named 70th Street Acquisition (how creative) with an address in Hewlett, N.Y. The Krakoffs, meanwhile, have funneled $14.3 million of their profits into Huguette Clark's New Canaan, Conn., estate.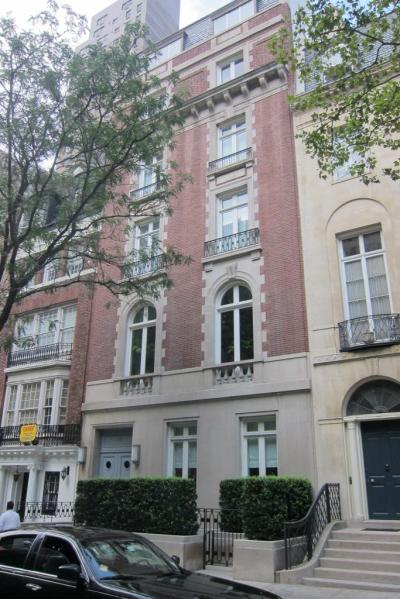 8. 212 West 18th Street, Penthouse 1, $50.91 million
So it didn't get the $55 million it wanted, but the most expensive penthouse at Walker Tower, the stunningly successful Chelsea renovation undertaken by JDS Development and Property Markets Group, still set a downtown record. Oh, and the buyer paid all cash. At 5,995 square feet, the penthouse, which occupies the top, 24th floor, is actually smaller than its downstairs neighbor, which was last listed for $47.5 million before going into contract last month, but a true penthouse always demands a premium. Besides, the home has a south-facing terrace, whilst the downstairs penthouse must take what sun they can get on one that faces north. The buyer, rumored to be Hakkasan CEO Neil Moffitt, bought under the LLC; in any event, the buyer wasted no time in dithering: Douglas Elliman's Vickey Barron told the Journal he "was in the penthouse less than five minutes and said, 'I'll take it.' "
9. 157 West 57th Street, No. 79, $50.91 million
It's a tie for the eighth and the ninth slot this year, with One57 once again nosing its way into the top 10 with the closure of yet another floor-through four-bedroom, last asking $50 million. Few details about the sale are available—though it was confirmed by Extell, it has yet to hit public records. We're going to guess that it feels capacious, with 6,240 square feet, and that the buyer, when he or she is in the city, will enjoy the many amenities provided by the building and downstairs Park Hyatt. Though he may have to contend with slight feelings of inferiority in comparison to his other penthouse-dwelling neighbors, with just four bathrooms and what will, from the 79th floor, be a slightly less high-flying bird's eye view.
10. 19 East 70th Street, $50.2 million
The mansion that Christian Candy almost renovated—until the ultra-luxe London developer bought the townhouse for $31 million last year, 19 East 70th spent the past four decades pressed into rarified service as the now-defunct Knoedler & Company art gallery, which closed amid accusations that it had sold forged paintings. Thirty-feet-wide and on the same estimable street as Mr. Krakoff's, the 30-room mansion was still awaiting its designer makeover when financier Leon D. Black and wife Debra bought it late this year. Their broker, Deborah Grubman of Corcoran, touted the house's ability to become "one of the city's most impressive private residences." The value-added of approved plans for a residential conversion? $19.2 million, apparently. Oh, and Mr. Candy opened up bricked-over windows and skylights, which Corcoran broker Louis Buckworth told The Times made it possible "to envision the grand scale residence this landmark property could become."
11. 15 Central Park West, No. 18/19 B., $48 million
Though this scarcely seems possible given how the "Limestone Jesus" has enthralled us with its seemingly impossible resales over the years, this duplex penthouse overlooking the Park was the building's second most expensive sale ever, behind the $88 million legend. (There have been loftier asks, of course, this included, which tried for $62.5 million.) This duplex, which has an interior elevator and a curving stair, is right below that most glittering of trophies, and was bought as a resale by retired (and now late) pharmaceutical exec Richard Ullman in 2008. He paid just $23.9 million for the place, which has a 20-by-30-foot living room that opens, via a double-set of French doors, onto a 42-foot-long terrace. The buyers, who bought under an LLC titled 15CPW PHB, seem considerably less exciting.
12. 27 Christopher Street, $45 million
Though it's debatable whether or not 27 Christopher Street, a 19,000-square-foot building that is the former home of New York Foundling, counts as a residential sale, its new owners have said they intend to convert the building into a massive, single-family mansion, so we're including it here. (It also bests last year's $43 million list-topper, 144 Duane Street, also a bit of a category jumper, as downtown's most expensive single-family sale.) Though some townhouses rival 27 Christopher's size, the four-story building will offer its new owner, an LLC named Villagefh, something rare in Manhattan: a stand-alone manse with multiple exposures. And in Greenwich Village, no less.
13. 23 East 22nd Street, Penthouse, $43.01 million
The ultimate bachelor pad for a news overlord, Rupert Murdoch's penthouse purchase at One Madison is far grander than it seems at first glance. See, Mr. Murdoch didn't only buy the triplex penthouse from Related, which with five bedrooms, 5.5 baths and a wrap-around terrace would have been lavish enough for most, but the three-bedroom apartment below, bringing the grand total of his purchase to $57.25 million and 10,160 square feet. The two apartments, which were unconnected at the time of purchase, are poised to become a quadruplex spanning floors 57 to 60, with an internal elevator and a double-height great room (when you have four floors, why not?) with a circular staircase. Oh, and he got a deal, as the two units had been asking a combined $66.5 million.
14. 802 Greenwich Street, $42.5 million
More bunker than home, this 12,000-square-foot mansion has none of the charm that draws most buyers to the Village. Built by Texas oil heiress Hyatt Bass and her screen-writer husband Josh Klausner after they acquired the site for $7.5 million in 2001, the home was designed with extreme security in mind (Ms. Bass' mother Anne was once held hostage at her Connecticut home). Alas, it failed to appeal as a domicile despite having reportedly received input from Annabelle Selldorf and Markus Dochantschi, and the couple never moved in. The "home" also seems not to have required brokers in its sale to RHFT Investment Trust—no word, however, on whether or not the new owners will be moving in or have redevelopment plans in mind.
15. 50 Central Park West, No. 12B/C, $42 million
It's hard to believe that when Jon Stryker, the LGBT activist, philanthropist and heir to medical supply company the Stryker Corporation, bought two apartments atop the Prasada for $12.8 million in 2002, he set an Upper West Side record. Times, and the apartment, however, have changed, and when Mr. Stryker sold the resultant 5,600-square-foot penthouse (it comes with another 3,526 square feet of terraces), it fetched more than three times that amount. Of course, the combination, done by Shelton, Mindel and Associates, was deemed "ingenious" by the American Institute of Architects and is a triumph of white panels, dark wood and airy coffered ceilings. The buyer, however, seems not to be overly fond of sunlight, having purchased the co-op anonymously as the Kzolp Realty Trust with entertainment lawyer Lawrence E. Fabian listed as the trustee.
16. 1136 Fifth Avenue, Penthouse/No. 14 C, $35 million
The fictional provenance of this duplex penthouse is its most famous attribute—it nominally belonged to Gossip Girl's somewhat wicked protagonist Blair Waldorf, though the interiors of Ms. Waldorf's so-called home were filmed elsewhere. In real life, it belonged, until this summer, to Warner Music CEO Stephen Cooper and wife Nancy. It is, nonetheless, perfect for a haughty young heiress, with an entire entertaining floor and views of the Jacqueline Onassis reservoir, a master bedroom with a sitting room and a pair of massive dressing rooms, as well as multiple terraces. (Including a wrap-around, of course.) Anton Levy, a managing director at private investment firm General Atlantic, bought the co-op for $5 million above the asking price.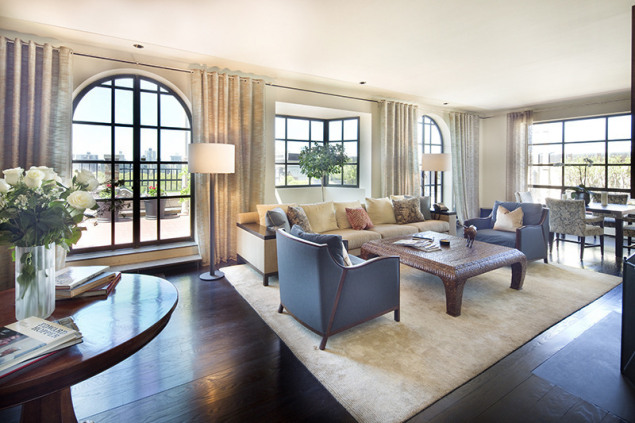 17. 834 Fifth Avenue, Penthouse 14B, $34 million
This wasn't a sale so much as one small part of Rupert Murdoch and Wendi Deng's massive divorce settlement—the part in which Ms. Deng at least nominally paid Mr. Murdoch $34 million for the pleasure of remaining in the couple's triplex penthouse, a trophy of trophies with 4,000 square feet of terraces. The penthouse set a city record when they bought it from a Rockefeller for $44 million in 2007. And then, of course, they renovated.
18. 157 West 57th Street, No. 58A, $34 million
This three-bedroom condo not only has the distinction of sharing the 16th spot with Ms. Deng's expensively-retained real estate holdings, it's also One57's first flip. The unit, a 4,483-square-foot, glass-walled spread, sold for a $3.5 million profit a mere five months after SSO enterprises, a Chicago-based LLC, purchased it for $30.55 million. Whether or not the resale made Gary Barnett's heart soar or sink remains a mystery. Not so mysterious was the buyer, private equity manager Harvey Sandler and his wife, Phyllis, who were clearly eager to leave behind their dated two bedroom at the nearby Metropolitan Tower.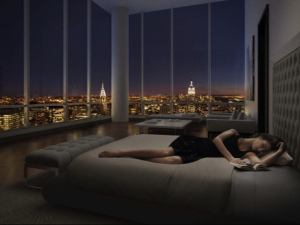 19. 768 Fifth Avenue, No. 901, $33.2 million
Another billionaire sells his apartment at the Plaza … yawn. Simon Fuller, the British creator of American Idol (figures) and former manager of the Spice Girls, sold his four-bedroom, 4.5-bath apartment in an off-market transaction to  LLC ASB Properties (USA). We don't know much about the apartment, which was purchased for $19 million as two units and combined by Mr. Fuller, or the buyer. What we do know is that they like a lot of space, having paid an additional $4.8 million for an adjacent one-bedroom that Mr. Fuller bought in 2013.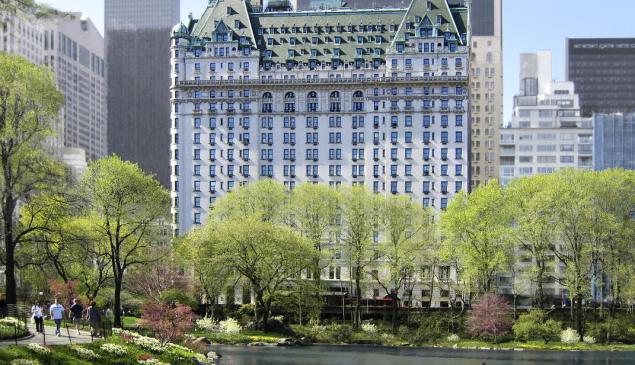 20. 157 West 57th Street, No. 63A, $32.57 million
Back to One57, which has a whopping seven places on this year's list. This unit has three bedrooms, 4.5 marble baths and a master suite with two bathrooms and two dressing rooms (no surprises there). The only interesting thing about this unit would likely be following the trail of money that paid for it—it was purchased by a Swiss limited liability company named One57 63A that was represented by Katy Huang, a Deutsche Bank investment advisor who deals with many high net worth Saudis.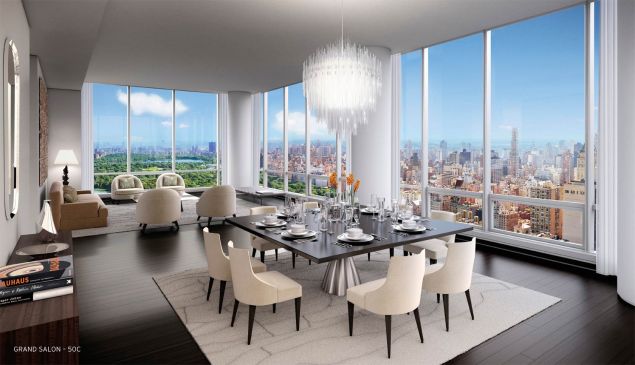 21. 768 Fifth Avenue, No. 807, $32 million
The last sale on this list may also be among the most mysterious. An 11-room corner unit at the Plaza, the 5,850-square-foot four-bedroom is a combo of two units with 75 feet of entertainment space overlooking the Park and Fifth Avenue. Mirroring the other Plaza sale on this list, a one-bedroom suite across the hall was also scooped up by the same buyers for $2.5 million. And, in true international moneyed fashion, neither  buyer nor seller revealed his identity: the condo passed from the hands (if such an anatomical term can be used in this case) of Plaza One Acquisition/Plaza Two Acquisition to Babacan Plaza.
— Top 20 deals compiled by Miller Samuel
Editor's note: Due to 19 East 70th Street's classification as commercial, it was not included in the print version or original online version of this list. The list has been modified to include it as the 10th largest sale of the year.