Let me start by confessing that I am not immune to the appeal of the Duggars, the Arkansas family starring in the popular cable show 19 Kids and Counting.
Like Mrs. Duggar, I am a mother (although I've produced only a paltry two joy-bundles, alas). I read recipes, love to cook and enjoy snuggling up at home with my children and husband. And I too have worried about pedophiles snatching my beautiful son, and whether our daughter wears clothes that might attract the wrong kind of attention from predators.
Also, as an occasional consumer of reality shows, I appreciate the can't-turn-it-off lure of two parents in a pee-soaked, diaper-scented, applesauce-slimed human zoo of their own making, pretending to love every minute of it and asking God for help hourly.
So far, so good. If the Duggars were just exhibited at the Human 4H Breeders pen at the State Fair in Fayetteville, this would all be harmless fun.
But they are not.
The Duggars are good TV. Good, sugarcoated rat poison, politically speaking. And increasingly, they and their grown spawn are to be found running around the country spreading the word of ignorance and backwardness.
They have now been granted six years and counting in which to widely promote a lifestyle based on an extremist belief system dubbed "Christian Patriarchy" that involves the absolute submission of women to men. They hold crackpot anti-science beliefs that a network with the word "learning" in its name should be rather ashamed of, such as that birth control pills cause miscarriage and that evolution is a lie.
Of course, Michelle Duggar home schools her children, filling their little ears with nonsense about creationism and women's submission to God and husband, while Jim Bob works outside the home in real estate.
But the fact is, Mrs. Duggar does not stay at home. Not at all.
I witnessed the power of Michelle Duggar's appeal a few years ago, at the annual Conservative Political Action Conference (CPAC). The gathering, which attracts busloads of young conservatives from around the nation for right wing pep talks, serves every four years as a an early presidential tryout for the right winger field.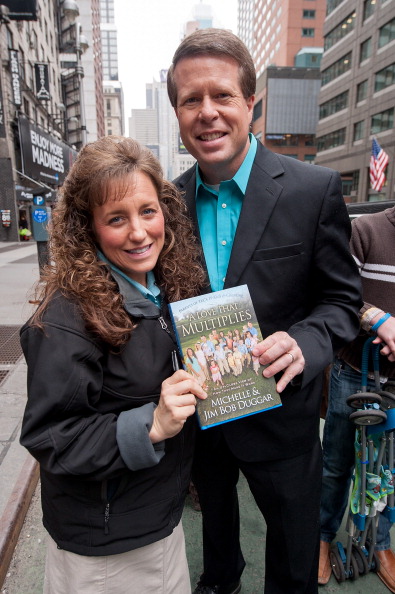 Young women, and some of their men, began lining up early at the booth where Mrs. Duggar was signing posters. Some waited more than an hour to shake her hand. The ones I spoke with told me Mrs. Duggar is a great role model because, unlike liberal feminists, who they believe sneer at stay-at-home mothers, she has made that lifestyle acceptable and dignified.
This October, Jim Bob, who had a brief political career in the Arkansas State Legislature from 1999 to 2002, popped up in D.C., hawking ignorance about the Pill and female anatomy at the Values Voter Summit. Reminiscing about an early miscarriage Michelle had when she took the Pill and before the couple decided to become super-breeders, he said, "And then something we didn't know is that the Pill can actually allow women to get pregnant, but then it can be aborted," he said. "That's what happened with Michelle."
Conventional medical science would refute that diagnosis, which Mr. Duggar said a "Christian doctor" validated, but no one at the Values Voter Summit was the wiser.
Besides the parents, some of the Duggar spawn is now old enough to lobby for the family's pet causes. All Duggars were on deck, for example, pushing Tennessee's anti-abortion constitutional amendment in last month's elections. The Volunteer State kicked women's rights into oblivion, as 53 percent of the voters approved changes to ease passage of draconian, Louisiana-style abortion restrictions like mandatory waiting periods between clinic visits and procedures, mandatory counseling, and restrictions on facilities.
The Duggars' eldest son, Josh, works at the notorious Family Research Council, an anti-abortion and anti-LGBT rights lobbying group in Washington, D.C.
TLC is evidently a little uncomfortable with their stars' politics. They blurred images when the family showed up for an episode en masse wearing 21 identical anti-abortion t-shirts from size child to XXL.
***
The Duggars married in 1984 after Michelle had a religious conversion and Jim Bob was dispatched to be her spiritual guide. They had their first child, Josh, in 1988. Michelle then began reproducing at a rate of about one child every 18 months.
The Duggars are Independent Baptist Christian and members of something called the Institute in Basic Life Principles.
The IBLP was founded by a gentleman named Bill Gothard, who, in time-honored right-wing religious fashion, went down in flames earlier this year after a sex scandal involving multiple sexual harassment allegations. His brother had resigned in the 1980s after having affairs with a number of the Institute's secretaries.
Earlier this fall, Change.org organized a petition drive asking TLC to take the Duggars off the air, after Mrs. Duggar taped a robocall urging Fayetteville residents to oppose a city council ordinance that would have allowed transgendered people to use bathrooms that matched their non-birth gender.
"Hello, this is Michelle Duggar," the robocall said. "I'm calling to inform you of some shocking news that would affect the safety of Northwest Arkansas women and children. The Fayetteville City Council is voting on an ordinance this Tuesday night that would allow men—yes, I said men—to use women's and girls' restrooms, locker rooms, showers, sleeping areas and other areas that are designated for females only.
"I don't believe the citizens of Fayetteville would want males with past child predator convictions that claim they are female to have a legal right to enter private areas that are reserved for women and girls."
The petition drive garnered more than 150,000 signatures. Meanwhile, Duggar supporters launched a dueling petition drive to keep them on TV, and collected more signatures—200,000 to be precise.
TLC never commented.
I wouldn't have signed Change's petition. I think the Duggars should stay on the air. But how much more in keeping with the company's name if The Learning Channel invited the Duggars the opportunity to find out what's going outside their narrow-minded cult?
Let's see future episodes like "Jim Bob Takes the Kids to Kinky Boots on Broadway" and "Live From Tontitown: Neil deGrasse Tyson's Fireside Chat At the Duggars."
Here's another one: "The Day Michelle Duggar Took Her Girls to Planned Parenthood."
Now that would be some good TV.