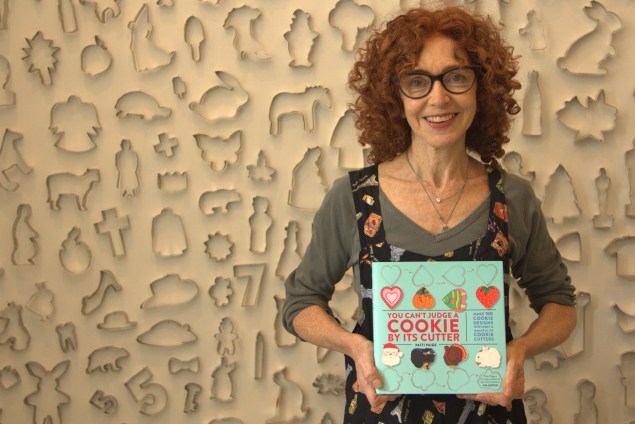 While most bakeries rely on lavish window displays to induce sugary cravings in passerby, the portal to "Baked Ideas" is well-hidden, up two flights of stairs in a Soho loft. As proprietress Patti Page explained, the airy, sunlit space, whose white walls are covered with cookie cutters and hundreds of sketches, is not so much a bakery as a "baking studio." (Inside, one also finds ovens, a couch and a friendly black-and-white cat as well as lots and lots of cookies.) As for foot traffic, she's busy enough without it, especially this time of year: the business's specialty is gingerbread.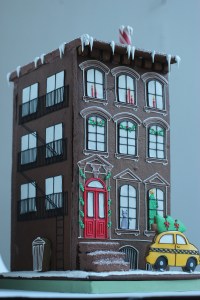 "I just used gingerbread because everybody loved it," Ms. Paige said, proffering old press clips from her business's creation in 1979, which she keeps tidily in binders. As the only person at the time to focus exclusively on gingerbread, she gained attention quickly.
Her first gingerbread building was that same year. After selling cookies to Dean & Deluca, the original owners asked her to render their shop in cookie-form, which led to so many other orders she basically became a full-time gingerbread house architect. "I was in House Beautiful that first year, where they advertised that I would do your house in gingerbread, and I got a lot of orders," she said. "I think the first year that was all I did."
Under construction projects were strewn throughout the aromatic loft when we visited on a recent afternoon. On a table by the window were half decorated taxi cabs, awaiting Ms. Paige's neat piping—"I can actually use that tip better than I can use a pencil," she quips later, outlining the windows in black—and tigers with black bows wrapped in plastic, ready for delivery. The walls are decorated with cookie cutters and hundreds of sketches of ideas.
Today, Ms. Paige works with sugar cookies as well, and makes more gingerbread cookies than houses. "Of the custom ones, we've never done more than say, six. If we did more, we would have to just focus on that, and then you're eliminating other clients." Each house takes a different amount of time, but it's always considerable; she estimates that her latest, a project for a City Harvest Fundraiser, took 70 hours between her and her part-time staff of six, plus two interns.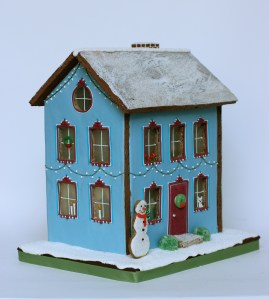 Custom-made houses, built to replicate the customer's residence, are among the most delightful creations her kitchen turns out, though as with many bespoke creations, the cost of rendering one's residence in gingerbread can rival a minor kitchen renovation. Prices depend on the size and the level of detail, of course, but a home with a 14-inch by 8-inch base, scaled to the appropriate height, might cost something in the vicinity of $5,000, according to Ms. Paige. "If it were larger, it could be more than that," she added. "They just take so much time."
One gets a sense of this when Ms. Paige describes her elaborate decorating process, which begins with an in-depth interview—a process that initially perplexes some clients. "I tend to ask a lot of questions… It's kind of like if you're a ghostwriter and you got someone's voice really well. If you heard them and paid attention and had the ability to feel what they're feeling."
After she determines what artistic approach to take, her decorating standards are exacting: she never uses excessive candy, gumdrops, or any sort of inedible material to support her structure—the roofs in her houses are, for example, supported with stacks of cookies. She also makes all of her own cookie cutters and in a tribute to her past, she paints on the icing with a brush.
Originally intending to become an artist, Ms. Paige studied at Kenyon College, then completed a masters in painting at Hunter College. "Once somebody reviewed my paintings and said it reminded them of a cookie cutter," she said. It was an astute observation: she had, at that point, started baking seriously, though the observer didn't know that. As a child, she made all sorts of foods and crafts by hand; she liked the originality of the process.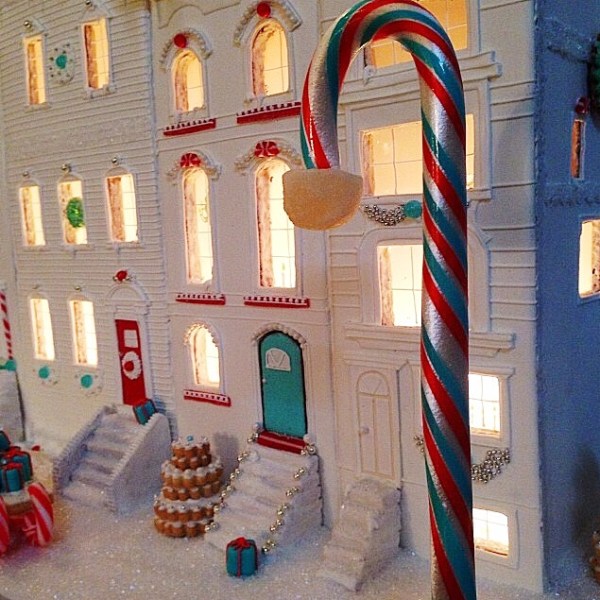 Likewise, the allure of creating her own field as a baker/artist was part of what drew her to gingerbread. "I guess just from making the art it just felt like everything should be something I kind of invented."
She started the business just after receiving her masters. Accustomed to painting in a studio, it felt natural to bake in one as well. She never went to culinary school, preferring to experiment and teach herself, quickly winning a following . At first, she sold her cookies through other stores, like Bloomingdale's, Saks Fifth Avenue, and Henri Bendel, when they all had bakeries.
"After a while, I started selling to fewer and fewer stores, and maybe around 2000 I stopped completely," she said. "It was just such a routine." Taking custom orders—while she admits is less economical—allows her to have more flexibility and variety in her day.
It's also a change she could afford to make with a loyal customer base that includes Tiffany's and Martha Stewart Living. Many of her clients have become friends; among them, the Food Network Sensation Ina Garten, as well as a "core group" that she's never actually met in person. She has, after all, been through their birthdays, weddings, adoptions, and divorces.
With the extra flexibility, Ms. Paige recently penned a book: "You Can't Judge a Cookie By Its Cutter," though she admits that promoting it has caused some scheduling hiccups over the holidays, when the workdays can be very long.
"We don't even break for lunch. Well, I don't," she admitted. "I'm not really comfortable stopping because I'm always in fear of not getting things done in time."
Even with 18 hands in the kitchen, the holiday rush can be intense. And for those who want a gingerbread replica of their home, serious pre-ordering is required: no later than mid-October to guarantee a place. She typically allots two weeks for each house to ensure enough time for baking, decorating, and construction.
The custom house clients are so appreciative of the team's painstaking efforts that they often send handwritten notes of thanks, which Ms. Paige keeps in a thick folder hidden under a table. Smiling, she recited one of her favorites from memory: "You're a genius. I'll spend the rest of the year thinking of appropriate words of praise."
Thankfully, Ms. Paige now has time for reading the mail, if not yet for lunch—when we visited, all the gingerbread houses had been sent out the previous weekend.