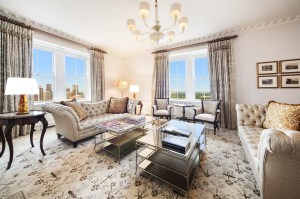 The "words extended stay hotel" usually call to mind the kind of bleak, highway-side accommodations for business travelers that can be found on the outskirts of most decently-sized cities—a serviceable set-up half-a-step nicer than an efficiency apartment.
Not so much a lavish Manhattan hotel suite rented by the month. And yet, there handful of $100,000-a-month-and-up options for those seeking temporary housing in the city, among them a $500,000-a-month floor-through at the Pierre that was just rented from late November through the end of December. (The Pierre has 10 suites that can be rented monthly, starting at $75,000.)
What's more, the same tenant also leased the Getty Suite on a lower floor—a 1,015-square-foot apartment with a 920-square-foot terrace "for an extended family-entourage situation" as Town broker Therese Bateman told The Journal, which first broke the news of the rental earlier today. The Getty Suite runs an additional $150,000 a month, bringing the visitors' grand monthly total to $650,000—a princely sum that includes such regal conveniences as a chauffeur-driven Jaguar and a multi-lingual butler/concierge known as the royal attache.
And while the Presidential suite, as it is known—it's debatable whether a 4,786-square-foot floor-through apartment can still be referred to as a suite—is available for shorter bookings via the hotel's front desk, upscale hotels frequently engage the services of brokers to handle leases of longer than 30 days, Ms. Bateman, who shared the listing with her colleague Andreas Perea-Garzon, told the Observer. Though some prefer to be more hush-hush about their longer-stay options than others. "There are a number around town, some more public than others," she noted.
Which may have something to do with the more favorable rates that longer-term visitors get. The Pierre's presidential suite, for example, goes for $30,000 a night, meaning that, while it might boggle belief, $500,000 represents a significant discount over the $900,000 a month that a visitor booking at the nightly rate would pay.
Such long-term luxury suites cater to a clientele that wants to rent for a month or two, but doesn't plan to stay for the duration of a six- of 12-month lease, according to Ms. Bateman, and, moreover, doesn't care to jump through the board approval hoops required to rent in the city's higher-end condos. Moreover, a fully-furnished suite, daily maid service (or in the case of the Pierre, twice daily maid service) and the robust concierge offerings of a luxury hotel (which for those who do not travel with their own butler, can prove invaluable).
Other hotels known for being particularly accommodating to longer-term visitors are the Mark, the Palace and the Waldorf Astoria, where monthly rentals can be had in the mere $100,000 to quarter-million dollar range. Though few come with terraces, dead-on Central Park views or Fifth Avenue addresses as the Pierre combo does, Ms. Bateman emphasized.
"This is really like moving into a co-op on Fifth Avenue—it's a very, very different property and location than the Palace or the Waldorf," she opined. "I know people say panoramic all the time, but the views from this apartment really are panoramic. Central Park is just… Central Park."