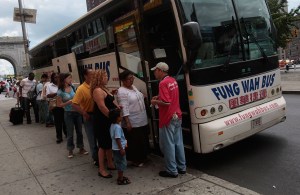 New Yorkers who once relied on the white knuckle experience of a Fung Wah bus ride to Boston are in luck: cheap travel is on its way again.
The Fung Wah bus company will be back on the road in 2015 after over a year of appeals and reforms to its safety standards. When, in February 2013, the Federal Motor Carrier Safety Administration shut down the Fung Wah for its failure to materialize 22,000 documents in two hours, it looked like the kiss of death for the New York to Boston bus. The vehicle had been subject to numerous crackdowns for a while and, after fires and several accidents, it was on its last wheels.
Now, it seems the company has been given a second chance by United States Transportation Funding, Inc., and a revamped image. With a new e-ticketing system and many thorough inspections in the near future, the Fung Wah may be a viable ticket to a new town.
Pei Lin Liang, the president of Fung Wah Bus Transportation, Inc., said in a statement, "We are in the process of working with federal, state and local authorities to demonstrate that a new page has been turned,"