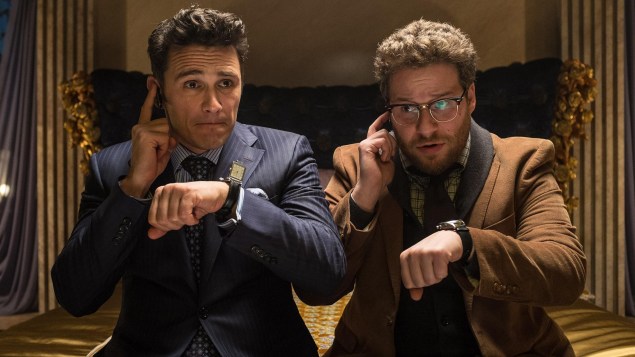 The Interview is a laugh-out-loud, outrageous, entertaining, rollicking ride, and Hollywood at its absolute finest. Would it that all Hollywood films were so unafraid to confront evil.
As I watched the film I asked myself, is this real? Is it possible? Can there really be a Hollywood film that doesn't engage in moral relativism in world affairs?
A movie's principal purpose is, of course, entertainment. But it's always special when it's so much more than that, especially when it's a comedy, where it's particularly difficult to communicate a serious message. Brutal dictatorships flourish in our world. Evil people, mostly men, get away with brutalizing their citizens. They are rarely exposed.
The most brutal regime of all is North Korea. Kim Jong Un is a third generation tyrant. His family has starved to death millions of Koreans to feed their giant army that keeps them in power. Aside from being murderous, autocratic and despotic, they are also deeply racist; the North Korean government this week called President Obama a monkey in a tropical rain forest. Vile, stomach-turning, nauseating language of this sort directed at the democratically elected leader of our nation is an insult to every American and an affront to decency itself. The North Korean regime is a stain on humanity. And the Kims get away with their brutality because they are rarely exposed.
In September of this year, I spoke to 100,000 South Koreans in Seoul Olympic Stadium about world peace. I was preceded by a number of speakers. As soon as I said that there could be no peace with an evil dictatorial regime that starves its people to death, tens of thousands of people rose to their feet and cheered. They are tired of being bullied by the North; tired of their family members still being stuck in the North Korean Stalinist prison; and tired of Kim Jong Un being given a pass.
The Interview destroys him utterly. I don't mean in a figurative sense, seeing as the movie deals with his fictional assassination. Rather, it exposes him in all his lies. While the brutal elements of the regime are not portrayed, they are discussed. The viewer gets the message. But it's never done in a preachy way.
To the contrary. The Interview is one of the funniest movies I've seen this year. Seth Rogen and James Franco make a compelling comedy duo. They deserve an award for creatively taking on the world's most feared dictator. At one point I laughed so hard that I spit out coffee all over the room (sorry for the visual). I also loved that even as a new release I could watch it at home.
Which brings me to the story I read that The Interview is the most pirated movie of the year. Are you serious? Who wouldn't want to reward Sony for their courage in making the movie, releasing the movie and, after their initial mistake of thinking of burying it, standing by the movie? To rob Sony of the money they put into creating this gem is—aside from being illegal—to stupidly discourage studios from doing courageous films like these in the future.
To the contrary. We should be rewarding Hollywood studios for confronting and exposing evil.
The message of the film is powerful. The best way to bring down dictatorships is to reveal them in all their pathetic uselessness, to use the power of the media to shed light on tin-pot dictators and their all-too-human flaws.
I would love to see a Hollywood send-up of Ayatollah Ali Khamenei and the brutal mullahs of Iran. Would love to see a comedy about many of the Arab dictatorships that slaughter their people. Would love see a film about honor killings of innocent Arab women, or the fate of defenseless gay men under Hamas.
The Interview opens so many interesting possibilities.
Rabbi Shmuley Boteach, whom Newsweek and The Washington Post call "the most famous Rabbi in America," is the founder of This World: The Values Network, the world's leading organization defending Israel in the media. He is the author of Judaism for Everyone and 29 other books. Follow him on Twitter @RabbiShmuley.