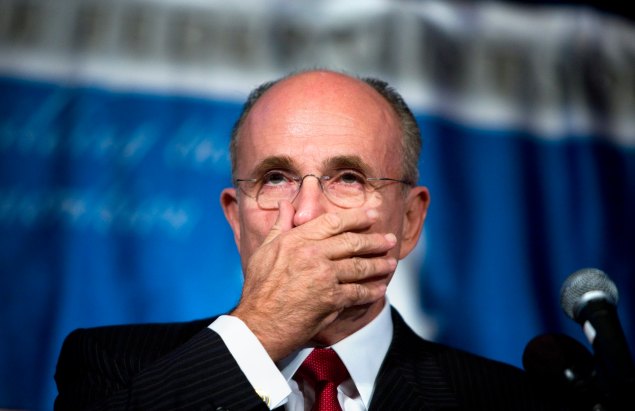 The first point Mayor Bill de Blasio wanted to make, before he responded to yet another insult from Rudolph Giuliani, was that he did not respond to insults from Rudolph Giuliani.
Then, in a crisp bit of doublespeak, he did so anyway.
"I really make it a point not to respond to comments like that," Mr. de Blasio said at a December press conference, answering an Observer question concerning Mr. Giuliani's latest charge that the Democratic mayor is one of many "liberal guilty whites" who "have to stop refusing to say the bigger part of the problem here is black crime and not police overreaction."
"There is a historic problem in this country. We have to come to grips with it and we have to deal with it," Mr. de Blasio continued. "Anyone who wants to live in the past can do that."
The latest contretemps between Mr. de Blasio and the former Republican mayor broke out when grand juries failed to indict white police officers in the deaths of black men in Ferguson, Mo. and Staten Island. Mr. Giuliani raged about what he saw as the true problem, black-on-black crime, while Mr. de Blasio adopted the rhetoric of the aggrieved activists, underscoring the degree to which minorities feel besieged by police.
Mr. de Blasio, cuttingly, said on television last weekend that Mr. Giuliani "fundamentally misunderstands the reality" of the incidents. Coming from an ex-operative with an instinct for diplomacy, it was a rare show of disdain.
What Mr. Giuliani's persona non grata status in City Hall has amounted to, one year into Mr. de Blasio's tenure, is a wholesale rejection of the voters and values that defined the tempestuous Republican's two terms, when crime kept falling, the economy hummed and minorities chafed at aggressive policing tactics and barbed rhetoric still debated to this day. Mr. de Blasio was a young, gangling aide to Mayor David Dinkins when Mr. Giuliani, riding a raft of disaffection in white, working class neighborhoods, eked out a victory against the city's first and only black mayor in 1993.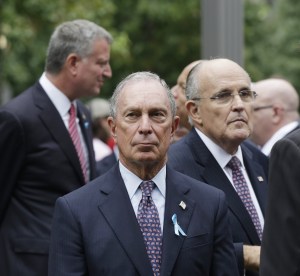 It appears Mr. de Blasio, a proud liberal, hasn't forgotten this.
"There was a blue collar, white ethnic population that did respond to a certain message from Giuliani. It also completely alienated the entire African-American community and much of the Latino community," said Ken Sunshine, a public relations executive and former chief of staff to Mr. Dinkins.
If Mr. de Blasio chose to erect a museum to the last quarter century of New York City history, Mr. Giuliani would probably not be there. The Republican mayor from 1994 through 2001 did not attend Mr. de Blasio's inauguration and is all but whitewashed from the municipal past Mr. de Blasio frequently alludes to, whether it's his beloved police commissioner's first tour of duty (Bill Bratton served under Mr. Giuliani in the 1990s) or the city's eventual turnaround (frequent thanks to his old boss, Mr. Dinkins). Even Michael Bloomberg, the billionaire independent who Mr. de Blasio treated as an arch-villain and foil during his winning campaign last year, can earn praise for his far-reaching public health policies.
Now, Mr. de Blasio, a father of biracial children who can echo the protest chant of "Black lives matter" and let thousands of marchers flood major bridges and highways to denounce police brutality, is holding power with a coalition that is the mirror image of what Mr. Giuliani and even Mr. Bloomberg relied upon to keep City Hall out of Democratic hands for two decades.
Despite primary and general election victories which crossed racial boundaries, promising an era of post-identity politics, Mr. de Blasio's approval rating with whites is a dismal 32 percent, according to a December Siena College/New York Times poll. Seventy percent of blacks approve of the mayor.
This yawning racial divide—the extreme inverse of what Mr. Giuliani and Mr. Bloomberg faced—probably does not threaten Mr. de Blasio's re-election, experts say, because the demographics of the city's electorate have clearly shifted in Mr. de Blasio's favor.
Fewer than one in five New Yorkers are native born, non-Hispanic whites, and that share of the population is only shrinking, said John Mollenkopf, a professor of political science and sociology at the CUNY Graduate Center.
"By the time Bloomberg was elected in 2001, and certainly somewhere in middle of the 2000s, the white share of the active electorate, people casting votes in New York City, slipped below half," Mr. Mollenkopf said. "It is getting smaller. You can't win just on that."
Mr. de Blasio's strength in communities of color can also protect against the possibility of facing a serious primary challenger in 2017, when he is all but certain to seek re-election.
"Having a very strong hold in the African-American community would limit potential challenges down the road, especially in a primary," said Christina Greer, a professor of political science at Fordham University. "His greatest challenge would be in a primary, with someone running who on many levels would look a lot like him."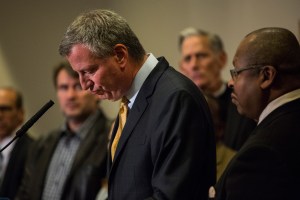 Almost every policy Mr. de Blasio advanced in his first year is alienating the Giuliani coalition–the white, moderate and conservative Democrats and Republicans who continue to lose clout. His call for the building or preservation of 200,000 units of affordable housing, a popular priority in much of the city, is viewed warily in areas like Staten Island, southern Brooklyn and parts of Queens, where homeowners dominate and any talk of new housing stokes fears of overdevelopment, unwelcome density and, arguably, an encroachment of poorer, nonwhite residents.
Mr. de Blasio's repudiation of stop-and-frisk and unabashed sympathy for the thousands of protesters who filled the streets after a Staten Island grand jury voted not to indict a white police officer in the death of Eric Garner, a black Staten Islander, are yet more reasons for Giuliani voters to recoil with disgust. To them, Mr. de Blasio's stance amounts to a sustained attack on police officers, many of whom live in Staten Island.
And the home-owning, car-driving set ensconced in the city's more bucolic precincts could only seethe as Mr. de Blasio permitted marchers to clog the highways and bridges they rely on for their daily commutes.
Mr. de Blasio told reporters last week that the traffic disruptions were "minimal."
"I've never seen the city overrun with demonstrators, day in and day out, violating the law with impunity like this," said Sal Albanese, a former city councilman from Bay Ridge, Brooklyn and Democratic candidate for mayor against Mr. de Blasio in 2013. "It's basically paralyzing the city. A lot of people in my neighborhood are annoyed by it."
Even more galling for the old Giuliani bloc, perhaps, is the mayor's embrace of Rev. Al Sharpton, a far more polarizing figure than even Mr. de Blasio. To these voters, Mr. Sharpton is at best an "albatross" for the Democratic mayor—as one Republican pol put it on Twitter recently—and at worst, the kind of race-baiting arsonist who has convinced them that Mr. de Blasio will never be their real leader.
"Rudy Giuliani was the high point of Staten Island's political history," said Joseph Borelli, a Republican assemblyman from Staten Island's conservative South Shore. "Bill de Blasio, honestly, billed himself as an extremely liberal progressive Democrat and for better or worse, he's delivering on that promise."
Indeed, when Mr. Dinkins was mayor, Staten Island voted to break off from the rest of New York City. Mr. Giuliani was then elected and the city's most Republican borough collectively beamed.
"The whispers of secession that you heard in the early 90s are coming back," Mr. Borelli said.