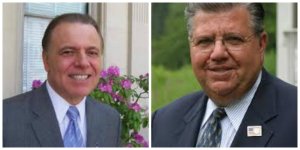 TRENTON – State Sens. Joe Pennacchio (R-26) and Anthony R. Bucco (R-25) introduced a resolution on Thursday calling for the return of a prominent fugitive who escaped to Cuba following her conviction for killing a New Jersey State Trooper in the 1970s.
Pennacchio and Bucco called for the return of fugitive Joanne Chesimard, a.k.a. Assata Shakur, in light of Wednesday's announcement by President Barack Obama of a major policy shift towards Cuba after more than 50 years of hostility.
Official changes will include the restoration of regular diplomatic relations with Cuba, suspended in 1961, and the opening of an American embassy on the communist-ruled island, ruled by Raul Castro, who took over from his brother Fidel Castro in 2008.
Chesimard was convicted of murdering New Jersey State Trooper Werner Foerster during a 1973 traffic stop on the New Jersey Turnpike. She escaped to Cuba from prison and was granted asylum by Fidel Castro in 1984. The New Jersey State Police and the FBI are offering up to $2 million for information leading to her capture.
"Joanne Chesimard's long overdue return to U.S. law enforcement should have been a no-brainer for the President to execute during his negotiations with Cuban leaders," Pennacchio said in a written statement on Thursday. "This is a woman who caused tragedy by ending the life of a man dedicated to protecting and serving New Jersey residents and our freedom. She is on the FBI's Most Wanted Terrorist List and has been shielded from justice by adversaries, so we urge our President to demand this justice for New Jerseyans and America as he works to restore ties with Cuba."
"The only thing clear so far about President Obama's Cuba deal, is that he has left too many things on the table, and number one, Chesimard needs to be immediately returned to U.S. soil," Bucco said in a written statement on Thursday. "It is simply unacceptable to take such drastic steps to benefit Cuba, without first taking care of Americans and assuring that this Most Wanted New Jersey cop killer is finally brought to justice."
U.S. Rep. Albio Sires (D-8), who joined with fellow Cuban-Americans U.S. Sen. Bob Menendez and state Assembly Speaker Vincent Prieto (D-32) on Wednesday in speaking out against the President's policy shift towards their ancestral homeland, also critically noted that Chesimard "still roams freely in Cuba."