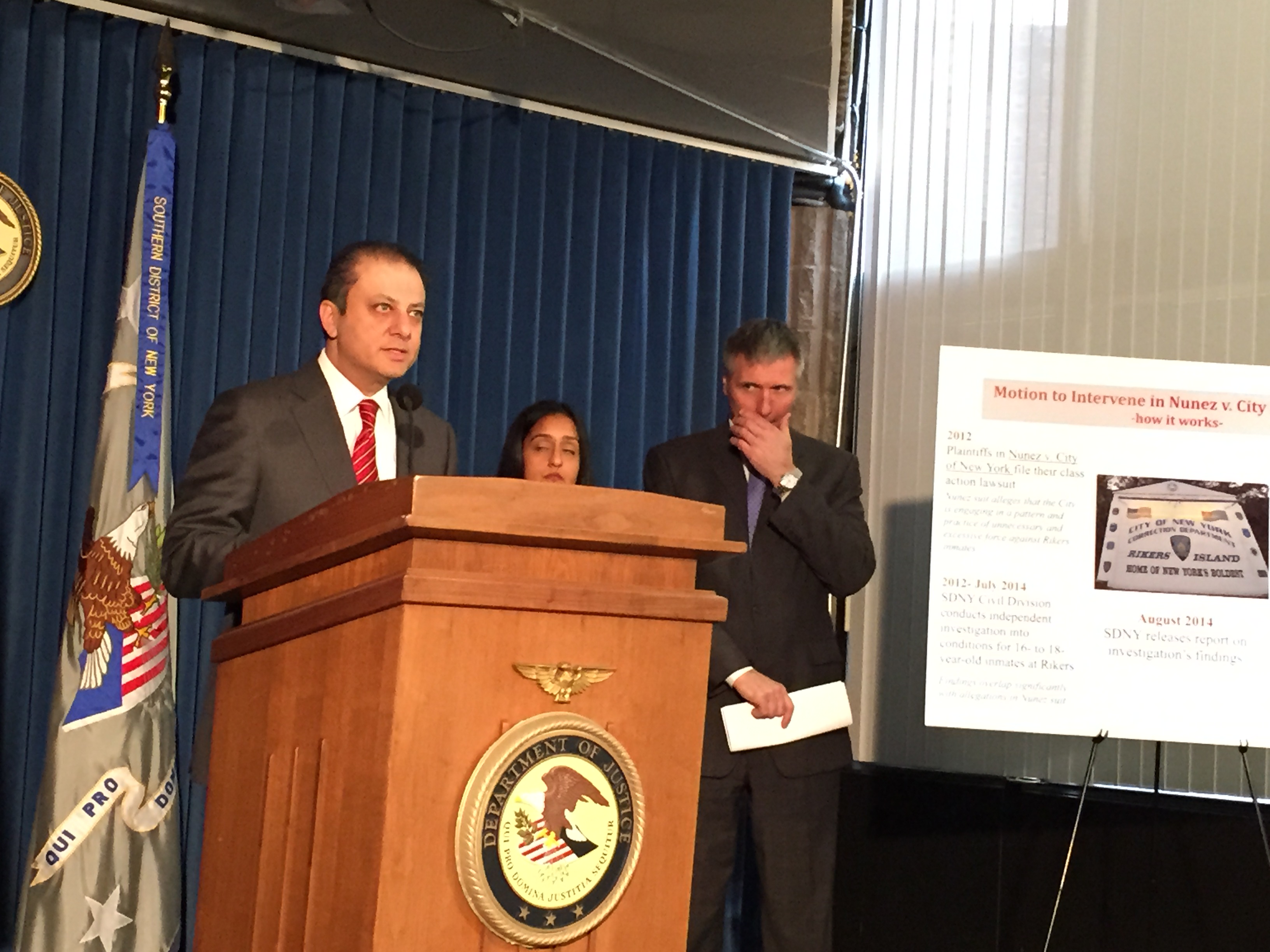 A day after Mayor Bill de Blasio touted reforms at Rikers Island, U.S. Attorney Preet Bharara announced plans to join a class action lawsuit alleging a pattern of excessive force at the city's jails in an effort to force permanent "sweeping institutional reforms."
"The bottom line is that reform must be permanent—and by that I mean legally permanent," Mr. Bharara said at a press conference today.
The move to sue the city comes after Mr. Bharara, the federal prosecutor for Manhattan, released a scathing report in August outlining a "culture of violence" perpetrated by correction officers against juvenile inmates on Rikers Island. The report called for reforms—which Mr. de Blasio and Correction Commissioner Joseph Ponte have promised and outlined again yesterday in a visit to the juvenile jail Mr. Bharara's report focused on—and noted that if they weren't put in place, the Department of Justice could sue the city.
Instead of filing a new lawsuit, Mr. Bharara said, he's asked the court become a plaintiff the class action suit Nunez v. City of New York, which focuses more broadly on excessive force than Mr. Bharara's investigation into the system's youngest inmates.
Just yesterday, Mr. Ponte said teams from Mr. Bharara's office had visited the jails recently and seemed pleased with the progress he'd made.
"They liked what they saw—and I'm not speaking for them, you can ask them directly. We're still actively negotiating that settlement," Mr. Ponte said yesterday.
Today, Mr. Bharara said the city has been working well with his office, but said the lawsuit was the best way to accomplish lasting changes.
"We have been working well with them, but we think things can go faster and things need to be etched out in greater detail, in concrete terms, rather than in broad aspirational terms," Mr. Bharara said today.
The outcome of the lawsuit could include the imposition of a federal monitor for the Department of Correction, Mr. Bharara said, something that was ordered for the NYPD in a federal stop-and-frisk lawsuit.
"This administration has taken the position that that kind of outside oversight is incredibly important, with respect to another law enforcement organization," Mr. Bharara said.
The city did not oppose Mr. Bharara's motion to intervene in the case. Mr. de Blasio's office said they've already undertaken some of the reforms sought in the Nunez case.
"Mayor de Blasio and Commissioner Ponte have pledged to create a safer environment at Rikers Island, and since Commissioner Ponte's appointment, this Administration has been implementing many of the reforms that the US Attorney and the plaintiffs in the Nunez case are seeking. Commissioner Ponte is a proven change agent, who in his eight months at DOC, has begun to institute a series of meaningful institutional reforms that are already showing results. We are beginning to unwind the decades of neglect that have led to unacceptable levels of violence on Rikers Island," spokeswoman Marti Adams said.