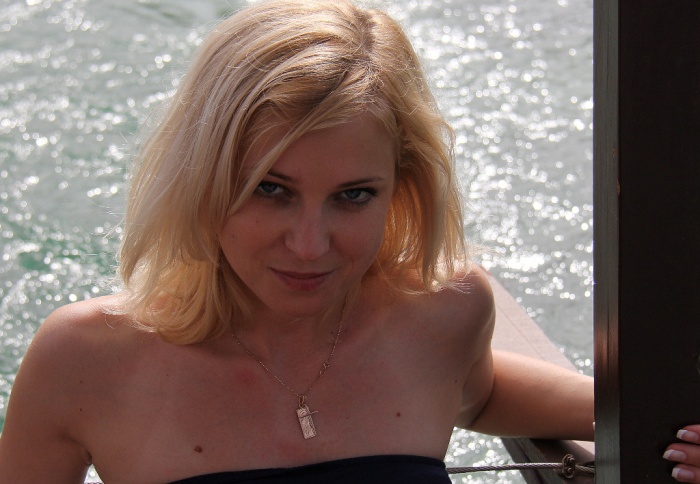 Her image became an anime sensation in Japan. She took South Korea and China by storm. She has hundreds of fan clubs And videos and songs about her have notched millions of viewers. Every time she changes her hairstyle, the Kremlin mouthpiece RT reports this fact for the entire world to know. She is even depicted in video games. She is thirty-four, divorced, has a daughter. She loves to play the piano and draw.
In Russia, they call Natalia Poklonskaya "Nyasha," which could be roughly translated from Russian bedroom slang as "darling" or "sweetheart," and they believe that she is even hotter than "sexpot spy" Anna Chapman. As with Ms. Chapman, she has bars on her shoulders and a gun on her belt. She is tough and brave, was beaten by thugs, hired by organized crime bosses of who she later put behind bars anyway. She is a lawyer and more precisely, she is the Prosecutor General. And she is the most beautiful prosecutor in the world.
Russian criminals dream of being prosecuted by her. "Indict me, prosecutor Natasha, indict me all you want" go the words of a recent pop-song.
"In the 12 years I've spent working in the Prosecutor General's Office, I've been dealing with organized crime and put many criminals in prison. My looks have never been an obstacle. I hope they deceive my enemies," she says with a smile.
She has survived multiple assassination attempts–last August a bomb was left by the door of her office, another bomb was mailed to her in November. Now she moves around only in an armored car.
Yet, in one country—Ukraine—she is wanted as a state criminal. In some others, including Canada, the EU and Japan, she has been banned from entering and all of her probable assets there—which she denies having—have been frozen.
Natalia Poklonskaya is Russia's Prosecutor General of Crimea—territory that until last March had Ukrainian yellow and blue flag flying over its beautiful hills and valleys.
She was born in Ukraine, which was then part of the USSR. She started to work as attorney at Prosecutor's office at the age of 22. After what she considered to be a coup d`etat in Kiev last February, she resigned from her job because, according to her statement, she was "ashamed to live in a country where neo-fascists freely walked on the streets and dictate their so-called 'conditions' to the representatives of so-called 'new authorities.'" By "neo-fascists" she meant the right-wing radicals who were playing an important role in the overthrow of the previous regime in Ukraine.
Both of Ms. Poklonskaya's grandfathers were killed fighting Nazis during World War II, one of her grandmothers lived under German occupation in Crimea, where all the Jews were slaughtered, including 13,000 of them in Simferopol, her parents' place of residence.
After her resignation, this is where she went.
In May, after Crimea was annexed by Russia, she took the job, a role that was declined by four men before her.
And for this she was sanctioned by the US Treasury last Friday, December 19. The statement of the Treasury's press center says that "Natalia Poklonskaya was appointed as the de facto prosecutor of the so-called Republic of Crimea in May 2014 by Russian President Vladimir Putin. A Ukraine court in Kyiv ordered Poklonskaya's detention on suspicion of subverting Ukraine 's constitutional system and seizing state power. She is accused of having accepted an illegal offer to head the Crimean prosecutor's office and has illegally taken office. Poklonskaya is being designated [for sanctions by the US] because she has asserted governmental authority over a part or region of Ukraine without the authorization of the Government of Ukraine."
She is the only woman on the long list supplied by the US Department of Treasury entitled "Treasury Targets Additional Ukrainian Separatists and Russian Individuals and Entities." Others singled out include notorious leaders of the separatist fighters and representatives of the separatist government, plus the leader of the Russian bikers league "Night Wolves" who goes by the nickname "Surgeon" and is a personal friend of President Putin's.
Angry Russians promise "adequate measures" for retaliation. The Russian Ministry for Foreign Affairs have already started to look for US candidates for their own counter-sanctions. With bikers and government officials, there should be no problem.
But who will become their tit for tat for Ms. Poklonskaya? Perhaps Kim Kardashian should factor this mini-skirmish into her travel plans.