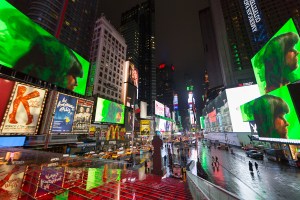 Until New Year's Eve, the three minutes leading up to midnight in Times Square will belong to video artist Charles Atlas and singer Antony Hegarty. They've collaborated on this month's Midnight Moment, the art project of the Times Square Alliance and the advertisers who own some of the most spectacular signage in the world. And now you can hear it!
Each night this month — until Ryan Seacrest and Taylor Swift take over on December 31st, that is — from 11:57 P.M. to 12:00 A.M., many of the huge electronic billboards and news kiosks will present a coordinated display of You Are My Sister (Turning), a video that features images of beautiful women revolving as if standing on a turntable to the accompaniment of the otherworldly voice of Antony singing praises to the female gendered. For the first time for a Midnight Moment, you can stream the music live at FORA.tv: (turning.fora.tv).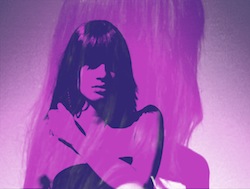 Atlas, who shows at Luhring Augustine on West 24th Street, came to fame with his videos of choreographer and dancer Merce Cummingham in the late seventies/early eighties, is one of the pioneers of so-called "media dance" – meaning choreographies intended for video.
His works have been seen at the Tate, Centre Pompidou, MOMA and the Whitney. The Met acquired his seven minute and seven second video, Teach, created from 1992 to 1998 with fashion pioneer Leigh Bowery in 2013.
You Are My Sister (Turning) is a short remix of Turning, whichAtlas and Hegarty premiered as part of the Whitney Biennial in 2004 and subsequently made into a well-reviewed documentary that came out in 2012.
The video features pensive beauties, sometimes in weird makeup, rotating and emoting and rotating and emoting so more, on yellow, green, pink and red backgrounds. All the while, Antony, with some vocals also provided by Boy George, intones "You are my sister and I love you. May all your dreams come true."
Downtown darling Antony Hegarty, of Antony and the Johnsons, penned the song for his 2005 album I Am A Bird Now which won the Barclaycard Mercury Prize for best album in the United Kingdom and Ireland.
The Midnight Moment project which began in May of 2012 beings together groups Electronic Arts Intermix, Times Square Arts (a project of the Times Square Alliance) and the Times Square Advertising Coalition. The November Midnight Moment showed neural mapping images in bursts of rainbow colors from Noah Hutton's documentary in progress Brain City.