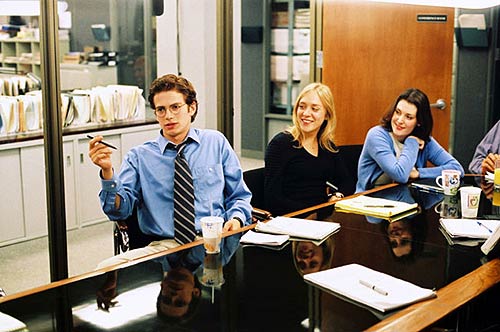 Welcome back to "Weekend Read," where the Observer suggests a long story to read when you leave the office and (hopefully) take a break fromTwitter.
It's been a crazy 24 hours for The New Republic. Yesterday afternoon, news broke that Gabriel Snyder was replacing editor Franklin Foer. Longtime literary editor Leon Wieseltier was out, as well. The publication announced that it was leaving Washington D.C. for New York, where it would re-imagine itself as a "vertically integrated digital media company" and reduce the publication's print frequency from 20 to 10 issues a year. The prospect of layoffs were also announced. But since 48 staffers resigned by late Friday afternoon, there aren't too many names left on the masthead.
So it feels like a lifetime ago that Hanna Rosin published a story about confronting her former best friend, Stephen Glass, who famously shattered glass in the late '90s when it was revealed that he fabricated multiple stories in TNR and elsewhere. But it wasn't that long ago. Actually, Ms. Rosin's lengthy piece was posted online less than a month ago as part of the magazine's centennial celebration.
"He nearly destroyed this magazine. Sixteen years later, his former best friend finally confronts him," the sub-headline of the story explained.
The recent changes have led many (especially the staffers who resigned en masse) to publicly express the view that TNR owner Chris Hughes has actually destroyed the magazine. Others, of course, have weighed in, opining about the publication's flaws. And some are excited for Snyder-era TNR.
But regardless, this weekend, we recommend reading (or re-reading) Ms. Rosin's November piece. It recalls the seemingly simpler time, just a month ago, when it appeared that the darkest days of The New Republic ended 16 years ago.