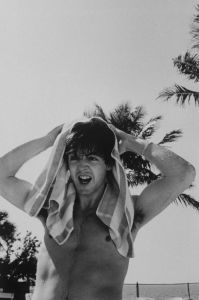 If Art Basel Miami wasn't insufferably fabulous enough, now it's partnering with the only thing worse-slash-better, the Hamptons!
Here in Miami Beach, the headquarters of the NADA art fair has kicked the competition for collectors up a notch: It's importing, whole-hog, the Surf Club in Montauk's chef, menu, DJ's, local-favorite bands and even personal trainer to the resort through Sunday.
The taste of home town should help the NADA fair, which is based at the Deauville Beach Resort, grab some market share from South Beach art-fair rivals.
There's precedent for greatness at the Deauville: The Beatles performed there during their Miami trip 50 years ago; a shirtless Paul by the pool drew screams.
And the Surf Club isn't the only import flown South for the week: Paul Sevigny's New York hangout Paul's Baby Grand opens tonight in the very same Jazz Room where the Beatles performed.