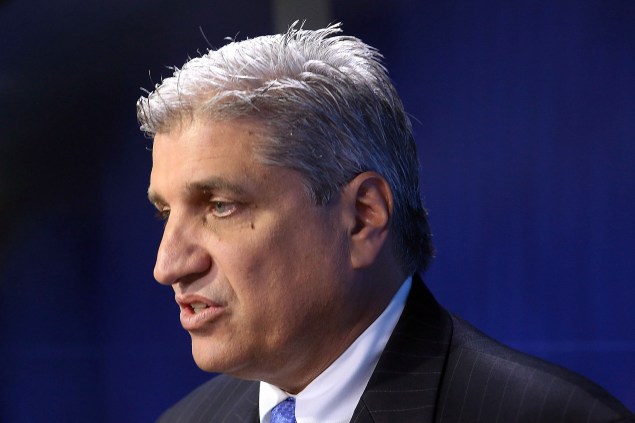 What a year. New York City swore in its first Democratic mayor in two decades, New York State re-elected a governor, Ebola momentarily freaked us out and protest marches brought rush hour traffic to a standstill.
In such a momentous, chaotic year, it's always difficult to pick winners and losers. But that's the fun of politics, right? Today, the Observer will whet your appetite with a little list of who or what really lost in 2014. And on Friday, we'll nudge you out of your Christmas hangover with a batch of this year's winners, because everyone wants to go out on top.
And now, without further ado, the losers:
1. Police and community relations: It didn't begin with the chokehold placed around Eric Garner's neck or the bullet that killed Michael Brown. It won't end with sweeping words from Mayor Bill de Blasio or Cardinal Timothy Dolan. The tragic murder of two NYPD officers on December 20, coming right after massive protests against police brutality, threw into stark relief just how serious the divide is between those who see a police department in tremendous need of reform and those who see a police department under attack. Mr. de Blasio, despite a petition calling for his resignation, is likely to have another seven years to make progress on the front of police and community relations. Undoubtedly, on the topics of race and policing, we are a divided city. But Mr. de Blasio is grappling with divisions that have defined New York for generations. With crime plummeting and much of the city gentrified beyond recognition, the "bad old days" are probably not coming back anytime soon, despite the shrill cries to the contrary. What has come back–or what never left–are the most fundamental questions undergirding the debate over how the law is enforced in New York and America.
2. Domenic Recchia Jr.: On a lighter note, perhaps, we had Domenic Recchia Jr., a successful city councilman who ran one of the most disastrous political campaigns in recent memory. Taking on Staten Island Congressman Michael Grimm, the Republican who was under federal indictment for much of the race and pleaded guilty to a tax evasion charge a little over a month after winning re-election, Mr. Recchia raised a boatload of cash and enjoyed the advantage of national Democrats spending heavily on his behalf. As we all know, Mr. Recchia lost by 13 points, and Mr. Grimm had beaten Democrats before. So what was the big deal? Well, Mr. Recchia's gaffes–claiming that running a high school's foreign exchange program qualified as a foreign policy credential and failing miserably to explain the meaning of a free-trade agreement–were remarkable enough to earn him his own Daily Show segment. It was definitely a year to forget for Mr. Recchia.
3. Working Families Party: A year ago, the Working Families Party would have easily been in the winner's column. The party, a hybrid of organized labor and liberal activists, cross-endorses Democrats to push them to the left, a formula that has served them well in municipal elections. After helping to elect allies in many of the most important posts in the city, the WFP sought to use their newfound leverage to force Gov. Andrew Cuomo, a proud centrist, to commit to their platform in exchange for their endorsement. Mr. Cuomo, seemingly with his fingers crossed, won their backing for his re-election after agreeing to help the Democrats take control of the State Senate, enact a higher minimum wage and push other liberal priorities. The WFP, in turn, dumped Zephyr Teachout, who ran against Mr. Cuomo anyway and garnered a surprisingly high 34 percent of the primary vote. Mr. Cuomo, in the meantime, founded his own party with a similar-sounding name (Women's Equality Party) and may have helped siphon enough votes from the WFP line in November to push the Green Party to a higher spot on the ballot for the next four years. To throw salt in the WFP's wounds, Republicans won full control of the Senate, with Mr. Cuomo doing little to help down-ballot Democrats. What the WFP is left with is a governor who still reviles them and one half a state legislature that has little interest in enacting their priorities.
4. New York City Council moderates: A long time ago, in a City Council far, far away, the Progressive Caucus was a small, marginalized faction of the body. Council Speaker Christine Quinn, an ally of Mayor Michael Bloomberg (remember: he wasn't a Democrat!), reigned supreme, while moderates like Mr. Recchia, James Gennaro, Peter Vallone Jr., Leroy Comrie and Joel Rivera (just to name a few) all held important posts. But 2014 brought a wave of new, much more liberal council members to the body, swelling the Progressive Caucus, co-founded by Quinn-nemesis Council Speaker Melissa Mark-Viverito, to such a point that the whole City Council might as well be called the Progressive Caucus. Early this year, labor unions and progressive groups were able to help elect Ms. Mark-Viverito speaker over the objections of outer borough county organizations, traditionally more centrist and closer to the real estate industry. A speaker election in 2017 promises a similar dynamic. At this point, it's the few leftover moderates in the body–three Republicans and a handful of Democrats–who are in the minority. And unlike the progressives in Ms. Quinn's Council, the new moderate faction rarely speaks up.
5. Congressman Steve Israel: The genial Steve Israel, the former chair of the Democratic Congressional Campaign Committee, had a tall order: help House Democrats staunch losses in a year that was shaping up to be disastrous for Democrats nationally. It's hard to imagine any master operative alive who could have steered the Democrats much closer to a House majority in 2014 when the midterm electorate is so skewed to benefit the GOP and President Obama is deeply unpopular in certain parts of America. But Mr. Israel had a rough time. The Republican Party secured their biggest House majority in more than a half century and, to add insult to injury, deep blue New York saw its Democratic delegation shrink. In Mr. Israel's Long Island backyard, Republican Lee Zeldin crushed the incumbent, Tim Bishop. Democrat Dan Maffei was routed in Syracuse. Mr. Israel's Democratic candidate to replace the retiring Bill Owens in the North Country stumbled badly against Elise Stefanik, now regarded as a rising star in the Republican Party. And of course, Mr. Recchia imploded in Staten Island, with many local operatives pointing fingers at the DCCC for mismanaging his campaign. It's not all bad for Mr. Israel, though. His debut novel, The Global War on Morris, is due out in a week.