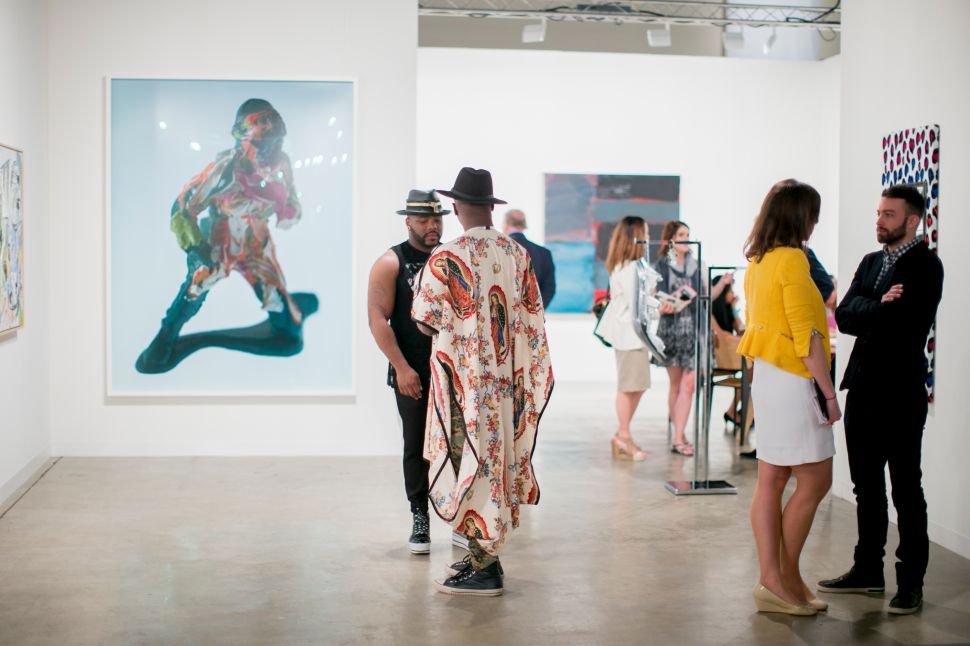 Klaus Biesenbach was presenting "Zero Tolerance," a show about artists confronting repression—ACT UP, Pussy Riot—at the YoungArts Campus on Biscayne. What with Ferguson and other current sad and ugly happenings, the MoMA semi-political party was one of the hottest tickets at Art Basel Miami and it was there that we met a young banker, Loy Anderson III. We chatted about an enthusiasm of his, crowd-funding for art projects.
Crowd-funding, kick-starting, app-launching, there were a lot of business strategies being bounced around. One guy-about-South-Beach we know, a party pro, is in the early stages of putting together an arts project for next year's Art Basel. "I'm doing a fair," another fellow said, resonantly. He didn't volunteer where and we didn't ask. At dinner we were regaled by a winsome Yalie explaining his new business plan, all about "retailing" and "connecting" and "popping up" and "immersing." It had no nouns.
This seems new. The non-art story at Art Basel Miami over the last few years has been first fashion (a new shoe boutique!), then marketing (Champagne and hot-air balloon rides with Krug) and always the ever-increasing number of scenesters, fresh-faced folk who couldn't tell a Pollock from a bollock, homing in on South Beach in early December. Now there are folk with a business gleam in their eyes and the fresh faces (well, mostly fresh) belong to guys and gals just as equally vague about the stuff that artists actually make but for whom the art world is not just a penetrable social scene but also one where if you are funded and can think on your feet, you can make a score. 
And is there any harm in that? The more, the merrier, surely? Some think not. There is venerable wisdom to the effect that when your waiter starts giving you stock tips, the market is on the verge of crashing. Indeed, almost everybody we spoke to at Art Basel Miami was up, up, up, particularly the giddy condo salesmen who ringed the wealthy. But not everybody. "We wonder, is it going to last?" a heavyweight asked, stressing he was talking off the record. 
Partying aside, this is an industry, and even its cheerleaders were thrown off balance by Steven Murphy's abrupt departure December 1 from the top spot at Christie's, to be replaced by a Pinault favourite, in the wake of a Contemporary art auction in New York, which had asserted dominance over Sotheby's by racking up a record-shattering $853 million in sales. Apparently, actual profits of that sale at Christie's had been way slimmer than owner Francois Pinault liked. Sotheby's CEO, meanwhile, was forced out a couple of weeks ago, by a hedge funder, Dan Loeb, later seen walking the fair with Leonardo DiCaprio.
Turmoil. So just how fragile IS the art market anyway? No one knows. Or rather several people know but each of them knows something a bit different. And Art Basel Miami (a term we'll use, with apologies to the flagship main fair's organizers, to describe the entire arts festival) provided an interesting vantage point.
***
It started at the Mandarin Oriental, a brilliantly run hotel where the servers wear bright crimson red, so you can see the canapés coming.  (Why does no one else do this?) It was the reception for The New York Times International Luxury Conference and it seemed to be filled with people looking to meet the attendees to the luxury conference rather than the ones who had attended. 
The conference had a scrum of artists and museum directors, being very nice to members of foreign handbag families. (We forget in the art world how much of the glamorous job of museum director is fund-raising.) We learned several things: There is now jewelry set to flash when your phone rings, for one. Michael Govan, director of the Los Angeles County Museum of Art, sharply cut the film program back during the recession in part because he expected it to cause an uproar in Hollywood. (It did.) He ended up infuriating Martin Scorsese, who has become a key supporter and advocate for film restoration as an art form.
In a startling confession, Lisa Phillips, director of the New Museum, said it was "my secret hope" that projects going on in the museum's non-profit New Inc. lab would end up contributing to operating revenues for the museum. She said this as she wore a gorgeous dress, designed by Chris Ofili in partnership with that lab, so this is not necessarily a bad thing. (On the museum front, fater in the week, we talked to Eric Shiner, who bragged of bringing a satellite of his Warhol Museum in Pittsburgh to New York's Bowery, and to the Met's buttoned-up Tom Campbell, who was actually two-shirt-buttons-unbuttoned in Miami.)
But the last insight of the surprisingly involving New York Times conference, and a considerable one, came from some panel of futuristic consultants. They concluded that the brilliance of social media is that it tricks consumers into believing that they are participants. And, we realized with a shock, that's exactly what the art world does, too.
***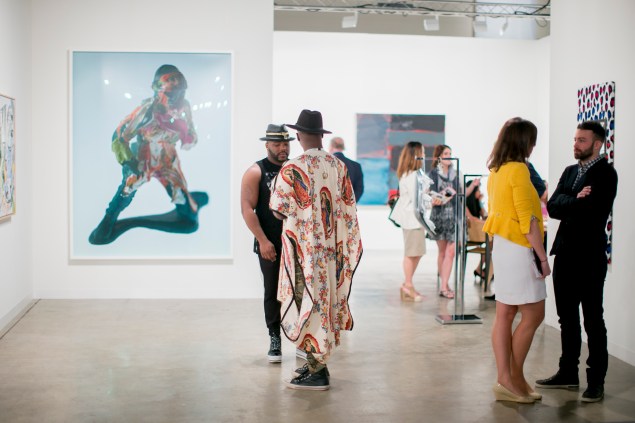 Dinner at Dolce. Baz Luhrman was there, guest of honor of the Zurich Galerie Gmurzynska, who had collaborated with him on an installation at the fair of spectacular abstract art. He was also in Miami because he is a creative consultant for the massive Len Blavatnik-backed real estate development, Alan Faena's Arts District, opening in late 2015. He sat in the corner and gave us the same quotes he later and before gave to all other media. Had we met the director in an elevator and asked what floor he wanted, he would have said, "don't miss the Galerie Gmurzynska booth at the fair." 
Then, drinks with rapper Theophilus London, one of many stars who regularly attend ABMB week. (A week interrupted, but not nearly as dented in spirit and attention as it should have been, by protests throughout the week related to police violence against young black men. It is a bubble, still.)
Mr. London was incredibly nice. So was, later in the week, Miley Cyrus, who performed at the Jeffrey Deitch party. The dealer continues to very successfully avenge himself, with fascinating events, on the Los Angelenos who pushed him out of his position at their Contemporary Art Museum. Twerk that, Hollywood.
And, then, on Wednesday, it all began with the opening of the main art fair itself. And we experienced, much like the stages of sexual arousal described by Masters & Johnson: desire, excitement, plateau, release—cigarette.
***
There can be an inherent cruelty to art fairs. Three-dozen dealers suddenly realizing they brought the look that's last year's model. But ABMB is the Olympics of painting, with very beautiful things. 
David Nahmad stood beaming by his son Helly Nahmad's booth, flanked by Picassos, Dubuffets and relief—it came out earlier this week that the junior Nahmad, who pleaded guilty last year to one count of running an illegal poker game from his Trump Tower home, had been released from prison early. Helly Nahmad looked like a leprechaun, almost ready to dance, with a giant Calder mobile as ersatz floating scenery.
A lot gets lost in the noise here every December, but the truth of it all (and a truth often missed) is that the art, at fairs like Art Basel Miami Beach and New Art Dealers Alliance, is always good enough to drown it out.
***
It was here in Miami that Douglas Elliman, major players in the property market, launched ArtElliman last year. They have since sponsored events, including several on Long Island. "The person investing in super prime real estate is also a great collector of Contemporary art," said Susan de Franca of Elliman. "In this global economy the search for tangible assets is paramount." "The luxury property market is absolutely on fire here," chimed in Zachary Belil, also at Elliman. "And our traffic of people looking at real estate during Art Basel is at least 10 times higher than your average week at this time of year."
On Friday, Zaha Hadid arrived in South Beach for One Thousand Museum, which is not, by the way, yet another new museum that has somehow eluded the reader's attention. It's a condo tower on Biscayne, and it is at once undulant and swell. "She rarely makes appearances like that," said Mr. Belill.
We we're told tales of a tower that was selling to Russian collectors of Bugattis, and of building after building being bought and flipped. There was a press release in the Art Basel Miami media hub in the Convention Center for another development, 1 Hotel & Homes South Beach, which is set to open on Collins between 23rd and 24th early next year, the site of the "old" Gansevoort Hotel. It consists of several hundred hotel rooms and bigger spaces, 65 percent of which had already been grabbed at between $1.5 million and $20 million-plus, we were told.
The release had a funny feel, at once thick and crumbly. "This is seed paper," we read. You can stick the release in dirt and flowers will grow. Well, customers like that are going to be pretty choosey about what they stick on the wall, wouldn't you think? So that "fragile" art market is supported by Luxe World, the 1 percent of the 1 percent. As—if you think back to the princes and the popes—it has so often been.
***
Mistakes and misdirection are very much part of the Art Basel experience and one morning we took off for what we thought was to be a lunch thrown by the avant-fashiony mag, Visionaire. It was down on Biscayne, on the same drag as One Thousand Museum. We walked in onto a floor of sugar-white marble. It turned out to be the launch of a high-end Milanese design arts operation. Visionnaire. Two Ns.
Who was the architect, we asked?
"Visionnaire," said a woman, confidently.
She leafed through a thick and glimmer catalogue of Visioinnaire designs, products and spaces.
Well, we have always been catastrophists by nature, now most especially, and have read a great deal about the specific vulnerability of Miami to the speedy oncoming of global warming with its busier hurricane schedule and rising ocean. And we had been looking forward to finding out just how this deepening drumbeat of bad news was being received in this market of burgeoning billion-dollar mega-towers.
But few we spoke to in Miami responded to the theme. Some did. Michele Oka Doner, the artist/designer, said she has already sold her apartment. "Yes," said Michael, a cabdriver as we sped through the Wynnwood Design District. "Next year I will pick you up in a gondola. I am practicing O Sole Mio."
But at Visionnaire's soon-to-be mega-outlet, the global warming topic was no downer. The sleek-maned woman flipped through a few pages. "We also design boats," she said, with a radiant smile.
***
At this Art Basel Miami Beach week, pretty much our 12th, we learned some undeniable truths: No one in Florida knows macaroons are over. The majority of celebrities, with a few exceptions, are inane. People do not realize how often plastic surgery backfires. Ian Schrager can, and has, done it again: Hired by Marriott to bring Delano cool to its line of Edition hotels, well, we saw Marina Abramović eating breakfast at a Marriott every day. 'Nuff said. And that $35 million Calder? The rumor is: Sold.
Whatever upheaval is coming next for the art world, and the art market, everything was sunny in Miami.