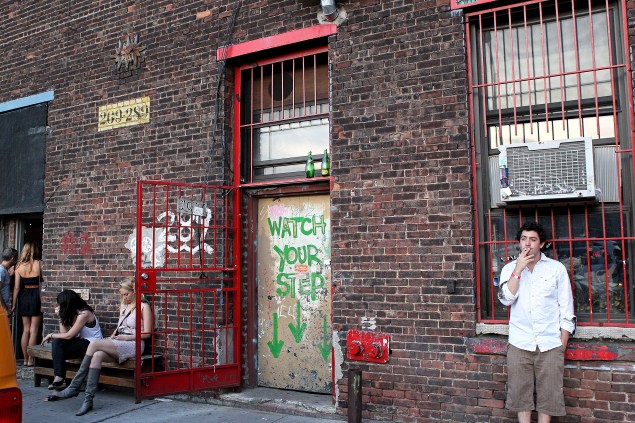 Ladies and Gentlemen, Williamsburg is dead.
Or at least that is what the artist collective CHERYL–who held a funeral in remembrance of the once hip residence this weekend–would have you believe. Saturday's "'Nail in the Coffin' FUNeral Dance Party" marked the official end of the neighborhood's cool factor and a menagerie of Normcore-suited bohemians gathered to pay their respects. The event took place at Glasslands—a once beloved venue set to close with the arrival of Vice—and attendees were encouraged to bring photos of their favorite Williamsburg memory.
A funeral procession kicked off the evening, as a gang of pallbearers carried a homemade coffin–spray painted black like a set piece from a high school theater production–followed by staged mourning merkins who fell to their knees in a dramatic display of distress over the death of their beloved hipster dwelling.
Glitter was then thrown into the air as the coffin was laid to rest and the crowd began dancing to the theme song of Ghost Busters.
The invitation asked that attendees dress in ironic costumes such as a Starbucks barista or Whole Foods employees.
One could not help but wonder if the whole ordeal was entirely satirical, or if the funeral would in fact mark the end of an era. But it seemed we were not the only ones wondering. Opinions about the night's theme were as varied as the technicolor strobe lights flashing overhead.
"Of course Williamsburg is dead, it was dead three years ago." said a woman wearing an elaborate fascinator and glitter face paint. "It's all about Bushwick now." she added. Others, like the man accompanied by a furry hand puppet, told the Observer "Williamsburg is not actually dead. This is what CHERYL does, it's just fun."
The opposite points of view were debated by attendees and, at times, it was difficult to tell which joke various party-goers believed they were in on. Those who believe Williamsburg is alive and well celebrated the night as yet another quirky Saturday night, while some from the "Williamsburg is dead" team explained that gentrification and the emergence of sky high condos are to blame for the death of the once quaint artist residence.
"Williamsburg had its good points but now it's like Disneyland. It's just a cartoon version of what people think Brooklyn should be," a purple haired woman told us.
By the end of the evening–which was marked by the rising sun–the jury was still out about Williamsburg's relevance but we're willing to bet no one opted for a night cap at Starbucks.