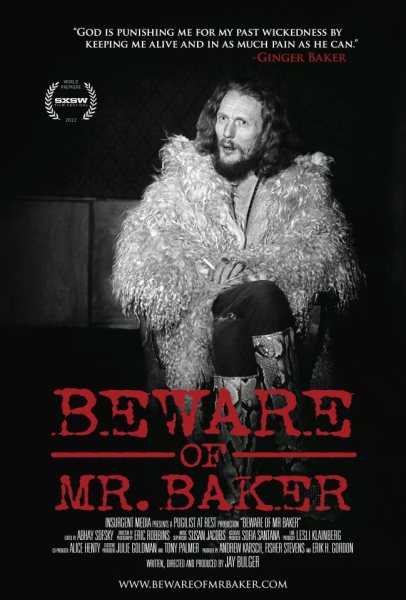 Seasonal Affective Disorder has set in early this year in the Northeast. The dark, short, cold days are not conducive to staying in shape for those of us who do not attend gyms but instead prefer to exercise outdoors. Personally, I like to cycle, but I am not "hearty" by any reasonable definition of the word. As soon as my favorite activity requires a third layer of space-age fabrics, I retreat to the basement and put my bike up on a trainer for some soul-sucking indoor spinning. Fifteen minutes on that feels like two hours outside, so I need a distraction. Last year, I propped my iPad up on a music stand and plowed my way through music documentaries on Netflix, YouTube, and on-demand cable. There seems to be a new one worth watching released every month or so lately, but here are 10 I think are good ones to get us all to spring.
Shut Up and Play the Hits (2012)
Here is how I knew I was getting old. I first became aware of a very popular band called LCD Soundsystem via news of the then-upcoming documentary of their final concert at a little place called Madison Square Garden. This slap stung harder when I discovered that the first LCD Soundsystem single was "I'm Losing My Edge," a hilarious meta self-examination wherein founder and frontman, James Murphy, neurotically worries about his diminishing cred, which had come via his reinvention from an indie rocker to an in-demand DJ who spun 1970s Krautrock bands like Can back-to-back with the Human League and Eric B. and Rakim. "I'm losing my edge to the kids whose footsteps I hear when they get on the decks/I'm losing my edge to the Internet seekers who can tell me every member of every good group from 1962." But contained within the lyric is a self-awareness regarding the silliness of such fretting, so it becomes a song concerned with the anxiety he feels over even worrying about his fading cool. It was an anthem for crate digging record collectors who watched their deep knowledge and taste, accumulated over decades, matched in mere months by "the kids." Such self-deprecation makes Mr. Murphy a charming and charismatic documentary subject, shown here in footage of his group's ecstatic swan song performance, interspersed with candid scenes piddling around his apartment and Brooklyn neighborhood, and being interviewed by writer Chuck Klosterman.
Last Days Here (2011)
Everybody knows a person like Bobby Liebling. Many have one in the family; a person who cannot function in the constrictions of normal day-to-day life, but who has found a voice and outlet in a chosen art form. We may even believe that some of those artists we know are kept alive via their work, their dedication truly a life or death matter. Last Days Here follows another record collector, this one a heavy metal fan named Sean "Pellet" Pelletier, who discovers the early-1970s band Pentagram and becomes friends and manager for Mr. Liebling.
Though Pentagram has the ring of a familiar metal band name and was indeed known to some hardcore fans of so-called stoner rock and doom metal, the band had blown some huge opportunities in their early career, toiling mostly in obscurity for decades. We learn that this is due in no small part to the uncompromising and often irrational attitude of their leader, Mr. Liebling. By the time the filmmakers reach him in the mid-2000s, he is barely alive, a shaky bug-eyed shell addled by years of abusing crack and heroin, living in the suburban Virginia basement of his very supportive parents. As with the 2009 film Anvil! The Story of Anvil, most viewers can identify with the subjects on a purely human basis. The fact that they play a kind of music that many of us might not dig at all actually serves to present the commonality of their struggles in stark relief. We bear witness to the same sort of depressing self-sabotage seen in all walks of life, but over-represented in musicians. We root for this underdog to first stay alive, then conquer his demons, and even gain some modicum of success. 
Beware of Mr. Baker (2012)
From a kind of guy we all seem to know, to a singular type of person I hope none of us have to deal with, Ginger Baker, who is profiled in the aptly titled Beware of Mr. Baker (taken from an actual sign on his property). Staying alive has improbably not been much of an issue for Mr. Baker, though he does not seem to have much luck with or desire for conquering demons. Most famous for his role in the supergroup Cream, Mr. Baker, widely regarded as one of the best all-around drummers alive, projects a particularly potent form of malevolence. As with Last Days Here, the filmmakers approach the subject as fans on a mission, though in this case it is simply to ingratiate themselves at least long enough to have Mr. Baker participate in the telling of his story. Mr. Baker's cooperation wavers as the film progresses and while he appears to only care about himself. But as they trace his history, it becomes apparent his demons likely stem from mental illness. But it is compelling to watch this artist, a true musical adventurer, as he gets embroiled in widely varied projects, which inevitably end up in conflict and even violence, and he escapes each relatively unscathed, but leaving wreckage—human and otherwise—in his wake.
You're Gonna Miss Me (2005)
Austin, Texas-native Roky Erickson, who fronted the 13th Floor Elevators, probably the first American psychedelic rock band, is one of those legendary fringe figures who would have fit right in James Murphy's lyrics for "Losing My Edge." The history of music, and the arts in general, is filled with visionaries who struggled with mental illness and self-medication. Many have been quite famous, but there are others like Mr. Erickson, who, though they might have enjoyed early renown and lasting impact, were stymied along the path to wider success due to personal struggles and sometimes Kafka-esque overreaction from law authorities that derailed their careers. As with another visionary artist, Pink Floyd co-founder, Syd Barrett, Mr. Erickson's history of mental illness is entangled in a chicken-and-egg with recreational drug use. Did one cause the other? As with many of these films, You're Gonna Miss Me is engrossing not just for its attention to its subject, but for widening the focus to include insights from family members. Peering into Mr. Erickson's apartment and his mother's house feels a little voyeuristic, like watching an episode of Hoarders. But there is heart and compassion in this artful film that fits more in the tradition of the Maysles Brothers' 1975 documentary, Grey Gardens, that keeps it from seeming exploitative.
A Band Called Death (2012)
Yet another subject that could fit into Mr. Murphy's record collecting tales, Death was a band of brothers from Detroit who were little known in their time, but whose only recordings—independently released singles and demo tapes—were discovered and widely shared via the Internet decades later by collectors fascinated with the primal proto-punk sound of the band. It is a fascinating story about how David Hackney leads his two younger brothers, Dannis and Bobby, into forming a band in early-1970s Detroit. As African-American kids living in Motor City, they start off playing the funk and R&B one might expect to come from the time and place. But after seeing live shows from the Who and influenced by other Detroit-area rock like Alice Cooper, the MC5, and the Stooges, the band organically begins to write and record a unique form of aggressive rock that presages the punk rock of the '70s, the "funk punk" of Rick James, and the hardcore punk of the '80s. Certainly part of the interest in the story comes from the improbability of young guys playing a kind of music that does not fit the preconceptions.
The music itself is truly rewarding and timeless, not just some curio piece. But as with all of these films, you don't need to like the music at all to find the story riveting. A Band Called Death parallels Last Days Here with its portrait of a supportive family that leaves space for a creative force to follow his path. And as with Bobby Liebling in Last Days Here, David Hackney had blown at least one chance at getting the band to another level. In Death's case, under the older brother's guidance, the band refused to change the name of the band at the behest of legendary Columbia Records president, Clive Davis. Mr. Davis had bankrolled the band's initial recording and his support dried up as a result. But the film has a sweet coda that features the two remaining Hackneys and their own kids enjoying the rediscovery of the music. It is primarily a story about family, and the Hackneys exude a warmth that has the viewer pulling for them every step of the way.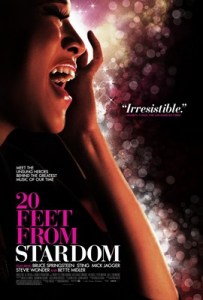 20 Feet From Stardom (2013)
In 2012, while researching a book I wrote, Rocks Off: 50 Tracks That Tell the Story of the Rolling Stones, I was digging for a way to contact Merry Clayton, the singer on the Stones classic "Gimme Shelter," and came across notice of this film, which was still in production at the time. It features Ms. Clayton alongside some of the music industry's other top session and back-up singers. I sent Tremolo Productions an email and heard back from the director, Morgan Neville, who was exceedingly helpful and became a friend of mine. So, coupled with the subject matter of the relatively unheralded contributions of singers on some of rock, soul, and pop music's most famous recordings, I was admittedly already rooting for this movie by the time of its release.
It far exceeded my expectations, which were already set high by Tremolo and Mr. Neville's previous works, including documentaries on Ray Charles, Iggy Pop, Johnny Cash, Stax Records, the songwriters of the Brill Building, and the Laurel Canyon scene around the Troubadour nightclub in Los Angeles. In fact, this list could be made up of only these valuable Tremolo Production docs, all of which have sustained me an extra mile or two on the stationary bike.
Unlike many of the films in this list, with production quality varying due to budget constraints, 20 Feet looks and sounds gorgeous, a rich tableau against which Mr. Neville gets more than a few A-list names, like Bruce Springsteen and Mick Jagger, to share the spotlight with some of the people—Ms. Clayton; Lisa Fischer; Darlene Love; the Waters family among them—who added (literal) color to their recordings. But it is the pathos around the varying degrees of ambition, success, failure, and acceptance from these people off in the shadows that makes it a great film.
Side note: In 1993, my band, Buffalo Tom, was recording at Cherokee Studios in Los Angeles. I had a grand vision for a particular song of ours called "Treehouse," that included a Stonesy arrangement of call-and-response background singers at the end. It felt like a preposterous move at the time for an "alternative rock" band to request professional backing singers. Our producers, the Robb Brothers, who had been at it since the 60s, instantly looked at each other and said, in unison, "the Waters Sisters!" And the next day, the Waters Sisters were at our session, and there we were arranging backing parts on one of our songs. It felt a bit like rock and roll fantasy camp. It was only later that I learned of their staggering discography, which included Michael Jackson's Thriller, as I discovered in this film. So there you go, a trivia question: Name the only musicians to play with Michael Jackson and Buffalo Tom. Michael who?
Muscle Shoals (2013)
Less successful at looking at the people behind famous recordings is Muscle Shoals, which is nevertheless worthy of viewing due to its subject matter, how a small riverside town in Alabama became a hotbed of hit records during the 60s and 70s via two studios, FAME Studios, and its offshoot, Muscle Shoals Sound Studio. Rick Hall, who founded FAME, deserves much of the credit for creating a scene in the South where African-American and white musicians could literally play well together. Some of the greatest Southern soul sides were cut with black singers and white backing bands. In Memphis, Booker T. & the M.G.s—an interracial group made of Steve Cropper, Donald "Duck' Dunn, Booker T. Jones, and Al Jackson Jr.—are heard grooving on most of the greatest tracks from Stax Records. Meanwhile, over in Alabama, as Lynyrd Skynyrd pointed out, "Muscle Shoals has got the Swampers," a legendary group of local guys—David Hood, Roger Hakwins, Spooner Oldham, Barry Beckett and Jimmy Johnson—who backed Aretha Franklin, Percy Sledge, Wilson Picket, the Staples Singers, and Arthur Alexander. These records influenced the Beatles, Rolling Stones, and countless others, some of whom made pilgrimages to Muscle Shoals.
One of the flaws in the film, though, is that it spends a bit too much time on the Rick Hall story—at times accompanied by melodramatic shots of a contemplative Hall in a barn or riding a tractor, looking like a Viagra ad or something—and not enough time with the musicians themselves. The most rewarding story here is the cooperation of white and black musicians creating timeless records together in the deep South at the height of the Civil Rights Era. But that important history, which was by no means without tension, is best told in Peter Guralnick's essential 1986 book, Sweet Soul Music: Rhythm and Blues and the Southern Dream of Freedom. And Muscle Shoals does not do as good a job discussing the contributions of the behind-the-scenes musicians as its Northern analog, Standing in the Shadows of Motown did in 2002, which remains the standard bearer for an early documentary about anonymous session players and the "magic" rooms in which they recorded. It's not so much the rooms, it's the players.
Beats, Rhymes & Life: The Travels of A Tribe Called Quest (2011)
I think most of us music fans gravitate toward documentaries that teach us more about the artists and recordings that we already know and love. The real fun comes with illuminating films about subjects we know little about. I don't generally like much post-1977 heavy metal, and I could not name one Iron Maiden song, but I thoroughly enjoyed stumbling upon Iron Maiden: Flight 666 (2009) wherein their lead singer, Bruce Dickinson, actually pilots the band, crew, family members, and equipment on a world tour aboard a Boeing 757. Though I don't think I had ever heard Pentagram's music, I could at least groove on some songs of theirs in Last Days Here. But the music in both are just background to the human stories that are the pull of both.
Curiously, though I was well into the first two records of their contemporaries and stylistic brethren, De La Soul, I only knew relatively little of A Tribe Called Quest's music before a friend thrust the DVD into my hand, insisting that I watch it. While it certainly turned me on to some of the records I missed beyond their very well known hits "I Left My Wallet in El Segundo" and "Can I Kick It?," the engrossing parts of the film are about the relationships between the group's members and how they evolve over time.
Directed by actor Michael Rappaport, it is another labor of love by someone who is clearly a fan of the music. But the movie is all about Tribe, and they were reportedly happy with the result, despite apparent controversy over the final edits and production credits. It was originally titled with the word "Fights" in place of "Life," but fights are indeed part of their—and any long-lasting band's—story. Nevertheless, with the help of testimonials from such figures as Pharrell Williams, Mary J. Blige and the Beastie Boys, the first-time director does a great job illuminating why the innovative music ATCQ created stood out during a particularly fertile time in hip-hop. And we get to witness the lasting impact their music has had on hundreds of thousands of fans as we follow them for a bit of their 2008 reunion tour. Though it was a different subculture than my own, it made me nostalgic for the early '90s.
Upside Down: The Creation Records Story (2010)
Closer to my own experience, the nostalgia felt while viewing this film was even more acute. My own band was in and out of the U.K. quite a bit from 1989-1999. Creation Records was already a significant force before we had even arrived for the first time, with seminal releases such as the Jesus and Mary Chain's first single and a 1989 EP from My Bloody Valentine. These were bands that harnessed guitar noise and textures in a sort of an underground New York style, updating the Velvet Underground and Sonic Youth in the British Isles. The legendary founder of the label Alan McGee would continue to manage the Jesus and Mary Chain as they moved quickly onto other labels, channeling much of the money he made into Creation and the balance to feed a lifestyle that was as hedonistic, often more so, than bands on the label, which is saying something on a label that hosted Primal Scream and Oasis. I don't know why I came into it with somewhat low expectations, given the subject matter, but I was a bit surprised to find this a really great documentary that unflinchingly traces the extreme highs and lows of Mr. McGee and the label and the moveable feast of characters. My band was touring with My Bloody Valentine on the tour supporting their masterpiece Loveless LP (1991) that reportedly nearly bankrupted the label, taking two years and many false starts to complete. And a few years later we toured with Teenage Fanclub, another excellent band on Creation, and did some shows with the label's Boo Radleys. Maybe my lowered expectations were due to seeing something so close to my own experience shown as past history in a film, something I took to mean I am old.
True Norwegian Black Metal (2007)
There are actually two documentaries that I know of about this peculiar subculture. This one came first, produced by Vice Media and VBS.TV, and presented in five parts online and hosted by Ivar Berglin, a Vice-Scandavian correspondent based in Stockholm. Another film, Until the Light Takes Us is an American production released in 2008. Both focus on an almost comic-book type of highly theatrical metal, known as black metal, involving musicians in elaborate costumes and makeup playing a not-totally-unfamilar form of fast and low metal, with guttural vocals over a brutal pummeling rhythm of double-kick drums and staccato distorted guitars and bass. I am not certain what distinguishes the Norwegian Black Metal strain musically from your ordinary Death Metal, but then I am just a neophyte with an admittedly unsophisticated palate for this sort of thing [Ed: start here]. The distinctions from most thrash mostly come via an overarching half-baked philosophy with equal parts Norse mythology, standard-issue nationalism, xenophobia, and an extreme opposition to most religion, specifically of the Judeo-Christian sort.
Both films focus on the aftermath of a series of serious crimes that took place in the '90s attributed to members of actual NBM band members, not just their misguided fans, as we are mostly used to here in the States. Members of various bands participated in murder, torture, arson of churches, and suicide. "What? In Norway?" you might think. Precisely. This shit is whack.
Of the two films, I preferred True Norwegian Black Metal. Until the Light Takes Us presents itself as a legitimate investigation of this scene of sadsacks, but simply does not ask the tough questions of its protagonists and the film's point seems almost as vague as the ill-conceived dogma spewed by the neo-Rebels Without a Cause. True Norwegian Black Metal, on the other hand, is unabashedly enthralled by its subjects, particularly a veteran of the scene, the darkly charismatic Gaahl, lead singer of Gorgoroth, who had recently done time in prison and reportedly paid a steep fine north of $20,000 for the beating and torture of an unwanted guest. The filmmakers seem genuinely spooked when they go up to the ancestral compound nestled into a hillside that has been "owned by his family … for generations," and lacks indoor plumbing. Americans might start hearing "Dueling Banjos" in our heads and think "hillbillies," but instead we hear the ominous soundtrack with something that sounds inexplicably like a didjeridoo. Presenter Berlin appears on camera to let us know that he and the crew were "the first-ever journalists" to visit, and he was "quite honored but actually feels quite scared."
The nerves of these 20-or-30-something-year-old dudes seem to calm a bit as they sit chatting with Gaahl, sipping from his "extensive wine collection." Of course, much of this makes even more sense when this imposing neo-Viking-sorta-Satanist, who dresses like a wizard/teenager who held on a little too long at the local Dungeons and Dragons club, later comes out as a gay fashion designer. Growing up gay with a fondness for makeup and costumes in the hills takes a bit of self- defense no matter where those hills are. Might as well dress up and play monster. "You don't perform Black Metal if you're not a warrior," Gaahl intones ominously in one scene, where he is talking about "leading sheep." Gladly playing the roles of various sheep here are the filmmakers themselves.