Perhaps what was most exciting about last week at the Met was that there was nothing conventionally "special" going on: no opening nights, no production premieres, no unusual repertoire, no debuts. The thrill derived from the combination of terrific performances and that staple of operatic drama, the late-notice cast change.
The Met's revival of La Bohème this season has been notable for the fact that, of the dozen performances so far, only two made it to the stage with the originally announced singers. Of the Mimis, Ekaterina Scherbachenko was replaced after a disastrous first attempt and Kristine Opolais never showed at all. Then veteran tenor Ramón Vargas called in sick, leaving the Met scrambling for substitute Rodolfos.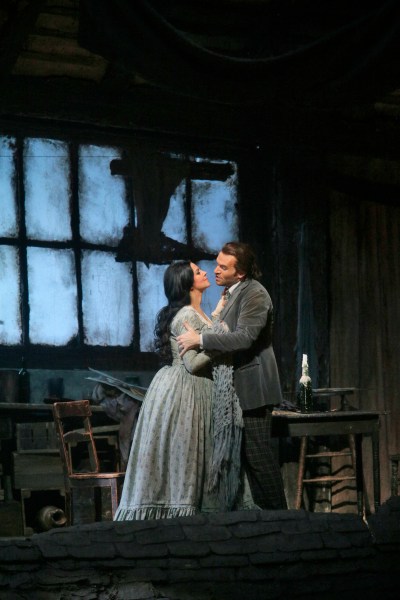 Amid all this fracas, the notoriously elusive soprano Angela Gheorghiu was scheduled to appear in just two performances of the opera, her return to the Met after a barrage of cancellations five years ago. In true diva fashion, she did the unexpected and actually showed up to sing—though her singing per se was hardly the most interesting part of the event. Her voice, never large, has dwindled to a thread, and on Wednesday night there were whole phrases when you could see her lips moving, but the actual tone would have to be taken on faith.
But that thread is of pure silk: the quality remains uniquely poignant and feminine, and her phrasing is so individual as to border on the idiosyncratic. She skittered through her first aria, "Mi chiamano Mimì," as if she had a taxi waiting outside the garret, but later broadened out a single phrase of recitative, "Vi starò vicina," as if this were the most important thing Mimì would ever say in her life. (In fact, she's saying, "I will stay beside you" to the man in whose arms she will eventually die, so maybe she was on to something after all.)
Ms. Gheorghiu dies better than any soprano of her generation. As Mimì slipped into unconsciousness, her voice faded to the cusp of inaudibility. Then the little lace cap she was caressing—a gift from Rodolfo the night the lovers met—fluttered slowly from her fingers, and you could hear the whole Met audience let out a hushed sob.
But even the comeback of this legendary artist wasn't the biggest event of the night. Tenor Michael Fabiano, fourth in a line of Vargas replacements, sang Rodolfo, his first starring role at the Met, and by the end of the second act, the buzz was that this was the debut of the decade.
It wasn't really a debut, of course: Mr. Fabiano first sang here back in 2007 when he was one of the winners of the Met National Council competition, and later in featured parts including last season's Fledermaus. But Wednesday's absolute triumph in a major role, especially opposite the numinous Ms. Gheorghiu, felt like the advent of opera's next superstar.
The tenor is a tall, slim young man with the sort of brooding good looks you'd expect to see in one of the Corleone sons. His voice has a curious "arresting" quality, a sort of primal cry of pleasure and pain. He tempers this volcanic timbre, though, with elegant phrasing and sensitive dynamics. The opening phrases of his first aria, "Che gelida manina," he sang in a honeyed mezza voce, almost shyly. Step by step, the voice blossomed with rich vibrato up to a long, electrifying high C.
This was a perfectly balanced performance, bold without ever tipping over into arrogance. When the curtain finally fell on Rodolfo's hysterical sobbing over his dead lover, I noticed an unaccustomed sensation in my cynical critic's heart: this was the first Bohème in years that actually made me feel.
After all that, the next night's performance, Verdi's La Traviata, might have been an anticlimax, despite a fine cast in Willy Decker's spare, haunting staging. But more drama was in store. Fifteen minutes after the scheduled starting time, an official appeared on stage to announce that the scheduled tenor, Stephen Costello, had suddenly taken ill, and that the role of Alfredo would be sung by Francesco Demuro, who had never sung this opera before at the Met.
And yet, Mr. Demuro's portrayal of Alfredo was the most moving I have seen in years. His voice was warm and sweet, a typical Italian lyric tenor, with a particularly brilliant top. If there were times when the tone spread into a less than attractive bleat, it's difficult to say whether that defect is inherent or a symptom of (understandable) nerves. Though Mr. Demuro is 36, he looked barely half that, ideal for this role of a naïve, unsophisticated lover.
Curiously, even though Marina Rebeka (Violetta) is a couple of years younger than Mr. Demuro in real life, on stage the tall, voluptuous soprano appeared a decade his senior; that is, 30-ish to his 20-ish. If her silvery soprano lacked the evocative warmth of an ideal Violetta like Ms. Gheorghiu, her absolute vocal assurance allowed her to throw off the elaborate coloratura of the first act with insouciant ease. Dramatically she took her cue from the saucy red cocktail dress Violetta sports in this production's party scenes, vivacious almost to the point of vulgarity. Her "farewell" aria, "Addio del passato," was no elegy but rather a desperate cry of rage against death.
In the role of the role of Alfredo's disapproving father Germont, Quinn Kelsey's baritone sounded lean and smoky in texture, with a seemingly effortless top, and he wielded a noble legato in his nostalgic aria "Di Provenza." Even though possible he and Mr. Demuro had never even met before the performance started, the confrontation scene of father and son in the second act crackled with tension.
For a performance so "spontaneous" (i.e. unrehearsed) conductor Marco Armiliato proved just the man: he slithered past potential mishaps like a veteran New York taxi driver.