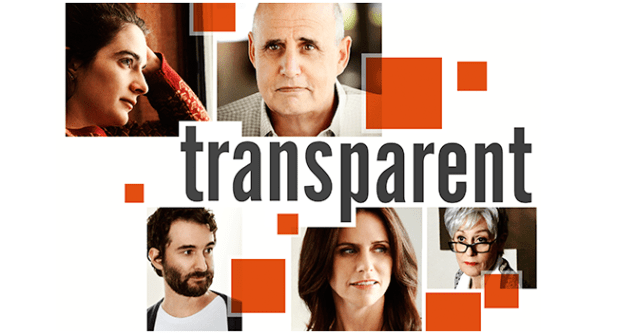 So, about Peter Pan Live! Just kidding, we and the rest of the world have dissected Allison Williams' shiny teeth enough for one day. Turns out, surprisingly, there are other things on TV besides a flying perma-pubescent boy, and a ton of them were just nominated for their outstanding writing.
The Writers Guild of America recently released its nominations for the WGA Awards, and the TV portion has a whole lot of HBO in it. The reigning premium channel came away with 16 nominations, with Game of Thrones and True Detective sitting in the best drama category, and newcomer Silicon Valley earning a nod for Best Comedy.
Also notable is Amazon's often-brilliant Transparent, which not only received three different nominations, but marks the first ever appearance by an Amazon show in the WGA Awards. Transparent is up for Best Comedy, Best Episodic Comedy, and Best New Series (along with greatest/worst show in history The Affair.) Amazon's streaming competition Netflix grabbed two nominations for Orange is the New Black.
Conspicuous by their absence in any category are Showtime's Homeland and FX's Fargo. Well, tough cookies for Homeland fans but FX Networks released a statement explaining the lack of Fargo.
"When the WGA Award nominations were announced this morning, several news outlets commented about the notable omission of FX's award-winning miniseries Fargo. The network initially submitted Fargo in the longform category based on the fact that the 10 one-hour scripts – all written by Noah Hawley – tell a single, close-ended story and therefore Fargo is a miniseries. The WGA does not recognize Fargo as a miniseries because Noah Hawley was accorded a 'Created for Television By' credit and said that Fargo could only be considered in the drama series category. Fargo won the Emmy Award this year for Outstanding Miniseries. It has been submitted as a miniseries for this year's Golden Globe Awards. Since Fargo is not in fact a drama series, and it is in fact a miniseries, FX made the decision not to submit Noah Hawley and his brilliant scripts for WGA Awards consideration."
Below is the full list of this year's TV nominees.
DRAMA SERIES
Game of Thrones, Written by David Benioff, Bryan Cogman, George R.R. Martin, D.B. Weiss; HBO
The Good Wife, Written by Leonard Dick, Keith Eisner, Matthew Hodgson, Ted Humphrey, Michelle King, Robert King, Erica Shelton Kodish, Matthew Montoya, Luke Schelhaas, Nichelle Tramble Spellman, Craig Turk, Julia Wolfe; CBS
House of Cards, Written by Bill Cain, Laura Eason, Sam R. Forman, William Kennedy, Kenneth Lin, John Mankiewicz, David Manson, Beau Willimon; Netflix
Mad Men, Written by Heather Jeng Bladt, Semi Chellas, Jonathan Igla, David Iserson, Erin Levy, Matthew Weiner, Carly Wray; AMC
True Detective, Written by Nic Pizzolatto; HBO
COMEDY SERIES
Louie, Written by Louis CK; FX
Orange Is the New Black, Written by Stephen Falk, Sian Heder, Tara Herrmann, Sara Hess, Nick Jones, Jenji Kohan, Lauren Morelli, Alex Regnery, Hartley Voss; Netflix
Silicon Valley, Written by John Altschuler, Alec Berg, Matteo Borghese, Jessica Gao, Mike Judge, Dave Krinsky, Carson Mell, Dan O'Keefe, Clay Tarver, Rob Turbovsky, Ron Weiner; HBO
Transparent, Written by Bridget Bedard, Micah Fitzerman-Blue, Noah Harpster, Ethan Kuperberg, Ali Liebegott, Faith Soloway, Jill Soloway; Amazon Prime
Veep, Written by Simon Blackwell, Kevin Cecil, Roger Drew, Sean Gray, Armando Iannucci, Ian Martin, Georgia Pritchett, David Quantick, Andy Riley, Tony Roche, Will Smith; HBO
NEW SERIES
The Affair, Written by Dan LeFranc, Hagai Levi, Melanie Marnich, Eric Overmyer, Kate Robin, Sarah Treem; Showtime
The Knick, Written by Jack Amiel, Michael Begler, Steven Katz; Cinemax
Silicon Valley, Written by John Altschuler, Alec Berg, Matteo Borghese, Jessica Gao, Mike Judge, Dave Krinsky, Carson Mell, Dan O'Keefe, Clay Tarver, Rob Turbovsky, Ron Weiner; HBO
Transparent, Written by Bridget Bedard, Micah Fitzerman-Blue, Noah Harpster, Ethan Kuperberg, Ali Liebegott, Faith Soloway, Jill Soloway; Amazon Prime
True Detective, Written by Nic Pizzolatto; HBO
LONG FORM ORIGINAL
Deliverance Creek, Written by Melissa Carter; Lifetime
Return to Zero, Written by Sean Hanish; Lifetime
LONG FORM ADAPTED
Houdini, Written by Nicholas Meyer; Based on the book Houdini: A Mind in Chains: A Psychoanalytic Portrait by Bernard C. Meyer, M.D.; History Channel
Klondike, Parts One, Three and Six, Teleplay by Paul T. Scheuring, Parts Two, Four and Five, Teleplay by Josh Goldin & Rachel Abramowitz, Based on the book Gold Diggers by Charlotte Gray; Discovery Channel
The Normal Heart, Teleplay by Larry Kramer, Based on his play The Normal Heart; HBO
Olive Kitteridge, Teleplay by Jane Anderson, Based on the novel by Elizabeth Strout; HBO
"Pilot" (The Leftovers), Teleplay by Damon Lindelof & Tom Perrotta, Based on the book by Tom Perrotta; HBO
SHORT FORM NEW MEDIA – ORIGINAL
"Apocalypse No" (Bad Shorts), Written by Ben Zelevansky; luckybirdsmedia.com
"City of Angels" (Caper), Written by Amy Berg & Mike Sizemore; hulu.com
"Episode 1 – Nature" (F To 7th), Written by Ingrid Jungermann; youtube.com
"Episode 113: Rachel" (High Maintenance), Written by Katja Blichfeld & Ben Sinclair; helpingyoumaintain.com
"Episode 204" (Vicky and Lysander), Written by Damon Cardasis and Shannon Walker; youtube.com
"Episode 207" (Vicky and Lysander), Written by Damon Cardasis and Shannon Walker; youtube.com
ANIMATION
"Bob and Deliver" (Bob's Burgers), Written by Greg Thompson; Fox
"Brick Like Me" (The Simpsons), Written by Brian Kelley; Fox
"Covercraft" (The Simpsons), Written by Matt Selman; Fox
"Pay Pal" (The Simpsons), Written by David Steinberg; Fox
"Steal This Episode" (The Simpsons), Written by J. Stewart Burns; Fox
"Work Hard or Die Trying, Girl" (Bob's Burgers), Written by Nora Smith; Fox
EPISODIC DRAMA
"A Day's Work" (Mad Men), Written by Jonathan Igla and Matthew Weiner; AMC
"Devil You Know" (Boardwalk Empire), Written by Howard Korder; HBO
"Donald the Normal" (Rectify), Written by Kate Powers & Ray McKinnon; Sundance Channel
"Friendless Child" (Boardwalk Empire), Written by Riccardo DiLoreto & Cristine Chambers and Howard Korder; HBO
"The Last Call" (The Good Wife), Written by Robert King & Michelle King; CBS
"The Lion and the Rose" (Game of Thrones), Written for Television by George R.R. Martin; HBO
EPISODIC COMEDY
"The Cold" (Modern Family), Written by Rick Wiener & Kenny Schwartz; ABC
"Landline" (New Girl), Written by Rob Rosell; Fox
"Low Self Esteem City" (Orange Is the New Black), Written by Nick Jones; Netflix
"So Did the Fat Lady" (Louie), Written by Louis C.K.; FX
"Three Dinners" (Modern Family), Written by Abraham Higginbotham & Steven Levitan & Jeffrey Richman; ABC
"The Wilderness" (Transparent), Written by Ethan Kuperberg; Amazon Prime
COMEDY / VARIETY (INCLUDING TALK) – SERIES
The Daily Show with Jon Stewart, Writers: Rory Albanese, Dan Amira, Steve Bodow, Tim Carvell, Travon Free, Hallie Haglund, JR Havlan, Elliott Kalan, Matt Koff, Adam Lowitt, Dan McCoy, Jo Miller, John Oliver, Zhubin Parang, Owen Parsons, Daniel Radosh, Lauren Sarver, Jon Stewart, Delaney Yeager; Comedy Central
Last Week Tonight with John Oliver, Writers: Kevin Avery, Tim Carvell, Dan Gurewitch, Geoff Haggerty, Jeff Maurer, John Oliver, Scott Sherman, Will Tracy, Jill Twiss, Juli Weiner; HBO
Inside Amy Schumer, Head Writer: Jessi Klein Writers: Emily Altman, Jeremy Beiler, Neil Casey, Kyle Dunnigan, Kurt Metzger, Christine Nangle, Dan Powell, Amy Schumer; Comedy Central
The Colbert Report, Writers: Michael Brumm, Nate Charny, Aaron Cohen, Stephen Colbert, Rich Dahm, Paul Dinello, Eric Drysdale, Rob Dubbin, Ariel Dumas, Glenn Eichler, Gabe Gronli, Barry Julien, Jay Katsir, Sam Kim, Matt Lappin, Opus Moreschi, Tom Purcell, Meredith Scardino, Max Werner; Comedy Central
Jimmy Kimmel Live, Head Writers: Molly McNearney, Danny Ricker, Gary Greenberg Writers: Jack Allison, Tony Barbieri, Jonathan Bines, Joelle Boucai, Josh Halloway, Sal Iacono, Eric Immerman, Bess Kalb, Jimmy Kimmel, Jeff Loveness, Bryan Paulk, Rick Rosner, Bridger Winegar; ABC
Saturday Night Live, Head Writers: Seth Meyers, Colin Jost, Rob Klein, Bryan Tucker Writers: James Anderson, Alex Baze, Michael Che, Mikey Day, Steve Higgins, Leslie Jones, Zach Kanin, Chris Kelly, Erik Kenward, Lorne Michaels, Claire Mulaney, Josh Patten, Paula Pell, Katie Rich, Tim Robinson, Sarah Schneider, Pete Schultz, John Solomon, Kent Sublette, Lakendra Tookes; NBC
Real Time with Bill Maher, Head Writer: Billy Martin Writers: Scott Carter, Adam Felber, Matt Gunn, Brian Jacobsmeyer, Jay Jaroch, Chris Kelly, Bill Maher, Danny Vermont; HBO
COMEDY / VARIETY – MUSIC, AWARDS, TRIBUTES – SPECIALS
The 68th Annual Tony Awards, Written by Dave Boone; Special Material by Jon Macks; CBS
71st Annual Golden Globe Awards, Written by Barry Adelman; Special Material by Alex Baze, Dave Boone, Robert Carlock, Tina Fey, Jon Macks, Sam Means, Seth Meyers, Amy Poehler, Mike Shoemaker; NBC
2014 Film Independent Spirit Awards, Written by Gerry Duggan, Wayne Federman, Patton Oswalt, Erik Weiner; IFC
Bill Maher: Live from D.C., Written by Bill Maher; HBO
Sarah Silverman: We Are Miracles, Written by Sarah Silverman; HBO
QUIZ AND AUDIENCE PARTICIPATION
Hollywood Game Night, Head Writer: Grant Taylor; Writers: Alex Chauvin, Ann Slichter; NBC
Jeopardy!, Written by John Duarte, Harry Friedman, Mark Gaberman, Debbie Griffin, Michele Loud, Robert McClenaghan, Jim Rhine, Steve D. Tamerius, Billy Wisse; ABC
DAYTIME DRAMA
Days of Our Lives, Written by Lorraine Broderick, David Cherrill, Carolyn Culliton, Richard Culliton, Rick Draughon, Christopher Dunn, Janet Iacobuzio, Ryan Quan, Dave Ryan, Melissa Salmons, Christopher Whitesell; NBC
General Hospital, Written by Ron Carlivati, Anna Theresa Cascio, Suzanne Flynn, Kate Hall, Elizabeth Korte, Daniel James O'Connor, Elizabeth Page, Katherine Schock, Scott Sickles, Chris Van Etten; ABC
CHILDREN'S SCRIPT – EPISODIC AND SPECIALS
"Girl Meets 1961" (Girl Meets World), Written by Matthew Nelson; Disney Channel
"Haunted Heartthrob" (Haunted Hathaways), Written by Bob Smiley; Nickelodeon
"Haunted Sisters" (Haunted Hathaways), Written by Boyce Bugliari & Jamie McLaughlin; Nickelodeon
DOCUMENTARY SCRIPT – CURRENT EVENTS
"Losing Iraq" (Frontline), Written by Michael Kirk & Mike Wiser; PBS
"United States of Secrets: Privacy Lost (Part Two)" (Frontline), Written by Martin Smith; PBS
"United States of Secrets: The Program (Part One)" (Frontline); PBS; Written by Michael Kirk & Mike Wiser; PBS
DOCUMENTARY SCRIPT – OTHER THAN CURRENT EVENTS
"Episode Five: The Rising Road (1933-1939)" (The Roosevelts: An Intimate History), Written by Geoffrey C. Ward; PBS
"League of Denial: The NFL's Concussion Crisis" (Frontline), Written by Michael Kirk & Mike Wiser; PBS
"Standing Up in the Milky Way (Episode 1)" (COSMOS: A Space Time Odyssey), Written by Ann Druyan and Steven Soter; Fox
TV NEWS SCRIPT – REGULARLY SCHEDULED, BULLETIN, OR BREAKING REPORT
"50th Anniversary of JFK's Assassination" (CBS Evening News with Scott Pelley), Written by Jerry Cipriano, Joe Clines; CBS News
CBS This Morning, Written by Duane Tollison, Chip Sorrentino, Bruce Meyer, Bill Crowley; CBS News
"Nelson Mandela: A Man Who Changed the World" (World News with Diane Sawyer), Written by Diane Sawyer, Lisa Ferri, Dave Bloch; ABC News