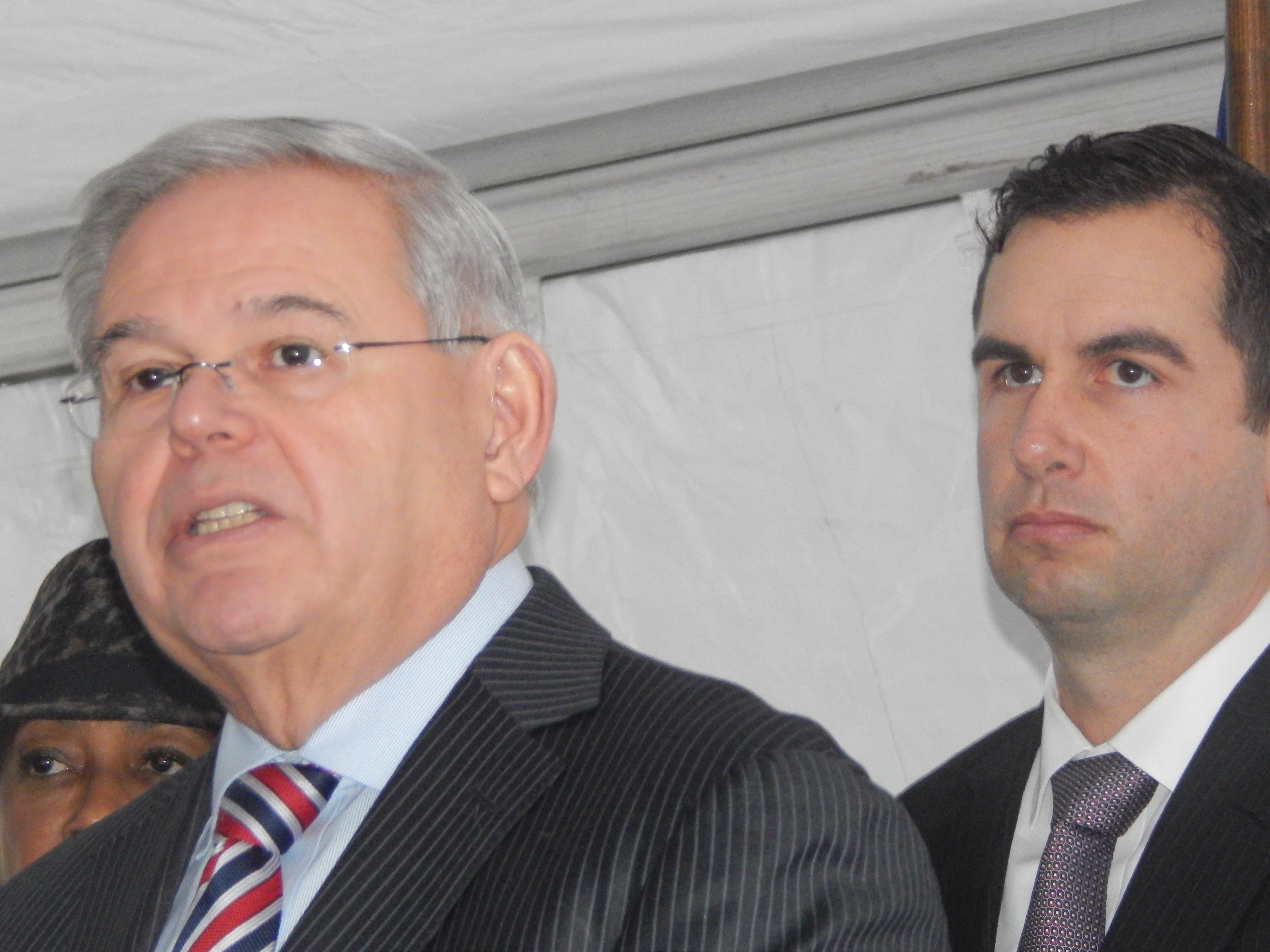 JERSEY CITY – The troops filed onto the median and stood at attention in the cold, their breath forming little floating and fast dissipating igloos, and if they had been wearing combat fatigues it might have been easy to peg them as an accompanying dispatch of U.S. forces to Ukraine.
But they weren't in fatigues.
The double breasted coats and frock overcoats barely contained the pressed together bulk of a cadre of Hudson politicos, whose ramrod attention once inside an all-weather tent occurred in the presence of the former chairman of the Hudson County Democratic Organization (HCDO) (and Senate Foreign Relations Committee) now apparently back in town with renewed vigor.
Relieved of the foreign relations chairmanship in last year's general election as Republicans seized control of the Senate Majority, Senator Bob Menendez now has more time to fiddle with politics in his home state in the lead up to two crucial battlefronts: 2016 and 2017.
"It's a blessing and a curse," one source groaned once inside the tent, twisting his face away from the crowd as Menendez took the forward position to bash Gov. Chris Christie and the Port Authority of New York and New Jersey over a proposal to privatize PATH train service.
An avid Hillary Clinton backer and potential candidate for secretary of state in a Clinton administration by the reckoning of party insiders, Menendez also collected his first official shout-out for the vice presidency last week at the swearing-in ceremony of Essex County Executive Joe DiVincenzo, another vigorous player of the game.
"She's going to need a running mate," teased the powerful county executive, referring to Democratic frontrunner Clinton, the former Secretary of State, shortly after a grand procession accompanied playfully – DiVincenzo confidant Phil Alagia's political stagecraft showing – by the looped instrumental bed of the 1992 Clinton Anthem – "Don't Stop thinking about Tomorrow," blared through speakers.
"We have got two right here in Essex County," DiVincenzo added, giving a nod to Menendez and fellow New Jersey Senator Cory Booker.
Menendez grinned back in acknowledgement as the crowd clapped.
He was in this position before, back in 2008, in the lead-up to the Democratic Primary in New Jersey, when the VP whisper campaign started early, in time – the establishment hoped then – to help boost Clinton past Barack Obama. Clinton beat Obama in New Jersey. But Obama broke up Clinton down the stretch of an exhausting national contest and Menendez ultimately found himself among those losing baby boomers stuck trying to get face time with Obama in idling cars in between previously scheduled Obama events.
It was irritating and it was mildly humiliating.
Yet Menendez persevered in the Senate, advancing according to his own relationship-building; and as he tries to fend off his own lingering story lines now that he'd like people to forget, he finds himself walking into that thicket of presidential politics surrounded by more secretary of state chatter in a Clinton administration than vice president.
That solidification of Clinton financial muscle here is critical and at this point given the foundation building – inevitable. "He's going to be the leader," said a source close to Clinton's developing fundraising apparatus in New Jersey, specifically focusing on Menendez' political role. "Always keep this in your sights. New Jersey has to be relevant and the way it is relevant is with the money."
Sources well-connected to the machinery of Menendez's political thinking, however, say his added visibility at events – four press conferences with Jersey City Mayor Steven Fulop in the last handful of months – has more to do with the more distant election than 2016.
"He doesn't have to prove his bonafides to Clinton," a source told PolitickerNJ. "There's too much history there."
Clinton and her people love Menendez, the source assured. Right now at this moment, Clinton's position on Cuba and Obama's efforts to normalize relations with Cuba have unsettled the senator.
"They [Clinton and Menendez] will have to work out some differences," the source admitted.
Menendez as a public force in prez politics will reveal himself in Florida and those other national pockets of Hispanic heft more than his more visible perambulations around the state now. "I think him engaging with the state has more to do with 2017 than 2016," the source argued.
But the two might be related, as PolitickerNJ has noted in the past.
To this point, Menendez in North Jersey muscle mode appears more convinced of Fulop's value as a gubernatorial candidate than that of Senate President Steve Sweeney (D-3) or former U.S. Ambassador to Germany Phil Murphy.
"Fulop had the balls to run against the guy [in 2004], and that put a check in the plus column," one North Jersey source mused. "He's a re-engaging political animal, a guy who spent a lot of time allocating energies into foreign affairs and his role as a statesman who's now back on the ground."
Fulop fans are excited about that development, to say the least.
There were little manifestations of Menendez-scented movement late last year, including former State Director Nick Chiaravaloti supplanting Jason O'Donnell in the assembly this year, a counter punch to past perceived O'Donnell transgressions.
Two nights ago, Hudson Freeholder Anthony "Stick" Romano relied on Menendez to swear him back into office.
Standing in the rotunda of the county annex, Menendez played the role of benevolent father figure.
"I would ask him when I first campaigned for office, 'There are four events on one night, Bob, which one should I go to?' And he would say, 'All of them,'" Romano recalled with a particular campaign trail-hardened pride in the aftermath of his off-the-line win last year.
Throughout, a common theme has been Menendez and Fulop, reinforcing those backroom whispers about the extent to which the senior senator will go to advance the Jersey City mayor to Drumthwacket – an endurance endeavor that could come down to Menendez and the North pitted against George Norcross III and the South.
If Fulop has his best chance to win the Democratic Party line in Hudson, Passaic and Bergen, he will in no small part because of Menendez; and if Fulop can be competitive in Essex it will also be because Menendez – who has superior political relations with DiVincenzo, on display last week – can work on his behalf in the critical North Jersey county.
Menendez may have to get the political work done sooner rather than later, which explains the upsurge in visibility.
It's the boss role revived for a specific target, ironic in this case because it was Fulop – proud Marine – who undertook his campaign for congress against Menendez with an anti-boss argument.
Now many Democrats express sincere off-the-record doubts about Clinton's chances in a general election match up with Jeb Bush, those same fervent Hillary backers from 2008 reanimated with anti-Obama feelings over the condition they feel he is handing off the country to their candidate of choice from the very beginning.
But if Clinton wins the presidency in 2016, those same sources to a person believe Menendez is best positioned for secretary of state.
That means a statewide brand will have to replace him.
If Menendez stoutly backs Fulop for governor – as it now appears he does – and particularly if Menendez can pull a Fulop-resistant Essex, that person best situated as the number two choice or as that individual mustering the best chance of beating or at least of bloodying Fulop in a primary – whether it's Murphy or Sweeney – stands the best political chance of succeeding Menendez in exchange for his support for Fulop for governor.
Conceivably the move that could shut down Murphy or Sweeney for Menendez/Fulop is to pull DiVincenzo into the North Jersey column by promoting Joe D's protege, state Senator M. Teresa Ruiz (D-29), to succeed him.
LG for – presumably – a South Jersey governor – or U.S. Senator. Game over. The only other option to engage Joe D. would be senate president for Essex, which would mean Sweeney would have to ice longtime confrere Senator Paul Sarlo (D-36) of Bergen to keep Joe D. A problem.
But back to the original move.
It's one play that hinges on two outcomes first occurring, namely Clinton winning and Menendez landing secretary of state.
Two big ifs.
Too big?
Again, powerful New Jersey Democrats at this stage continue to express doubts about Clinton – or any other Democrat – in a general election match-up with Bush.
But Clinton sputtering would simply remove the enticement of senator to a gubernatorial competitor, and for the duration of time between the end of the presidential and the end of the gubernatorial, re-entrench in state politics an already entrenched Menendez.