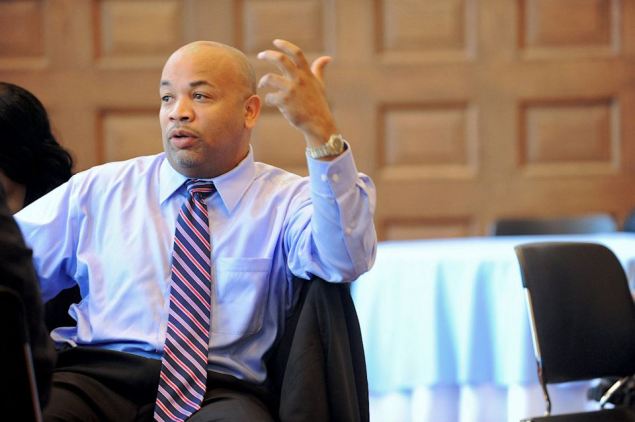 If Assemblyman Carl Heastie, a front-runner in the backroom contest to succeed Sheldon Silver, is crowned the next speaker of the Assembly, the oft-dismissed Bronx will become a new center of power in New York State.
And if power courses through the streets of a resurgent Bronx County, it will lead directly to the City Island home of the Bronx Democratic Party's controversial consigliere, Stanley Schlein.
Mr. Schlein, 67, is not an elected official or the leader of the Bronx machine, like Mr. Heastie. Rather, the canny attorney and lobbyist is the unseen architect of much of what does or doesn't happen in Bronx politics, orchestrating coups when the Democratic elite ignores him or ensuring his well-heeled clients, like the New York Yankees, extract the best deal from an intransigent, or sometimes pliant, bureaucracy.
Along the way, he's faced his share of scandals, including his ouster as chairman of the city's Civil Service Commission.
"The only constant in Bronx politics for the past 35 years has been Stanley Schlein," said Michael Benjamin, a former Bronx assemblyman. "He is the last man standing. He is the institutional memory."
The subtle Mr. Schlein helped Mr. Heastie, an accountant by trade, oust Assemblyman José Rivera from his county leader perch in 2008. Mr. Rivera, savvy in his own right, was accused of ignoring many of the factions of the borough that weren't aligned with his Puerto Rican base. More importantly, perhaps, he snubbed Mr. Schlein.
Crafting a coalition of white, black and Latino Democrats, Mr. Schlein and Mr. Heastie, along with the future Bronx borough president, Ruben Diaz Jr., culled the votes together to overthrow Mr. Rivera. At a county committee meeting in 2008, Mr. Rivera's supporters mobbed a vote being taken to elect Mr. Heastie, shouting out Mr. Rivera's name in an attempt to derail the meeting.
Mr. Schlein stood calmly at the microphone. Mr. Rivera's group eventually left—an electrician shut off the lights—and Mr. Schlein oversaw a vote that would lead to Mr. Heastie's ascension.
But county politics, in some ways, is small potatoes for Mr. Schlein.
A Heastie speakership would be a boon to Mr. Schlein and the many clients—the Rent Stabilization Association, the New York Hall of Science, Dominion Voting Systems and the Yankees, to name a few—he has represented before the city and state government. The Assembly speaker, as Sheldon Silver proved over two decades, is an immensely influential politician, hashing out a $138 billion budget with the governor and State Senate majority leader. Mr. Silver, arrested on corruption charges a week ago and set to leave his post Monday, was able to single-handedly promote or scuttle the priorities of thousands, if not millions, of people.
At the behest of trial attorneys, Mr. Silver blocked tort reform. At the behest of teachers' unions, Mr. Silver slowed the growth of charter schools. He earned the unflinching admiration of progressives by battling for a hike in the minimum wage and the legalization of same-sex marriage.
Mr. Heastie, an assemblyman since 2000 and an ally of both left-leaning labor unions and the real estate industry, has a much thinner record. It's unclear what will be on his agenda if he becomes speaker. On February 10, the Assembly will vote for the first time in 21 years to elect Mr. Heastie or one of his two rivals.
But like many prominent Bronx Democrats, Mr. Heastie has a very close relationship with Mr. Schlein, who speaks with him every day. Reached by phone, Mr. Schlein did not want to comment on the record about himself or his career—but he had many kind words for Mr. Heastie.
"Carl's value is that he is a person of mathematics, not of law, in that he's diligent—he goes step by step and he understands the certainty and logic of mathematics, where people who are lawyers hurl things left, right and center," Mr. Schlein told the Observer. "In each endeavor, professional or political, he's a very inclusive person."
Mr. Heastie, who did not immediately return a request for comment, said of Mr. Schlein in a 2008 Village Voice story: "Stanley is a very good election lawyer … That's what's important to me."
Having friends in power is nothing new to Mr. Schlein. Regarded as a masterful election lawyer and maker of judges, Mr. Schlein has cultivated ties in every single mayoral administration from Abraham Beame in the tumultuous 1970s to Bill de Blasio today. Mr. Schlein was one of Mr. de Blasio's election lawyers during his campaigns for mayor and public advocate, bailing out the future mayor in 2009 when he was initially booted off the ballot.
When ex-State Senator Pedro Espada Jr. and his Democratic renegade allies initially refused to help give the Democratic Conference their long-sought-after majority unless they were properly rewarded in their share of the spoils, there was Mr. Schlein, representing the Espada faction in their negotiations with Gov. David Paterson and the Senate. Mr. Espada would briefly become majority leader before the legislative chaos, and his own legal troubles, ended his political career.
Mr. Schlein, of course, survived. And for his ability to negotiate deals, drive insurgents off the ballot and protect those that pay for his services, the Bronx attorney is revered
"The guy is brilliant," said Bob Kappstatter, a political writer and former Daily News Bronx bureau chief. "He knows the process, he knows people and he's just one hell of a smart guy and that's why his clients like him and trust him."
At the annual Somos el Futuro conference, where just about every politician and lobbyist of consequence in the state spends a few days gladhanding in sunny Puerto Rico, Mr. Schlein will set up a table on the beach. There, Mr. Schlein will play cards with clients like Joseph Strasburg, the president of the Rent Stabilization Association, the powerful pro-landlord organization.
Elected officials, without fail, skip across the hot sand to shake the Bronx attorney's hand.
But Mr. Schlein's career in and out of government is not pristine. Mr. Schlein had enjoyed a plum post on the Civil Service Commission, a body overseeing civil service disputes, since the 1980s. Two years after the Bloomberg administration chose not to re-nominate him to the commission, the city's Conflicts of Interest Board fined Mr. Schlein in 2008 for "misusing city resources."
The $15,000 fine, which Mr. Schlein did not contest, arose from using his public office to conduct his private legal work. Mr. Schlein faced no criminal punishment.
Mr. Schlein also served as a court-appointed fiduciary, a choice reward for Democratic loyalists, and this too did not end well. In 2006, the Office of Court Administration barred him from taking new assignments after he mishandled the finances of the infirm and the elderly.
The New York Times, building off a Mott Haven Herald story, reported in 2012 that Mr. Schlein and a couple of partners promised the city in 1995 that they would develop a 2.3-acre parcel of vacant Bronx land. Instead, the city-owned lot sat empty for more than a decade, even as other developers inquired about building on the land. Three years ago, a large developer, Douglaston Partners, was finally lined up to build a mixed-use development on the land Mr. Schlein had exclusive right to.
It just so happened that Mr. Schlein was a partner with Douglaston.
Whether it was successfully pushing for taxpayers to finance a new Yankee Stadium, defending the Bronx machine or bungling his fiduciary duties, Mr. Schlein has attracted plenty of prominent critics. Tom Robbins, a CUNY Graduate Center journalism professor and former Village Voice investigative journalist, was never enamored with the Bronx power broker he often covered.
"Look, the lovable political rascal part of Stanley Schlein fades pretty quickly when you take a close look at how he's used his clout over the years," Mr. Robbins said.