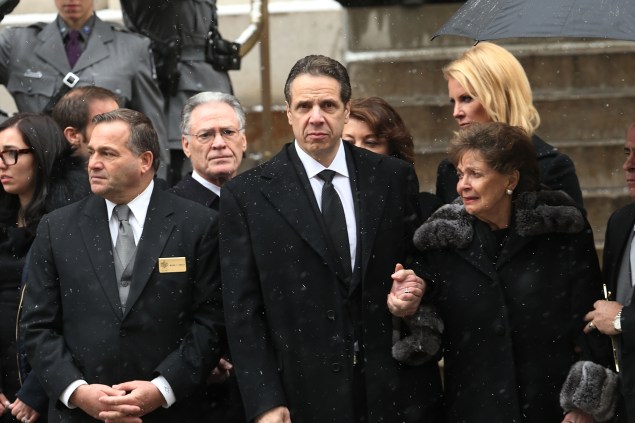 There were no former presidents, mayors or foreign dignitaries called forward to eulogize Mario Cuomo, the three-term governor who cast such a long shadow over New York State.
There was only a loving son, now an imperial governor like his father, delivering the eulogy he may have been preparing his whole adult life to give. It was the "simple" and "local" funeral the elder Cuomo wanted, the pastor of Manhattan's St. Ignatius Loyola Church said, shed of the pomp and circumstance that often characterizes the funerals of the famous and powerful.
Nearly two years ago, Mario Cuomo's bête noire, former Mayor Ed Koch, died, and his meticulously planned farewell brought remembrances from Bill Clinton and Michael Bloomberg and other close associates. For Cuomo, the Italian immigrants' son from South Jamaica, there was a pared down day to celebrate his Catholic faith as much as his life.
Mr. Clinton and Hillary Clinton and Mayor Bill de Blasio sat silently. Instead, there were hymns like "Be Not Afraid" and "Here I Am, Lord" and bagpipes played under a sky the color of stone.
The Gospel reading for the funeral was the Sermon on the Mount, in which Jesus tells his followers that the poor, the meek, the merciful, the peacemakers, "those who hunger and thirst for righteousness," are those who will be welcomed into the kingdom of heaven. It was one of Cuomo's favorite readings, Rev. George Witt claimed.
"He wanted a simple, local funeral with minimal fanfare. This has been hard to pull off," Rev. Witt said. "But for those who knew him well, his desire comes as no surprise. For despite the great successes of his career, Mario Cuomo was fundamentally a humble man and a man of great faith in God."
It was hard not to think of Mario Cuomo's funeral framed in relief of Koch's "last hurrah," as the Daily News dubbed it. The two were bitter rivals—Koch bested Cuomo for mayor in 1977 and Cuomo returned the favor in the 1982 gubernatorial race.
Koch died in the winter of 2013. Cuomo died on New Year's Day 2015, hours after his governor son was inaugurated for his second term.
For the brash, swaggering Koch, his funeral was everything he was: a celebration of his own faith, Judaism, and of himself. An organist played "New York, New York." One of his successors, Mr. Bloomberg, spoke at length about all the rollicking three-term mayor meant to the city he dearly loved.
Mario Cuomo attracted the same ghosts of New York's political past—there was Dinkins, there was Giuliani, there was D'Amato—but did so in a more subdued ambience. Mourners spoke among themselves, or to no one.
Andrew Cuomo reckoned with a world without the father who shaped his political career and his person. He remembered playing one-on-one basketball against the intensely competitive Mario, a former minor league baseball player, and debating the cerebral liberal for the sake of debating itself.
Mario Cuomo famously never ran for president, despite delivering a stirring call-to-arms for progressives everywhere at the 1984 Democratic National Convention. When he died, his casket was cloaked in the flag of New York State–and not the United States, as many of his most ardent supporters once dreamed.
His son explained why his father never left New York to campaign.
"Why didn't he run for president, people asked. Because he didn't want to," Mr. Cuomo said. "But that's everything for Mario Cuomo. He was where he thought God wanted to him to be."