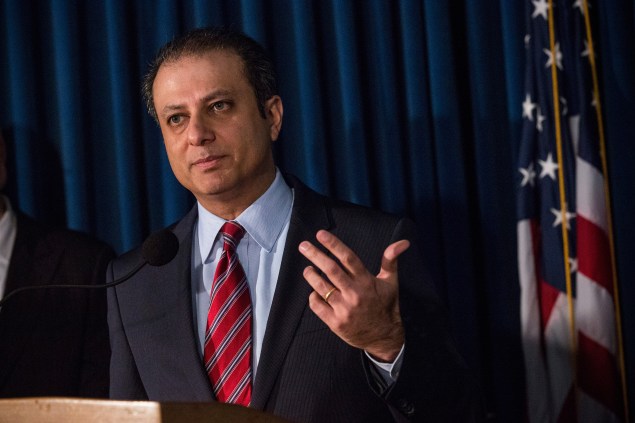 Tearing into what he called the "show-me-the-money culture" in Albany, U.S. Attorney Preet Bharara slammed Sheldon Silver, the speaker of the State Assembly, with a five-count complaint that portrayed the Democrat as a greedy, secretive lawmaker willing to exploit his power for monetary gain.
In a swaggering press conference at his offices in Manhattan, Mr. Bharara detailed two alleged extortion schemes Mr. Silver undertook to enrich himself: one involving an unidentified doctor handling asbestos cases, who was not charged with a crime after cooperating with the U.S. attorney's office, and another with a small, politically-connected real estate law firm that also avoided charges in this complaint.
Each count carries a charge of 20 years, Mr. Bharara said.
"The greedy art of secret self-reward was practiced by particular cleverness and cynicism by the speaker himself," Mr. Bharara charged today, referring to Mr. Silver as someone who wields "titanic" power in Albany.
"Politicians are supposed to be on the people's payroll, not on secret retainer to wealthy special interests they do favors for," he continued. "These charges go to the very core of what ails Albany–a lack of transparency, lack of accountability, and lack of principle joined with an overabundance of greed, cronyism, and self-dealing."
Mr. Bharara's corruption charges against Mr. Silver were revealed one day after Gov. Andrew Cuomo delivered his State of the State address, sending shockwaves through the political classes of New York City and Albany. Mr. Bharara, who said he had been investigating Mr. Silver's substantial outside income since June of 2013, explained that the investigation leading to Mr. Silver's arrest stemmed from an anti-corruption commission Mr. Cuomo launched and prematurely shuttered
The five-count complaint against Mr. Silver on charges of wire fraud, mail fraud, conspiracy, and extortion outlines two schemes Mr. Silver used to leverage his official position as the Assembly speaer to rake in cash, which he presented as legitimately earned income for representing private clients. Mr. Silver is being arraigned this afternoon.
Mr. Silver, an attorney by trade, collected more than $6 million in outside income from two private law firms since 2002. Approximately $700,000 came in "undisclosed bribes and kickbacks" from a scheme in which Mr. Silver used his influence as speaker to induce real estate developers with "business for the state" to use a real estate law firm run by an attorney who previously worked as Mr. Silver's counsel in the Assembly, and which paid Mr. Silver for the referrals.
Another $5.3 million came from the firm Weitz and Luxenberg. $1.4 million of it was in the form of $120,000 annual salary "which Silver received based on his official position rather than any work he was expected to perform." Another $3.9 million came in attorney referral fees, of which more than $3 million were obtained "through a corrupt scheme" in which Mr. Silver obtained referrals of asbestos cases from a doctor by using his Assembly perch to secretly direct $500,000 in state funds to that doctor's research.
Mr. Bharara chided Mr. Silver, who has held his post since 1994, for taking in exorbitant legals feels while doing "nothing" and hiding his allegedly illegal activity from the public. "As you can see, a theme running through all these charges is secrecy, the hallmark of many a criminal scheme," he said.
Mr. Bharara, a Democrat and former staffer to Senator Charles Schumer, has racked up several convictions of lawmakers in New York State. He is reportedly investigating Mr. Cuomo for his role in disbanding the anti-corruption commission, known as the Moreland Commission.
When pressed further about Mr. Cuomo, Mr. Bharara said he would not comment. "I think I've made my view about the shutting down of the Moreland Commission clear," he said.
With a smile, Mr. Bharara told reporters to "stay tuned" to the possibility of more charges in the future against other elected officials–and even, perhaps, Mr. Silver.