This has not been a great week for New Jersey Governor and possible candidate for the 2016 Republican nomination for President, Chris Christie. First, this unfortunate photo of the Governor celebrating at the Dallas Cowboys playoff victory went viral. The photo was unflattering to be sure, but some of the attention showered on the photo consisted of cheap shots and references to Mr. Christie's weight. Awkward photos are part of many presidential campaigns; and some candidates never fully recover from them. Remember Michael Dukakis in the tank in 1988?
Yesterday, New York politicos learned that Rachel Noerdlinger, the former chief of staff to the City's First Lady Chirlane McCray, was hired to be a managing director at Mercury LLC, a public strategy firm based in New York with offices around the country. Ms. Noerdlinger, who had been a close aide to Al Sharpton—she was also Press Secretary for his Presidential run in 2004—resigned her position in City Hall due largely to her boyfriend, an ex-con and convicted killer named Hassaun McFarlan who had made strong anti-police comments on social media.
At first glance, this has nothing to do with Governor Christie, but there is more to the story. Ms. Noerdlinger's new partner at Mercury LLC is Michael DuHaime, the prominent Republican political operative who is also the top strategist and advisor to Governor Christie. For Governor Christie, who should he run for President will have to struggle to convince Republican primary voters outside the northeast that he is sufficiently conservative to represent their party, this is why the story is a little complicated.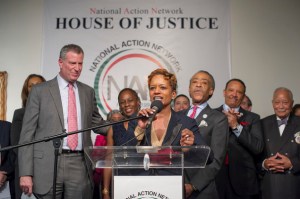 Though founded by Pataki aide Kieran Mahoney, Mercury LLC is now a bi-partisan firm; it's co-chairman, for example is Fernando Ferrer, the Democratic nominee for New York City Mayor in 2005 (and occasional Observer contributor). Mr. DuHaime certainly cannot be held responsible for every decision his firm makes. Nonetheless, as a partner he certainly can influence hiring decisions. It is hard to avoid the question, then, of why Mr. Christie's top advisor was comfortable hiring a managing director whose ties to anti-police sentiment were significant enough that Mayor de Blasio, hardy the most outspoken defender of the NYPD, felt compelled to let her go.
Mercury apparently anticipated the criticism, with partner Michael McKeon telling the Daily News "She's good at her job, and that's what mattered most to us." It is worth noting that Mr. Duhaime hired Mr. McKeon to work on the presidential campaign of another Northeast chief executive whose conservative bonafides came under fire when he ran for president. Mr. Duhaime was the campaign manager for Rudy Giuliani's presidential run and Mr. McKeon, then as now a member of Mercury, did communications work for Mr. Giuliani's campaign.
In a city filled with smart Democratic operatives, it would have been easy for Mercury to recruit one without the anti-police baggage, but perhaps it will fall to Mr. Christie to explain that later this year on the campaign trail.
Lincoln Mitchell is national political correspondent at the Observer. Follow him on Twitter @LincolnMitchell.