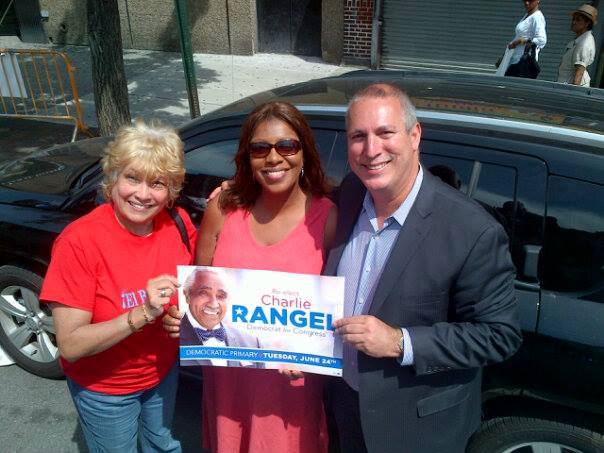 The son of a legendary Harlem congressman is looking to take one more shot at going to Washington.
Adam Clayton Powell IV, a former city councilman and assemblyman, said today he is likely to jump into the race to replace Congressman Charles Rangel, who said he is retiring from the House when his term expires in 2016.
"It's important to make it clear to people this is where I'm headed," Mr. Powell told the Observer today, emphasizing that he is "very interested" in running. "I know the district as good as anyone. I know every part of this district, literally every neighborhood and most if not all the leaders in this district."
Mr. Powell, the son of Adam Clayton Powell Jr., the first black congressman to represent Harlem before Mr. Rangel dethroned him in 1970, ran twice against Mr. Rangel and lost. But the two are now allies and Mr. Powell said he has informed the 84-year-old that he wants to run for the upper Manhattan and Bronx-based seat when it becomes open.
He also said he is friends with Harlem Assemblyman Keith Wright, another potential candidate, and won't try to talk him out of running.
"20 years of experience at the city and state level have prepared me for this. I'm looking forward to it," Mr. Powell said. "It's not upon me to tell people to get in or get out. We'll see who the players are."
Mr. Powell eyed a run in the last cycle but dropped out when Mr. Rangel announced he would seek re-election. He endorsed Mr. Rangel as he defeated State Senator Adriano Espaillat, another Democrat expected to run in 2016, for the third time.
Though the district is majority Latino, Mr. Powell said he can still win the seat, even if demographics may work against him. "The numbers don't lie. It's true the district has changed dramatically from what it was," he acknowledged.
Mr. Powell said he planned to announce his interest in running for Congress on Facebook tomorrow. In addition to Messrs. Powell, Wright and Espaillat, 2012 contender Clyde Williams is also exploring a campaign for the seat.