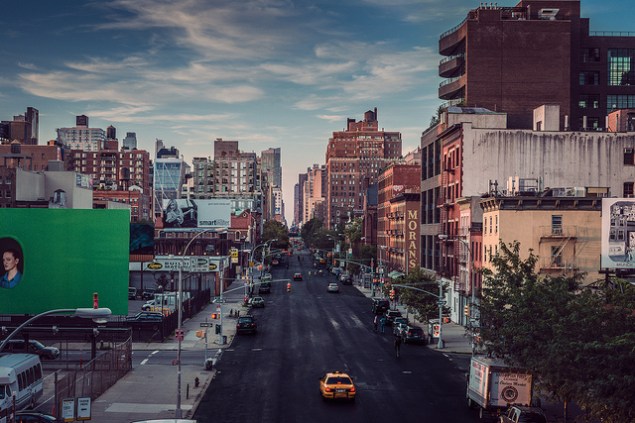 When Penn South, an affordable housing co-op in Chelsea, briefly opened up its lottery for its wait list this past summer, it received some 40,000 applications, of which just 1,200 were selected for what is likely to be a wait of more than a decade. Obviously, affordable housing is more desirable in some neighborhoods than others, and Chelsea is among the most desirable of New York neighborhoods right now, but the phenomenon—fewer affordable apartments in better neighborhoods—is one that's likely to repeat across Manhattan as subsidized affordable housing below 96th Street increasingly converts to market rate.
The distribution of subsidized rental units across New York City neighborhoods changed significantly between 2002 and 2011, according to a study—"Housing, Neighborhoods and Opportunity"—from NYU's Furman Center, with a shrinking number of units located in neighborhoods with good access to transit and employment, low crime rates and high-performing public schools. (Another recent study from NYU's Wagner School recently found that good access to public transit corresponded to higher incomes, which is, of course, something of a chicken/egg situation.)
"Since 2000, just six percent of new subsidized affordable rental units have been located in Manhattan below 96th street, compared to 17 percent of subsidized rental units built in the 1970s," according to the study, with almost all of those newer units added in mixed income buildings whose developers were taking advantage of incentives.
But the shift of affordable housing away from desirable neighborhoods is not only due to new construction, but also different opt-out rates across neighborhoods, with developments in more desirable neighborhoods more likely to opt out.
The study found that on average, the asking rents in neighborhoods that lost affordable units were $400 more per month than those that preserved units, which also makes it that much less likely that new lower and middle-income New Yorkers will be taking up residence.
The 235,000 units included in the study were built in the last half-century with government subsidies from programs like Mitchell-Lama, HUD financing and insurance programs, HUD project-based rental assistance and low-income housing tax credits. The majority of the units are located in Upper Manhattan, Central Brooklyn and the South Bronx; and nearly a quarter of all units have since converted to market rate.
That properties located in higher-amenity and higher-cost neighborhoods were much more likely to opt out is to be expected. But it does raise questions about whether the city should be doing more to preserve affordable housing in more desirable, core neighborhoods, despite the much higher cost of doing so. While the enormity of New York's affordable housing need might seem to militate against spending more money to keep lower-income residents in fashionable neighborhoods rather than offering them housing in places like East New York or Jamaica, Queens, choosing not to do so has the effect of exacerbating economic segregation and by extension, limiting access to tools that can help to reduce income disparity.
To wit, neighborhoods that lost affordable housing had better performing public schools, lower poverty rates, lower violent crime rates, and better access to transit and jobs, according to the study.
"Rising market rents in a neighborhood make exits from affordability restrictions more likely, and they also may make preservation more expensive for the city," wrote Max Weselcouch, who co-authored the study with Ingrid Gould Ellen. "Still, the need for affordable units greatly exceeds the supply, and preserving units in a range of neighborhoods—low-cost and high-cost—may allow the city to spread its subsidy dollars further."