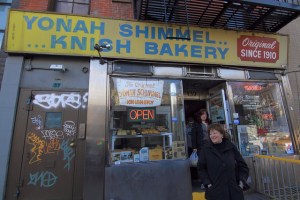 Rumors are swirling in the Lower East Side that Yonah Schimmel's knishery–a downtown landmark that has remained virtually unchanged during its century old lifespan–will be closing sometime this year due to rent spikes and competitive businesses.
The owner, Ellen Anistratov, has consistently denied the rumors, but told Bowery Boogie that the bakery is indeed looking into expansion and taking on investors.
Back in 2010, while celebrating the bakery's 100 year anniversary, Ms. Anistratov told the New York Times that her three teenage sons were expected to take over the family business, making them the sixth or seventh generation of family ownership. The bakery, which claims to be "the oldest knishery in America," was reportedly founded by an Eastern European immigrant and relative of Ms. Anistratov's, a heritage she cites as the reason behind her business's success today.
Yonah Schimmel's is well-known for its traditional knishes around the city–a round, baked dough shell made of or mixed with potato. The century old delicacies have led to loyal customers, but construction on the street over the past few years has made it near impossible for some of those patrons to travel to the bakery.
When the bakery opened in 1910, it was in a predominantly Jewish neighborhood. Nowadays, it is one of the last kosher bakeries on the Lower East Side, resting between an art house cinema and a hotel.