The same New York City Council that blocked Broadway to protest the Eric Garner decision and pretended to die before a legislative meeting now assembled en masse to emphasize just how much they loved the police.
Led by the police unions' Public Enemy Number Two, Council Speaker Melissa Mark-Viverito, the council members clustered behind a City Hall podium in December to undertake what to some critics amounted to a craven about-face: a full-throated expression of support for the NYPD and a call for the protests that roiled New York to indefinitely cease.
"Now is the time to tone down the rhetoric and come together as a city, to remember Officers Liu and Ramos. As such, we join the call to ask that protesters on the street stop out of respect to the NYPD, to the families of the officers we've lost and out of respect to the City of New York," Ms. Mark-Viverito told reporters, referring to the two officers murdered on December 20.
Ms. Mark-Viverito then denounced some elements of the protests, particularly an ugly episode where officers were assaulted on the Brooklyn Bridge.
"What happened to our officers during the protests on the Brooklyn Bridge was disgusting. Chants of wanting to see police officers killed is hateful and repulsive. And denigrating our police officers' service to this city is unacceptable," the speaker said.
Following the funerals of Rafael Ramos and Wenjian Liu, the two slain officers, the ongoing movement to reform the practices of the NYPD–an effort that conservatives and police unions blame for fermenting an environment that led a mentally unstable man, Ismaaiyl Brinsley, to assassinate both men–is straining to regain momentum. Activists and their allied elected officials must fend off an emboldened opposition that insists, to the activists' chagrin, they are simply anti-police.
The political elite who felt pressured to answer to the tens of thousands of people cascading into streets and highways after the Garner and Michael Brown grand jury votes are now scrambling to show that their tolerance for the protests is compatible with absolute devotion to law enforcement. The Liu and Ramos murders, some activists conceded, unleashed new challenges for a movement that has faced plenty of backlash before.
"A lot of people are taking a deep breath," said Robert Gangi, the director of the Police Reform Organizing Project. "Some people in the reform movement made serious, serious mistakes in some chants and some signs carried during marches."
He added: "To devalue the lives of police officers undermines the values that we are promoting. It's viscerally repugnant and also strategically and politically stupid."
Critics of the anti-police brutality protests seized on the number of marchers repeating chants like "NYPD KKK, how many kids did you kill today?" to argue that the entire movement exists to denigrate police. Police unions in turn have warred with Mayor Bill de Blasio, a Democrat elected on a platform of reforming stop-and-frisk and how the police interacts with communities of color.
Compared to Michael Bloomberg, a Republican-turned-independent, Mr. de Blasio is a champion of the police reform movement. But the mayor is not committed to backing a couple of bills drafted by reform-minded council members: one to outlaw the chokehold technique used by an NYPD officer in the death of Garner and another that would force police to tell people that they can refuse a search where there is no probable cause or a warrant.
Mr. de Blasio has also not endeared himself to the activists who want him to back away from his support for "broken windows" policing, a strategy of targeting small, quality-of-life offenses to prevent more significant crime. Bill Bratton, Mr. de Blasio's police commissioner, built his career on the implementation of the theory and any repudiation of broken windows would amount to a disavowal of Mr. Bratton, now one of the most important members of the de Blasio administration.
One City Council source, in the wake of the Liu and Ramos murders, called the chokehold and "Right to Know" legislation "toxic." But backers are confident they will ultimately be successful, recalling the 2013 fight to create an NYPD inspector general–a legislative victory for Council progressives which required an override of a Bloomberg veto.
"I want re-emphasize that we're not anti-cop, that's not what this is. This legislation is pro-justice. I think we can get that message across clearly," said Councilman Antonio Reynoso, a Brooklyn Democrat and co-sponsor of the Right to Know Act.
Councilman Brad Lander, an architect of the inspector general bill and a top Democrat in the Council, chose his words more carefully.
"New York City needs a policy dialogue that includes improving police and community relations, supporting and protecting the NYPD and being honest about the disparate impact of race," Mr. Lander said. "I believe New Yorkers are capable of having that dialogue."
Unlike the Occupy Wall Street protests of 2011, much of the crowd shutting down traffic on the Brooklyn Bridge, West Side Highway and Franklin D. Roosevelt Drive last month had concrete demands and a cadre of elected officials ready to act upon them. Curtailing broken windows policing or passing Council legislation are less fantastical goals than dealing a deathblow to the capitalist system.
And with links to more sophisticated national organizations, the police reform movement may be less likely to fizzle.
"I do think a very clear difference between Occupy Wall Street and Black Lives Matter is that Black Lives Matter has things they want and want to work towards," said Linda Sarsour, the director of the Arab American Association of New York, referring to a chant that has defined the movement so far.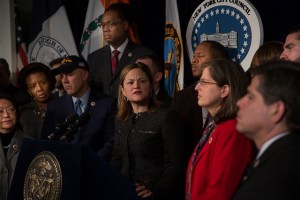 Activists with groups like Justice League NYC, which met with Mr. de Blasio at City Hall last month, insisted they were not surprised that the police murders would lead people like Patrick Lynch, the president of the Patrolmen's Benevolent Association, to rail against everything they're trying to do. (The night the NYPD officers were killed, Mr. Lynch thundered that blood "starts on the steps of City Hall.")
The fiery calls to stop protesting were expected.
"I've been part of this stuff for a long time. Was I surprised? The night [the murder of Ramos and Liu] happened, it was our office party and several of us looked at each other and said, 'Oh boy, here it comes,'" said Mark Winston Griffith, the executive director of the Brooklyn Movement Center, a community organizing group. "This certainly doesn't help, I can tell you that much. I don't think we have taken the temperature just yet."
In his first press conference since the funerals of Liu and Ramos, Mr. de Blasio on Monday extolled rank and file cops for the city's falling crime rate while also slamming those who chose to literally turn their backs on him three different times. He insisted the Democratic National Convention could still come to Brooklyn, despite the city's bitter divide.
He did not say when people should start protesting again.