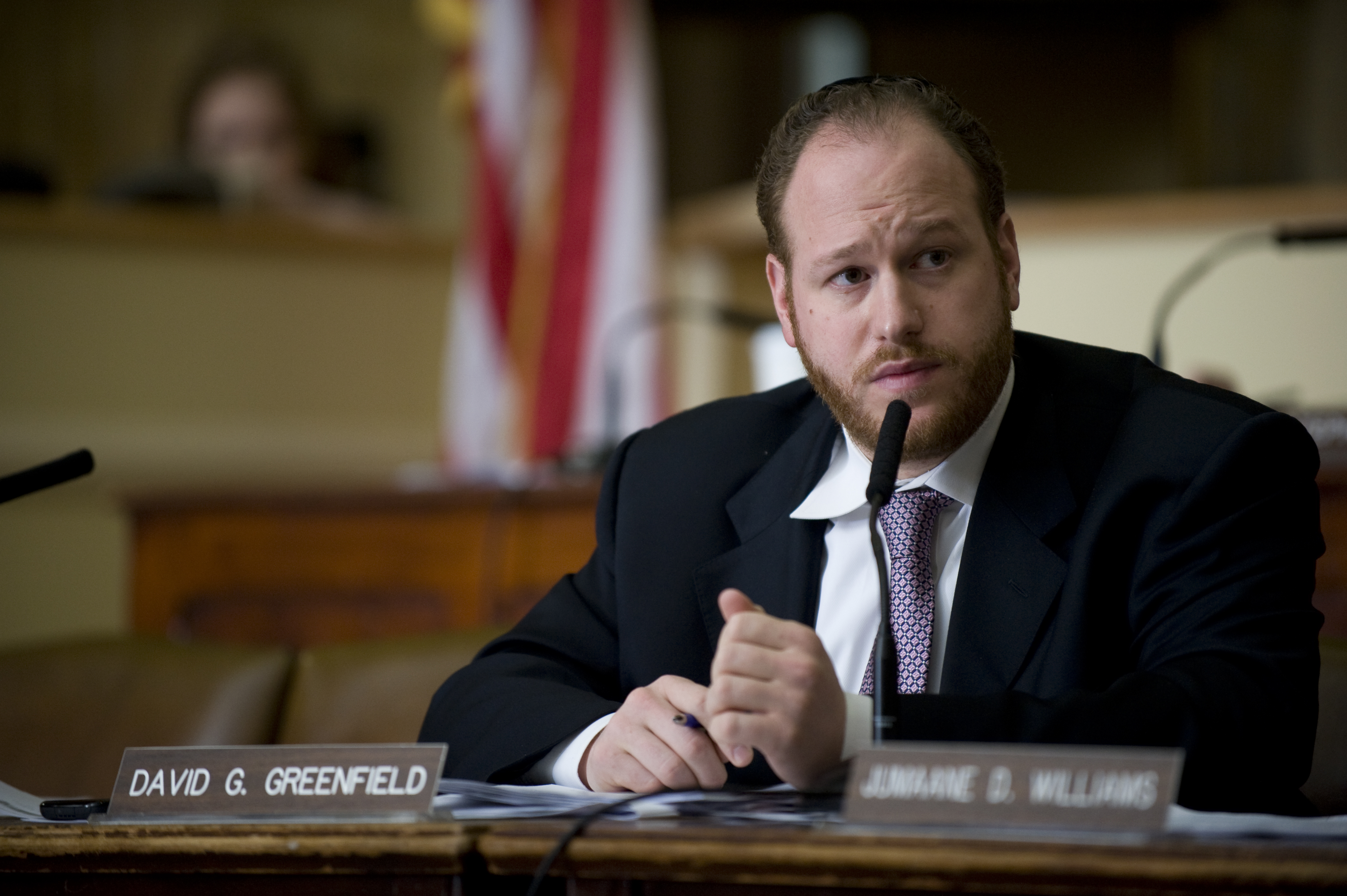 Few people would characterize the New York City Council as a shy and reticent legislature. But some of its members feel like it's time to speak up—in support of the New York City Police Department.
"Those of us who support police in New York City are the silent majority, and we're gonna be the silent majority no longer, because it's time like these when you have to come together and you have to stand up to be counted," Councilman David Greenfield, a Brooklyn Democrat, told the Observer.
Much of the dialogue surrounding the police, protesters and politicians has focused on comments made by Mayor Bill de Blasio, who police unions have attacked for comments he made to his biracial son about taking "special care" with police. But in many ways, the Council has been a much louder voice criticizing the police department, perhaps loud enough to overwhelm the voice of members like Mr. Greenfield, who recently held a rally urging people who don't like the NYPD to leave New York City. While Mr. de Blasio has not actually criticized the grand jury's decision, Council Speaker Melissa Mark-Viverito said they got it wrong. Before an official meeting, more than 30 members blocked traffic in protest, after holding a "die-in" in the City Hall rotunda. Like many activists, council members have maintained a push for reform doesn't make them anti-police, and they have all decried the killing of the officers. During Mr. Greenfield's more boisterous rally, Ms. Mark-Viverito led a City Hall press conference in support of the NYPD that was attended by a slew of members.
But the debate surrounding policing is highlighting something of a rift within the City Council's Democrats—and between some members and the mayor—in a year where the council has seen few disagreements.
On Twitter recently, Mr. Greenfield called for the mayor to arrest protesters who defied his orders to quiet down until the funerals for the two officers are held. (Mr. de Blasio did not.) The councilman said he doesn't view it as an "us versus the mayor" situation, but as pro-police elected officials against anti-police protesters (though many protesters would insist they are not anti-police).
"I think what he is trying to do is a very difficult balance, which is trying to make changes within the NYPD, while still being supportive," Mr. Greenfield said of the mayor. "And when you do that, that is a very difficult balance, and obviously he's been unable so far to walk that fine line."
Christina Greer, a political science professor at Fordham University, said that even though 48 of the council's members are Democrats, like the mayor, New York City is home to many different kinds of Democrats. And many of them who represent certain geographic areas—often wealthier, whiter pockets of outerboroughs like southern Brooklyn, the northwest Bronx, northeast Queens and Staten Island—have historically been more loudly supportive of police. At the same time, many of the constituents in those neighborhoods simply don't identify with the mayor, elected in a landslide but with record-low turnout.
"There are many people who, especially in the outerboroughs and in the cop community I'm sure, who did not vote and don't feel like this is their mayor," Ms. Greer said.
She echoed what she tells every one of her students on the first day of class: the main goal of any elected official is to get elected and stay elected. For some council members, that may mean a little distance from the mayor, and certainly from the police reform movement.
"I think many of them are hearing from their constituents and they're echoing what their constituents want to say," Ms. Greer said of the council members. "They recognize that the mayor doesn't have the power to get them re-elected, and constituents remember these things long after they've left the headlines—and opponents remember these things long after they've left the headlines."
In addition to the headline-grabbing protest put on by council members, legislation has also been introduced to make police chokeholds illegal and to require cops to tell people they have a right to refuse a search. But while that end of the spectrum has dominated discussion, Mr. Greenfield said he expected some people to be more outspoken in support of the department moving forward.
"I think that really what you're going to see is that a lot of folks who haven't weighed in before, because they haven't felt a need to weigh in. I think you're going to see them weigh in in a more visible fashion in favor of the NYPD," Mr. Greenfield said.
Councilman James Vacca, a Bronx Democrat, said he's already been doing so, calling on his colleagues in floor speeches to tone down rhetoric against police even before the murders.
"Whether it changes, the tone or not, depends on the members. And I hope that many of the bills I see don't see the light of day. I think that several of the bills I've seen are extreme," Mr. Vacca said. "I certainly feel that we should reconsider."
The future of those bills is uncertain. Mr. de Blasio has "deep reservations" about them in their current form, according to City Hall, and Ms. Mark-Viverito has not yet taken positions on them. But Mr. Vacca pointed out the majority of the council's members had signed on to them, and said before bills aimed changing practices of the NYPD are even introduced, members ought to sit down with all the stakeholders, including police officers and victims' rights groups.
"Not only are we judged by the bills that pass, we're also judged by bills that are introduced and have hearings, because that sets a tone and a perception," Mr. Vacca said. "And we have to be cognizant of the fact that we in the council are not activists. We are legislators. We are elected to responsible positions in government and we have to be responsible at all times."
Councilman Mark Weprin, a Queens Democrat, struck a softer tone, saying he believed all of his colleagues have "the utmost respect for police officers."
Council members who took part in the protest—he did not—were speaking out against what they felt was "unfair treatment of people of color," he said, not just by police but all law enforcement. He didn't think many of those members have changed their opinions, but said all the members did want to respect a time of mourning.
"I think we want to make sure the line is clear, that we in no way want to disrespect police officers here," Mr. Weprin said.
The Twitter feed of Councilman Rory Lancman, who introduced the bill to make chokeholds illegal, has been dominated by messages of support for the department. He told the Observer that support for cops and a desire for reform aren't mutually exclusive—pointing the the Council's attempt to add 1,000 new cops to the budget last year.
"The general public shouldn't forget that every single Council Member has a close working and often personal relationship with the police precincts in our respective districts—the commanding officers, community affairs officers, special operations officers, etc," he wrote in an email while traveling abroad. "The vast majority of New Yorkers were deeply troubled by the Garner case, and Bill de Blasio was elected on a platform of reforming policing in communities of color. The police union leadership needs to respect that, as they have every right to expect that New Yorkers respect the work that cops do."
Mr. Lancman didn't respond to a question about his chokehold bill, but said police reform would move ahead.
"We are going to reform policing in this city—for communities of color who are grossly over-policed, for cops who are needlessly thrust into confrontational encounters with the public for marginal public safety gain, and for taxpayers at large. Hopefully the police unions will choose to be a part of it; it would be a real loss for New York City and our cops if they're not," he wrote.
Some members of the council have long been loud in their support of cops—especially the body's small Republican minority.
"I welcome anyone who wants to tone down some of the rhetoric. I've been calling for an end to the protests," Councilman Steven Matteo, a Staten Island Republican, said. "But I think the proof is in the pudding, when the council decides whether or not to move on some of these bills going forward."
Evan Siegfried, a political consultant who has worked with both parties but more recently with Republicans, including Mr. de Blasio's mayoral opponent Joe Lhota, said he wasn't surprised to see some moderate Democrats speaking out in favor of the NYPD—and potentially looking to distance themselves from the mayor.
"Moderate democrats have the toughest reelection bids on their hands, especially since Mayor de Blasio is viewed as anti-cop in their districts and his approval numbers throughout the city in 2015 are not going to go up.  If they don't put distance between themselves and the mayor, their own numbers will certainly go down too," Mr. Siegfried said.
But a de Blasio administration source said the mayor's stance on policing issues has been "thoughtful," and noted Mr. de Blasio's concerns about the two bills being considered in the council now. The mayor never called for an end to stop-and-frisk, just a reform of it, the sourced added, hasn't abandoned broken windows, and has called on his critics to point to any anti-police rhetoric he's employed. The mayor's office insists such rhetoric does not exist, while some unions cite the mayor's talk with his son.
"I think what the mayor's trying to do is chart out a really responsible, thoughtful way forward in a way that doesn't inflame and doesn't throw gas on the fire, in a time when there are a lot of raw emotions on all sides of these issues," the administration source said.
But it's not clear that's the message that is getting through to people on the ground—including those living in those outerborough Council districts where many do believe the mayor is anti-police.
"I think when there are a lot of folks out there who are in a very impassioned debate in which there are real, raw emotions that are genuine, details and specifics and nuance are lost," the administration source said.
Mr. Matteo said the mayor would have a "tough job ahead of him" to convince his the public and cops that he was on the NYPD's side.
"He has to sit down with the leadership of the police department in terms of understanding that the everyday police officer is looking for the city government to show that they support him," Mr. Matteo said. "He needs to do a better job for us in the city to move forward."