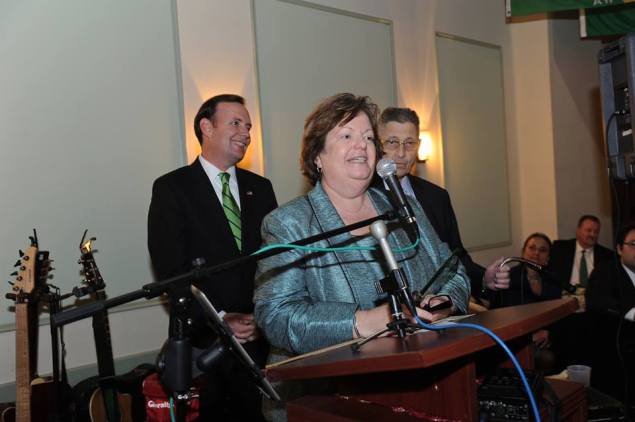 Assembly Democrats aggressively defended their beleaguered speaker, Sheldon Silver, after he was arrested yesterday, but this hasn't stopped one local Democratic organization from planning for a post-Silver Albany.
Top officials with the Queens Democratic Party are calling Assembly members in Queens, Manhattan and Nassau County about the possibility of supporting Assemblywoman Catherine Nolan, a Queens Democrat, for speaker if Mr. Silver resigns or is forced out of office after his arrest on federal corruption charges, sources say.
Ms. Nolan, first elected in 1984, chairs the powerful Committee on Education.
"Queens is calling around, taking the temperature. They're pushing Nolan," said an Albany Democratic source. "They are floating her in case Shelly is no longer speaker so there's a quick transfer of power and the body can move on."
Sources say the Queens machine's three top deputies–Michael Reich, Frank Bolz and Gerard Sweeney–are calling legislators to figure out what kind of support exists for a potential Nolan candidacy. Ms. Nolan, who did not immediately return a request for comment, defended Mr. Silver in the Daily News. 
"They feel he's taken a lot of criticisms for reflecting the views of a hundred very disparate people," Ms. Nolan said. "It's not an easy thing to do and he has done it very well."
Mr. Silver, a Manhattan Democrat, won his post in 1994 and wielded immense clout in the state capital. Charged in a five-count complaint with spearheading a couple of bribery schemes to enrich himself at the public's expense, Mr. Silver's arrest rocked the political worlds in Albany and New York City.
Assembly Democrats, doggedly loyal to Mr. Silver, said they would be sticking by their speaker. No obvious single Silver successor exists and it doesn't appear Mr. Silver, without pressure from Gov. Andrew Cuomo or his colleagues, would resign. The speaker is contesting the charges.
But his arrest will cloud the legislative session and call into question how Mr. Silver, given his legal distractions, can adequately maintain leverage for his New York City-dominated conference. Even with no mainstream Democrats publicly challenging Mr. Silver, influential politicians like Congressman Joseph Crowley, the chair of the Queens Democratic Party, and Assemblyman Carl Heastie, the chair of the Bronx Democratic Party and another rumored successor to Mr. Silver, are beginning to mull an Albany without Mr. Silver, sources say.
The road to the 76 votes needed to crown a new speaker may end up being exceedingly complex if Mr. Silver, such a dominant force in state politics, is pushed aside. New York City, with its numerical weight, would play an outsized role. Race, geography, seniority and loyalty would all factor into the volatile mix.
Ms. Nolan is well-liked by her colleagues and would allow Queens to have their first speaker since Saul Weprin unexpectedly died in 1994, paving the way for Mr. Silver's rise. Close to Mr. Silver and the teachers union, Ms. Nolan has forged an alliance with Mayor Bill de Blasio, who may look to exert his influence over the city's Assembly delegation if Mr. Silver leaves his post.
Sources cite several Nolan strengths. Support from Mr. Crowley could mean the full 18-member bloc of Queens lawmakers in the Assembly's 150 member body would vote for her. Brooklyn boasts a slightly larger bloc, but Queens has fewer freshmen and is expected to be more unified behind their stronger county organization. Ms. Nolan is regarded as one of the shrewder lawmakers in the body and would be the first woman ever elected speaker in New York, no small significance to female Assembly members.
Mr. Crowley works closely with Mr. Heastie, who could potentially lend his smaller but loyal Bronx bloc to any vote. Besides Ms. Nolan and Mr. Heastie, other potential Silver successors that have been floated include Manhattan's Keith Wright and Deborah Glick. Brooklyn's Joseph Lentol, first elected in 1972, is said to have less interest.
If Mr. Silver exits, Mr. Crowley and Mr. Heastie may have an incentive to work together to avenge the loss of the City Council speaker's race in 2014. A coalition of organized labor, the Brooklyn Democratic Party and Mr. de Blasio helped elect Melissa Mark-Viverito speaker over the wishes of the Bronx and Queens machines, who may not have to wrangle with the same amount of rogue progressives this time around.
A spokesman for the Queens Democratic Party did not immediately return a request for comment.