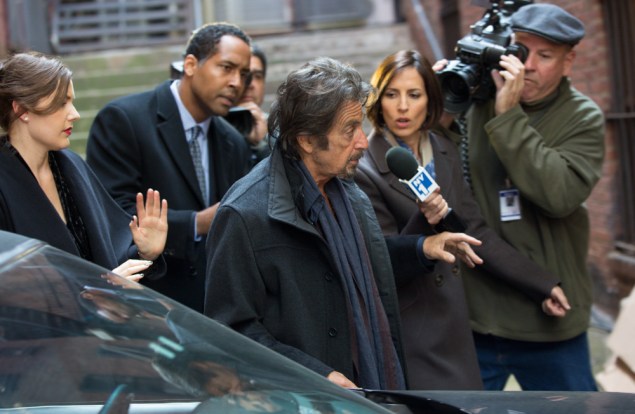 Slobbering sycophants dedicated to the belief that Al Pacino can do no wrong might fall for the inept, stumbling nonsense of a lousy flick called The Humbling, but be forewarned: It is dreadful.
---

THE HUMBLING ★
(1/4 stars)

Written by: Buck Henry
Directed by: Barry Levinson
Starring: Al Pacino, Kyra Sedgwick and Greta Gerwig
Running time: 112 min.

---
Lamely directed by the usually polished Barry Levinson and based on one of the dopiest and least successful books ever penned by Philip Roth, this is a cinematic junk heap about a famous, declining ham actor going through a hallucinatory nervous breakdown onstage and off that so tests the credulity and shatters the patience that I felt like I was having a nervous collapse myself. Mr. Pacino growls and spits his way through the role of Simon Axler, a has-been who lost his mojo by mixing Shakespeare with the Actors Studio. It opens in his dressing room where he slaps on flamboyant greasepaint in painful close-ups, preparing for a disastrous production of As You Like It, reciting the Bard's shards with the artistry of a trash collector in the middle of a garbage strike. Onstage, he forgets the plot, throws himself into the orchestra pit in a botched suicide attempt in front of an aghast audience, and gets locked out of the theater. (In Buck Henry's rambling and idiotic screenplay, parallels to the equally dismal, overrated Birdman are everywhere, but I hated this one even more.)
There may be a thin line between genius and insanity, but in his drunken phantasmagoria, Axler gives up acting forever and ends up for a month in a rehab facility before he escapes to his Connecticut mansion in the woods and falls in love with the lesbian daughter (Greta Gerwig) of his two oldest actor friends (a wasted Dianne Wiest and Dan Hedaya), a girl he hasn't seen since she was 10 who promptly renounces her homosexuality to drag him into bed. Why a 30-year-old gay girl would dump her own partner (Kyra Sedgwick, a college dean yet) to ravage a shiftless, unshaven has-been more than twice her age (Pacino is 74) who takes horse tranquilizers for terminal back pain is anybody's guess. The film is an unhinged indulgence of the aging, creatively bankrupt Philip Roth's own sexual fantasies, and it's about as amusing as a bad case of shingles.
While Ms. Gerwig never quite makes the age-gap thing work, it's interesting to watch her try, leaving sex toys around the house to the alarm of her angry parents, her former lover the university dean, and another ex-partner, now a black female-to-male gender reassignment patient played by Billy Porter, the drag queen from Broadway's Kinky Boots. There's a walk-on by the incompetent, anesthetized Charles Grodin, and the excellent Dylan Baker plays Axler's psychiatrist who keeps in touch with his patients by Skype. Worse still, a subplot about a mental patient (Nina Arianda) who shows up everywhere he turns, begging Axler to kill her husband, is a running gag that drags The Humbling into hopeless silliness.
At 5-foot-7 and wrinkled as a dried prune, it's hard to play a man getting his mojo back, and Al Pacino doesn't even try with any reasonable degree of craft or stature. Even at his zenith, his strong suit was never comedy, but self-indulgently allowed to mug by director Mr. Levinson, he's more unconvincing than ever. It doesn't help that Mr. Levinson plies him with ugly close-ups and saddles him with improvised snippets of Shakespeare, badly delivered in creepy, monosyllabic grunts. When the mighty fall, it has the sound of a motorcycle crash. They should have called this mess The Mumbling.