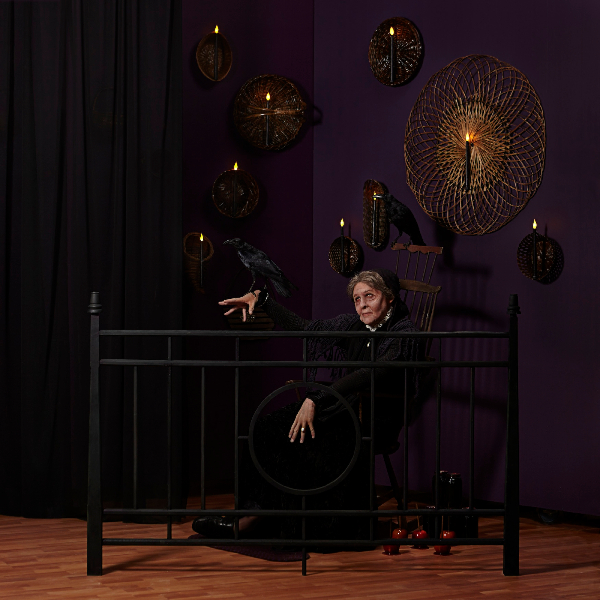 When we got word that Alex Da Corte was building a "haunted house" inside the Upper East Side town house that is Luxembourg & Dayan, we need to know more. A haunted house? In January?
The exact wording in the press release sent out last Tuesday described Mr. Da Corte's upcoming exhibition as "a site-specific installation that consumes the gallery's East 77th Street townhouse, turning it into an implausible cross between a dollhouse and a haunted house."
"Die Hexe" (which translates to "The Witch" in English) is set to be his largest installation to date, and is scheduled to open February 26 and run through April 11. But the installation won't be filled with the kinds of ghosts typically found in the dens of horror that pop up each year at Halloween time. No doubt spirits will fill the rooms of 64 East 77th Street, but these specters will be conjured by references to fellow artists such as Robert Gober and the late Mike Kelley, famous musicians The Mamas and The Papas who once called the building home, and life-size homages to his grandmother's past as a dollhouse maker.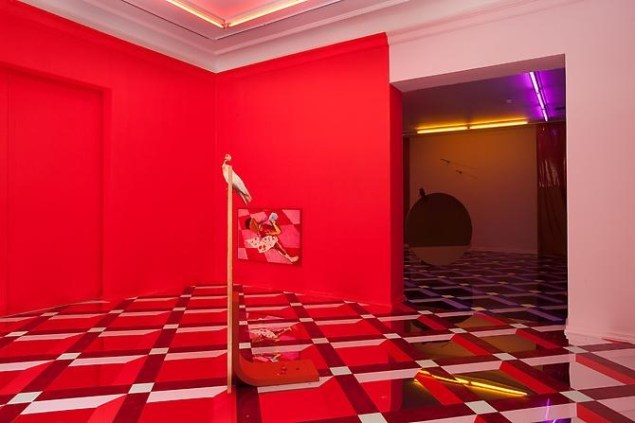 The artist is already known for his vividly colored, surreal investigations of topics ranging from authorship to pop-culture. In 2013 he transformed Joe Sheftel Gallery into a sort-of funhouse inspired by hip-hop artist Marshall Mathers (also known as Eminem) for "1 0 0 0 I S L A N D," and in 2014 he collaborated with Jayson Musson on the two-person show "Easternsports" at the ICA Philadelphia which featured a four-channel "multilingual soap opera."
"This show is very much a response to my grandmother," he told us by phone from his studio in Philadelphia. For the announcement, a single image was sent out that featured what appeared to be an elderly woman, seated behind a bed frame and against a candle-lit wall, with two ravens perched on her outstretch arm and the top of her rocking chair.
Mr. Da Corte revealed that the woman was, in fact, him. The cast face he's wearing in the still is his grandmother's, and the ravens are a reference to the Norse God Odin's companions, Huginn and Munnin. Their names translate to "thought" and "memory," themes the artist touches on in just about every component of the show. The image won't be repeated the townhouse's rooms though, it's just a teaser.
But he did give us a taste of what to expect. He explained that the set-up of the show is a "replica of her home in some ways," and that each of the rooms he's making will recall versions of houses she's made. "Every house has memories, a footprint or history," he said. The artist's planning process included building a to-scale replica of the Luxembourg & Dayan townhouse inside his studio in order to make each of the tableaus throughout.
He'll fill its narrow rooms (the residence measures only 12-feet six-inches wide) with notable artworks by Bjarne Melgaard and Haim Steinbach, among others, and "cut it open Gordon Matta-Clark-style, or dollhouse-style," he said.
On the significance of the borrowed works, he said, "I like to track a history of my own work; what works I've seen in my life and responded to. Each one is dealing with duplication and multiples," adding, "Much of the show is dealing with memory, when memory tricks you."
And why the macabre show title? That's partially inspired by his grandmother as well: "Some of her familial roots are German, but I'm thinking about those two words and how they're treated in English. A hex is a symbol that's used in Pennsylvania Dutch communities. It goes on the sides of homes, and shows what kinds of goods they make there. The death of image is a way of looking at how an image or object can perceived."