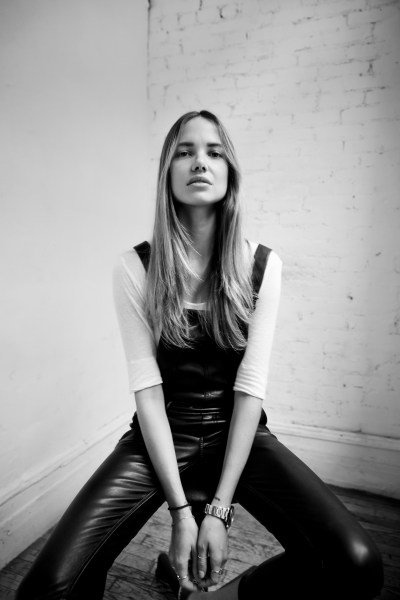 On the blustery day we meet Alicia Rountree everyone in the restaurant seems to have focused their attention on her. It's not just because she's the proprietor of the place, Tartinery, downtown's swankiest sarnie emporium, either. The Victoria's Secret Angel is almost magnetically beautiful. Clad in monochromatic black, skinny jeans and overlapping necklaces, she looks like a quintessential New Yorker, mixing  business with pleasure in true native style. A woman a few tables away can be heard asking what the model is having. She is not having, sadly, an elixir that will make you look like Alicia Rountree, just butternut squash soup. And Ms. Rountree's entire attention seems focused on it.
The model describes, in an almost Proustian moment, her first great experience with food, eating the dohll puri of her native Mauritius. "It looks like a pancake," she explains, "but it's made out of a kind of chickpea. All Mauritians, if you say dohll puri, they'll go, 'Oh my God, it's so good.' "
She describes all this in lilting, polished My Fair Lady voices that "makes one think she'd always lived in a kind of garden." Which, as it happens, she sort of did.
"I grew up in a sugar plantation—on a farm, basically. Lots of potatoes and sugar cane."
Though she's lived in New York for eight years, she still misses it. "I dream about Mauritius. I dream about the food a lot. I know I'm going to end up back there," she says.
"Here [in New York] I feel there's more pressure [to be thin] because of media and celebrities. And there are so many trends," exclaims Ms. Rountree. "Where I'm from people are just eating. Back home I eat everything sweet, but," she admits, "everything is grown there. You just pick things off the tree and eat."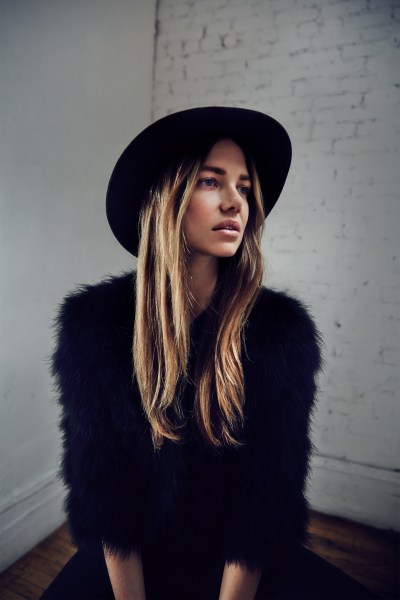 Before the next trip home, in 2015 the model will be shooting for Guess, and working on a fitness app called Supermodel Ballet Body with TV fitness guru, trainer and former ballet dancer Robert Brace. The app will feature ballet-infused, short workouts that target different muscle groups. And she's just back from Japan where she was shooting a campaign you've almost certainly seen, for Uniqlo.
Alongside her project with Robert Brace she also does yoga, and practices Pilates at the intensely demanding (we know from personal experience) SLT studio. "I like exercise to be hard," she explains.
"Back home, I waterski, I swim, I kayak, I windsurf—I'll do anything in the water."
All of which means that she can enjoy the occasional chocolate fondant and tartine at her emporium.
"I've realized as I'm getting older the relationship with food is really important. If I want a chocolate fondant, I'm not going to stress out about it because stress causes the biggest amount of weight gain. I work out and if you're cool and don't worry too much, it's best. At least, I've noticed that with myself."
Forty minutes of Transcendental Meditation a day helps, too.  "I feel like that's helped me a lot to get more done in the day," she states.
And there is a great deal to do. Ms. Rountree has been modeling since she was first scouted at a fashion party in London at 17. With an obvious hold on personal style, she credits her excellent taste to her mother, whom she has a very close relationship with, and it seems to be paying off. She recently did the Uniqlo campaign, but, as delighted as she is, she notes, "eventually everyone gives up modeling!"
The model's travel schedule does have its downsides. A romantic relationship is the one aspect of life's cornucopia not currently on Ms. Rountree's menu, and she notes traveling "is fine if you're already in a relationship, like when I was with Nico, but it's not like you're coming home to someone. To get to know somebody you have to [have time to] hang out." 
She's considering making more of a transition to acting, though she admits choosing between the two career paths is difficult. She already has a start in the business with her Heineken commercial in which she plays "the boss' daughter."
"I'm interested in so many different things, though," says Ms. Rountree, "I'm also really into design and anything in the arts."
While she may very well end up back on her native island of Mauritius, perhaps she won't do that just yet. New York needs her on our billboards for at least a few more years—if only until she brings dholl puri stateside.