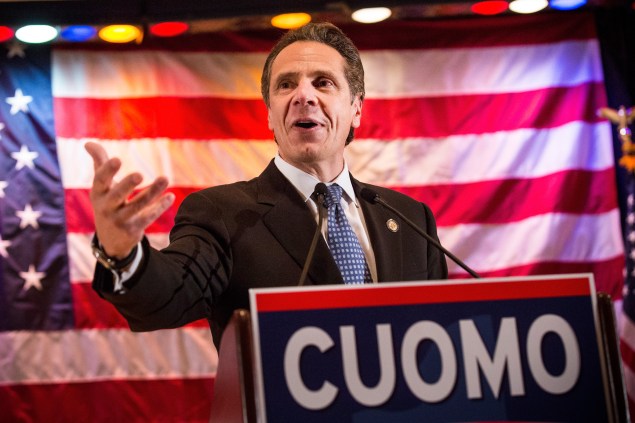 Andrew Cuomo doesn't think Bill de Blasio shares in the Buffalove.
The Democratic governor, who has had a complicated relationship with the liberal Democratic mayor, said during a speech in Rochester today that Mr. de Blasio did not support his plan to infuse Buffalo with a billion dollars for economic development.
Unlike his gubernatorial predecessors, Mr. Cuomo said he wasn't focused on "downstate-centric economic plans."
"First of all, a billion dollars is a lot of money. It hurts to spend a billion dollars. You don't get many of those. Second, politically, it was difficult. Why? Because we all love each other, but when one region gets a billion dollars, the other regions notice," Mr. Cuomo declared while touting his $1.5 billion upstate economic development fund.
"And the other regions say, 'Well, what about me? I love my fellow citizens in Buffalo, but, well, what about me?' So politically it was difficult. And I don't want to name names, but, Lovely Warren didn't like it and Joanie Mahoney didn't like it and Jennings didn't like it and Bill de Blasio didn't like it and Ed Mangano didn't like it, and Steve Bellone didn't like it," he continued, naming other high-ranking allies in counties like Nassau, Suffolk and Onondaga. 
A spokeswoman for Mr. Cuomo sought to clarify the governor's remarks.
"The Governor was being rhetorical, a fact apparent to everyone except the Observer, particularly given that Mayor de Blasio wasn't even in office when the Buffalo Billion was announced," Dani Lever said in a statement.
Ms. Mahoney, the former Onondaga County executive, recently joined the Cuomo administration and Mr. Mangano, the Republican Nassau County executive, crossed party lines to endorse Mr. Cuomo's re-election bid. But of all of Mr. Cuomo's professed allies, Mr. de Blasio is unique for his high profile and sometimes fraught relationship with the governor.
The two Democrats battled last year over whether a new tax should have been imposed to fund Mr. de Blasio's universal prekindergarten expansion and Mr. Cuomo, a centrist, has waffled on supporting Mr. de Blasio's more liberal agenda items. More recently in Mr. de Blasio's rift with the city's police unions, Mr. Cuomo has sought to play peacemaker while not condemning damning remarks union leaders like Patrick Lynch have made about Mr. de Blasio.
It's also not clear if Mr. de Blasio has ever weighed in publicly on Mr. Cuomo's economic development plan for Buffalo.
This story has been updated with comments from the governor's office.