Gov. Andrew Cuomo today offered a sweeping, soaring eulogy of his father, Gov. Mario Cuomo, recalling him as a man who defied political labels to do whatever he felt was the right thing.
"At his core, at his best, he was a philosopher. He was a poet. He was an advocate. He was a crusader. Mario Cuomo was the keynote speaker for our better angels," Mr. Cuomo said. "He was there to make the case, to argue, to convince, and in that pursuit he could be a ferocious opponent or a powerful ally. And he was beautiful."
In a lengthy remembrance, Mr. Cuomo shed light on his close relationship with his father. The younger Cuomo worked as his father's campaign manager, and called his own ascendance to governor vindication for his father's failed bid for a fourth term in 1994. He called his father his "hero."
"He was my best friend. He was my confidant, and my mentor," Mr. Cuomo said.
He recalled speaking to his father from Washington, where Mr. Cuomo worked as secretary of the Department of Housing and Urban Development, to ask how a big speech had gone. The conversation turned to how it was delivered, and Mario Cuomo insisted that he had read it word for word. His son argued that he did not like to speak that way, preferring to gauge the response of the audience as he went.
"He said that was all unnecessary, and he said, 'who cares about what the audience wants to hear? It's not about what they want to hear, it's about what you need to say,' Mr. Cuomo said. "And that, my friends, is the essence of Mario Cuomo. He was not interested in pleasing the audience—not in a speech, not in life. He believed what he believed."
Being at peace with himself gave Mario Cuomo great strength, his son said, and made him anything but a typical politician. "Mario Cuomo's politics were a personal belief system. It was who he was, not what he did."
In that way, Mr. Cuomo said, his father defied political labeling, a man all about subtlety and nuance, who resisted the label the "Great Liberal." Instead, he was the governor from Queens, Mr. Cuomo said, the outsider looking in, a descendant of the "great unwashed masses" who arrived here from other shores.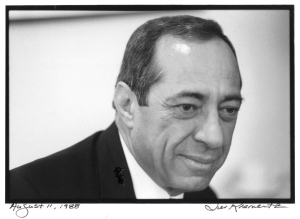 "Mario Cuomo's birthmark from the outerboroughs was deep and he wore it with pride. He had a natural connection with the outsider looking in," Mr. Cuomo said. "He was always the son of an immigrant. He was always an outsider. And that was his edge."
He was also a religious man, Mr. Cuomo recalled, and believed the teachings of Jesus could be distilled to one word: "love."
"Love means acceptance and compassion and support to help people, to do good. And that's what he wanted government to be, a force for good," Mr. Cuomo said.
The fight for love was the good fight, Mr. Cuomo said, and his father always fought the good fight—even when the odds were long, like in his first run for governor in 1982, against New York City Mayor Ed Koch.
"The pollsters with their charts demonstrating the impossibility of his pursuit were unpersuasive. If my father thought he was fighting the right fight, it didn't matter if he though he was going to win or lose," Mr. Cuomo said.
But he did win, and he held the seat of governor until 1994, when he failed in his bid for re-election, losing to George Pataki.
 "We enjoyed deeply each others victories and we suffered the pain of each others losses. My only regret is I didn't return from Washington to help in his 1994 race," Mr. Cuomo said, adding he was unsure he could have helped "I should've been there. It was the right thing to do. And I didn't do it."
Winning his own race for governor, he said, was redemption. "Cuomo was elected governor. The first name was not all that relevant."
Mr. Cuomo also made reference to the great ambitions with which his father flirted—namely a run for president.
"Why didn't he run for president, people asked. Because he didn't want to. That's all," Mr. Cuomo said. "But that's everything for Mario Cuomo. He was where he thought God wanted to him to be."
Last year, the night he was re-elected, Mr. Cuomo brought his father onto the stage with him, against a doctor's recommendation—for "one more fist pump."
"He walked off the stage and said, 'Wow, what a crowd that was.' It was the best medicine I could provide for Mario Cuomo," he said.
In the wake of unrest over a grand jury's decision not to bring an indictment in the Eric Garner case and the murder of two police officers, Mario Cuomo, who had governed during the days of strife in Benonshurst and Howard Beach, had become concerned with division in the city along racial and class lines, Mr. Cuomo said. Mr. Cuomo recalled the saying that your father never leaves you, that you can hear him if you listen hard enough—but said you didn't have to be his father's son to know what he would say today.
"It's time for this city to come together. It's time to stop the negative energy and move forward," Mr. Cuomo said, to balance community relationships and better safety for police. "That's just what we will do. I promise you that, pop. For Mario Cuomo, the purpose of life was clearly to help those in need and leave the world a better place."
In his final days, Mr. Cuomo said, as his father grew weak, the governor told Mario Cuomo he wanted him to hold the Bible at January 1 inaugural address. The elder Cuomo asked which Bible—"which only Mario Cuomo would ask"—and was satisfied the King James translation would do.
"A few days later, he said to me that he was too weak to hold the Bible, but that he would be here, he said. He would be here," Mr. Cuomo said.
The day of the inauguration he went to his father's bedside, Mr. Cuomo said, and told his father it was the day of the inauguration. He asked if he'd like to come, to hold the Bible or not. Mario Cuomo didn't respond, but his son reminded him there was a later speech, in Buffalo, at 4 p.m.—he could come to that, too.
"My sister played my inaugural speech for him. He knew that the Buffalo event was at four o'clock. My father passed away at 5:15," Mr. Cuomo said, emotion thick in his voice. "He was here. He waited, and then quietly slipped out of the event and he went home—just like he always did, because his job was done."
Mr. Cuomo said he delivered the speech as his father would've preferred.
"I read every line, Pop, word for word, because it's not about what they wanted to hear," Mr. Cuomo said. "It's about what I want to say."