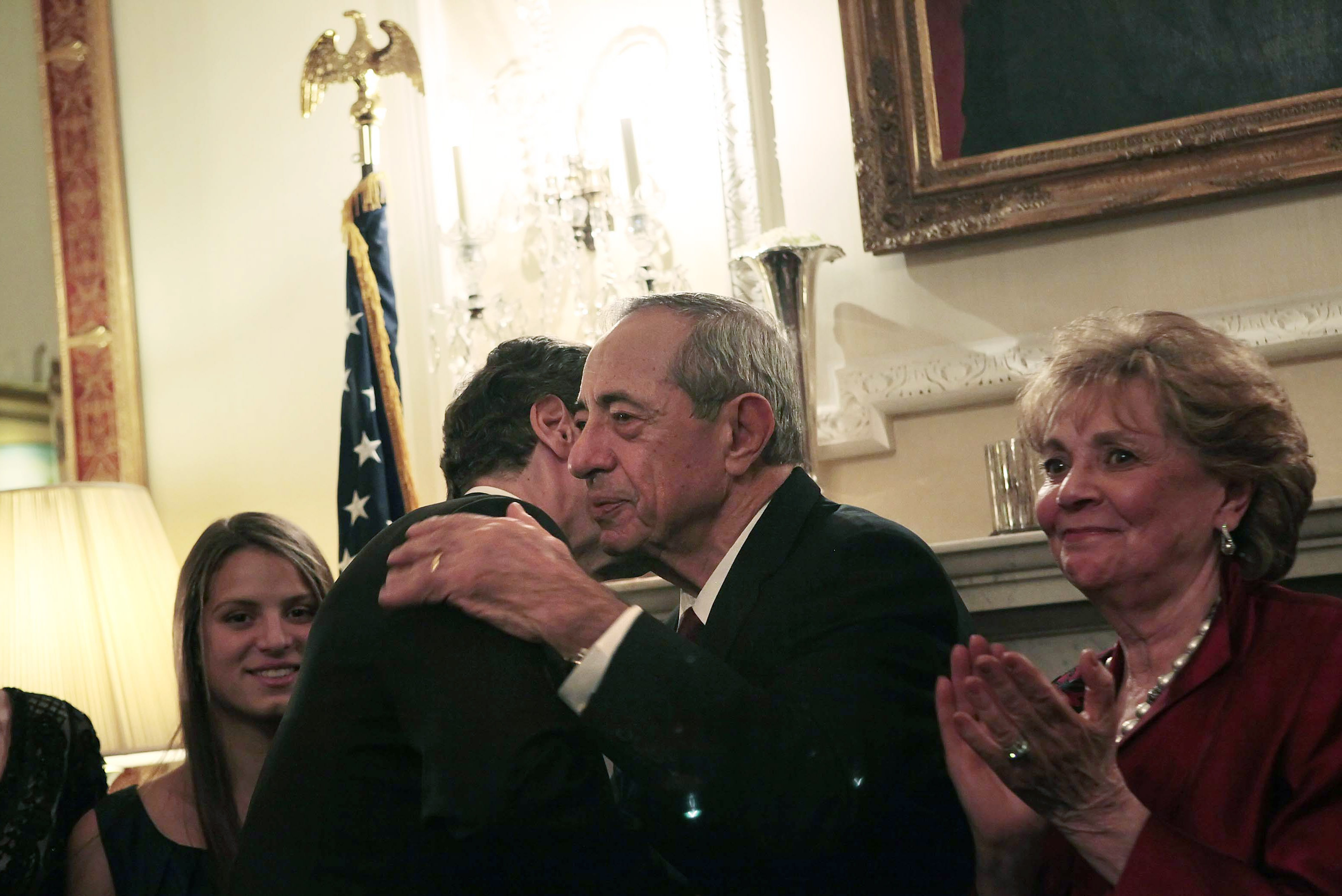 Gov. Andrew Cuomo officially announced the passing of his father, former Gov. Mario Cuomo, this evening—a "natural" death brought on by heart failure.
The current governor's office said in a statement that the younger Mr. Cuomo was with his 82-year-old father at the moment of his departure.
"The governor passed away from natural causes due to heart failure this evening at home with his loving family at his side," the statement read.
Born to Italian immigrants in the Briarwood section of Queens in 1932,  Cuomo grew up in his parents' store and attended St. John's University. After an injury ended his baseball career—he had signed as an outfielder to a Pittsburgh Pirates minor league affiliate—he went to law school and became a legal clerk.
He became involved in politics in the late 1960s, when he led a group of Queens homeowners fighting their displacement by a planned high school. In 1972, then Mayor John Lindsay picked him to mediate a dispute with residents of the Forest Hills neighborhood, who were fighting a proposed public housing complex.
He lost his bid to become lieutenant governor in 1974, but Gov. Hugh Carey appointed him as secretary of state. His vaunted oratory skills first drew notice when he ran unsuccessfully against Congressman Ed Koch for mayor of New York City.
The late Cuomo subsequently became Mr. Carey's lieutenant governor after he won his second term in 1978, and sought the governor's mansion himself in 1982—again taking on Koch. This time, Cuomo triumphed—with the help of his 24-year-old son Andrew, who managed his campaign.
Cuomo's blazing and eloquent rhetorical style riveted the nation when he made his famous "Tale of Two Cities" speech attacking President Ronald Reagan at the 1984 Democratic National Convention.
Despite his growing national profile and calls for him to seek the presidency, the elder Cuomo suffered a stunning loss to then-State Senator George Pataki, who rode in on the national Republican Revolution wave of 1994. However, he returned to political prominence as his older son's star began to rise.
Cuomo spent three weeks in the hospital last year after entering it to receive treatment for a heart condition. He eventually returned home, but was noticeably absent from his son's inaugural address at One World Trade Center earlier today—which the current governor alluded to without mentioning his father's health, noting he had broken with the traditional midnight swearing-in Albany to be with the man.
"My father isn't able to be here today. We hoped he would be able to come. He's at home," the younger Mr. Cuomo said. "We stayed at my father's house to ring in the New Year with him. I went through the speech with him."
After reading the speech, the governor said, his father noted that the inaugural address was a good one—for a "second-termer."