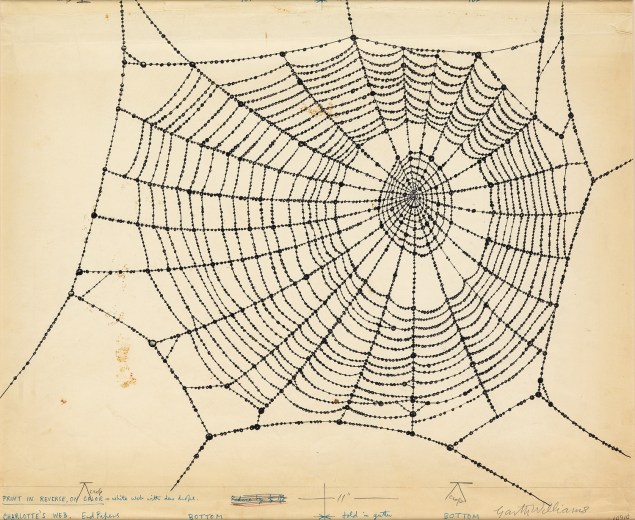 When Garth Williams' cover illustration of Charlotte's Web went on the auction block in 2010, it soared to $155,350, five times the asking price. It was the first time since the death of Williams, who also famously illustrated New York's favorite mouse, Stuart Little, that his work had been available to the public from his estate.
Now, the endpaper drawings for the 1952 beloved children's classic are on the block at Swann Auction Galleries, and are expected to fetch an estimated $10,000-15,000 this coming Thursday (January 22). And while it's "no Charlotte or pig," as Christine von der Linn, senior specialist of art, press and illustrated books at Swann puts it, she is quick to point out how intricately the web is drawn, with each dot of moisture painstakingly added with individual balls of ink.
The condition of the illustration may have suffered from a little yellowing and toning over the years, but in general it has remained as it was when Williams drew it—registration marks included. One account of E.B. White's inspiration for the book is an encounter with a live spider. In a letter written to a group of school children quoted by the Guardian the author wrote, "I didn't like spiders at first, but then I began watching one of them, and soon saw what a wonderful creature she was and what a skilful weaver. I named her Charlotte."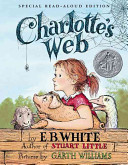 According to his biographer, Michael Sims, this particular spider resided in the barn of White's house in Maine, where he "carefully cut the binding strands of web that held the egg sac to the wood of the barn." Weeks later, "tiny spiderlings, so small they were barely visible" appeared.
Yet while William's illustration is as skillfully drawn as the spider's web was woven, the artist received little recognition when the book was first published. In Eudora Welty's New York Times book review she wrote, "As a piece of work it is just about perfect, and just about magical in the way it is done," but not once was Williams' name mentioned.
Nowadays, that lack of recognition is no longer an issue. Ms von der Linn said the auction house (which has operated in New York since 1941, specializing in rare books, photographs and posters) has had good success with previous Williams works and the market for children's-book illustrations "remains strong." The sale also features several collections of New Yorker cartoons (amusingly, Williams' obituary notes he was once rejected from the New Yorker cartoon desk, his style considered "too wild and European"), a "highly collectible" Dr. Seuss-designed advertising billboard, and a selection of original Edward Goreys.
However, it's William's web that stands out.