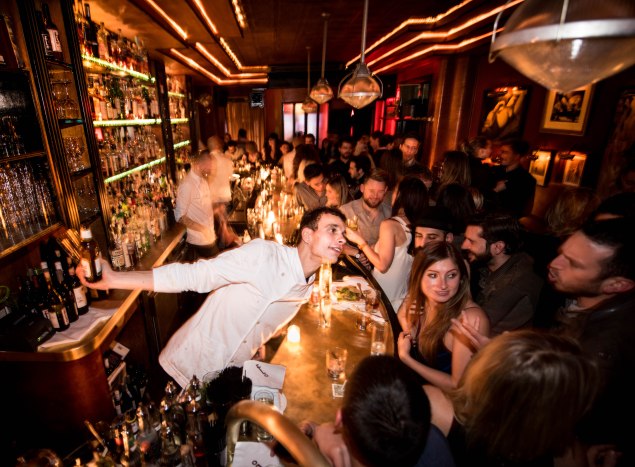 The crowded bar seems to be spinning out of control.
The bartenders are tossing back shots and screaming lyrics to "Come Sail Away" by Styx, which is blaring through the speakers, as one grabs a hammer of Thor-like proportions and starts slamming away on the back bar to the rising beat.
The crowd, mainly bartenders themselves because this is an insider's joint, is going off, screaming toward the bartenders like they were rock stars as the pounding of the hammer grows louder and louder. When the chorus finally arrives, the well-dressed and unruly patrons sing a deafening rendition while tossing napkins into the air like confetti.
It's a typical Saturday evening at Employees Only, the 10-year-old West Village venue ranked by the Spirited Awards as one of the best cocktail bars on Earth. "Wait until you see the burlesque show!" a guy next to me tells his date.
Tonight the staff is in rare form. Bartenders in pristine white chef's jackets preside over the glittering gold-and-mirror bar, coolly pouring unlabeled liquors freehand, seemingly unruffled by the growing scrum of customers.
Here, and at a few select other bars, the craft cocktail movement first began in the early 2000s, with a care applied to bartending not seen since the roaring '20s.
"Our style of drink making is unlike the others, mixing glass up to the eye, free pouring ingredients and tasting as we go," says head bartender Steve Schneider. "Our apprentices bang out three, four, five cocktails in less than two minutes. I think it's a lost art that a lot of craft bartenders are unwilling or unable to try, but, here we are 10 years later, crushing it, so I don't mind."
Kimberle Vogan, the door manager, guides couples and groups of bachelorette parties through the throng to small tables where they enjoy intimate dinners mere feet from the ongoing explosion of carousing. A birthday girl is at the bar with all her friends, sipping from a comically large mug filled with straws and crushed limes.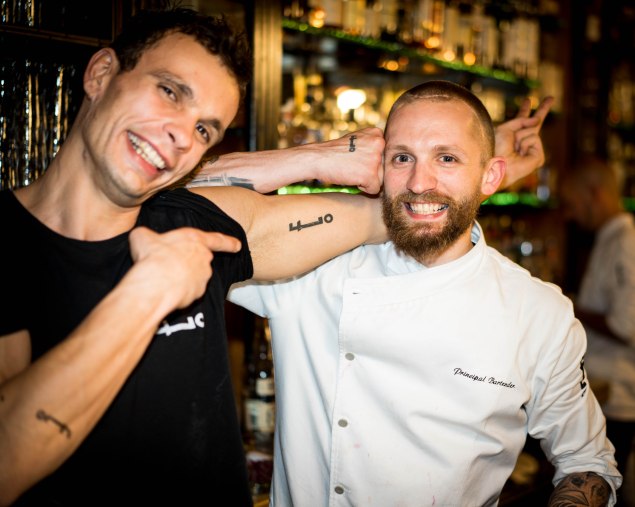 "We found that giant stein in the hallway," Mr. Schneider says to me later. "So we decided to make a giant mojito in it. Guy came back to claim it a little bit later, but we told him it belonged to the bar now."
The birthday girl sips from her enormous mug, adjusts a crown on her head made from napkins, and sings the lyrics to "Bohemian Rhapsody" while lifting the mug to the owners, who sip on Fernet in the corner of the bar. The whole place looks like someone is working very hard to make sure it seems like there's nobody in control.
Employees Only started in 2004 with a dream between a handful of bartenders and a few industry vets. "I owned Lucky Strike, and had previously worked at Nells," says co-owner Billy Gilroy. "We wanted to open a place for industry people to come and be treated the way they treat their customers."
Over the years the bar has thrived not only as an industry hang, date spot and spontaneous dance party, but also as a perfect specimen of New York nightlife. Being everything to everyone has worked well for them, winning them all sorts of awards throughout the industry, including the coveted "Best Bar in the World" trophy from Tales of the Cocktail in 2011 and being named fifth Best Bar in the World this year by a board of their peers.
"To make a great spot, it's a lot of variables together," says Michela Cubi, who works as an event manager for Double Cross Vodka. "It's hard to maintain, so in order to be at the top you've got to have 10s in all of these different categories, and most places don't," she says, "but Employees Only scores all 10s."
After a few more hours of bar fights, hot dates and general madness, it's that time of night. The lights slowly come up and people are informed that it's 4 a.m., and rows of chicken noodle soup bowls are carted out from the kitchen, a time-honored tradition started back in 2004 when the bar was first opening.
 "We liked the idea that after a night of drinking we could help out and take the edge off a hangover. It's also a badge of honor that you survived until closing time."
The intoxicated and exhausted people still left in the bar gratefully take in the soup, and doorman Robert Scott makes the rounds to inform people the bar is about to close. About half of the dwindling crowd gets up and begins to shuffle toward the exit, but the other half remain in their conversations and drink their soup.
"What about them?" asks one intoxicated man headed for the door, pointing to the stragglers.
"They work here," Mr. Scott replies, then hurries the man off.
These people don't work here, of course, but they might as well. They are industry types, bartenders and chefs and owners from all around the neighborhood, rolling off late shifts, sitting on stools and trading stories.
"I've been working as a bartender for 14 years," says Fabio Raffaelli, bar manager at three-Michelin-star restaurant Daniel, "and I've never found a place like Employees Only. I mean, did you see the tattoos?"
The tattoos in question are of the Employees Only logo, which each of the bartenders possess. "When do you work at a place where you want to get it tattooed on you? It's incredible. That guy there? The barback holding the ice? He runs the Standard Hotel's bar up the street. And he's carrying ice."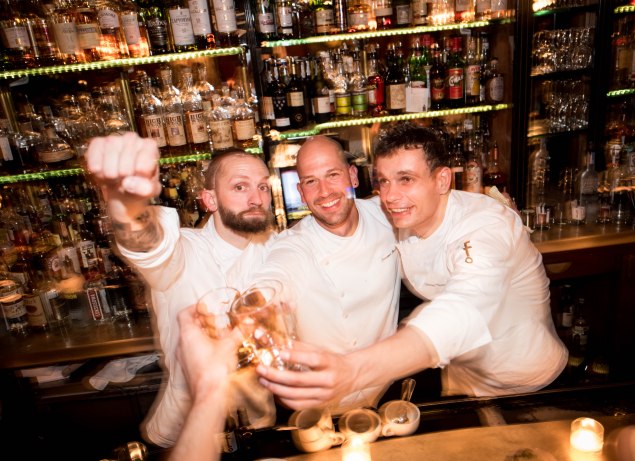 I ask Damiano Coren why he works as a barback when he runs a successful bar. "It's the family they create," he says. "The other bars where I worked before were generally one-man shows, here though, everyone treats everyone like family. The team is the real success behind the bar."
As he's talking, I notice the man sitting near us has an Employees Only tattoo, but isn't in the white jacket like everyone else. I ask if he used to work here, and it turns out not only has he never worked here, he's not even a bartender. His name is Kevin Parker, a real estate agent.
"I've been welcomed into a club of extraordinary men who are masters at what they do, and I wanted to show my respect. First and only tattoo."
After finishing up his principal bartender duties, Mr. Schneider comes and sits down with me. He sips on a beer and gives me a quick once over. Back in his former days of being a Marine, his attention to detail would have probably had very different uses, but here it feels like he is looking for exactly what it is I want. Maybe this is why Mr. Schneider has turned into one of the most famous bartenders in the world, starring in the documentary Hey, Bartender, going on worldwide press trips and winning several bartending competitions.
"I might be well-known," says Mr. Schneider, "but I can still take you to thousands of bars and restaurants in New York where no one has a damn clue as to who I am or what I do. That's the beauty of New York and it keeps me hungry."
When asked about the fun atmosphere everyone wants to be a part of, Mr Schneider sits back, drinks his beer, and strokes his beard. "I mean, when you work with your close friends and you love what you do and you're making great money, it's hard to not be happy each night."
Igor Hadzismajlovic, one of the owners, comes over wearing a loose-fitting coat and a cocked fedora and a thick mustache, gives a wink like a magician playing innocent just before a trick, and brings out shots of Fernet Branca for everyone left at the bar, which now, at close to 5 a.m, resembles friends sitting at home in a living room.
 It's this balancing act, something very difficult to achieve that impresses the industry-heavy clientele: "I think that anybody, anyone, who comes in here, feels like they're at home," says Pietro Filipponi, a drinks and film writer as well as patron, one of the last stragglers. "You should stop by tomorrow, you've really gotta see that burlesque show."